Happy Summer Solstice from Sun Plans - passive solar architectural design!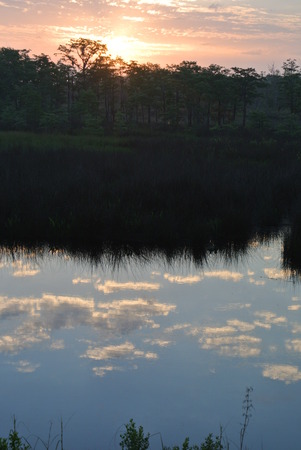 During the season of the year with the most daylight, the sun-inspired features of the designs by Sun Plans really shine!
East windows get morning sun and provide sunrise views

South windows are shaded and provide expansive views

West windows get evening sun and provide sunset views

Even north windows get early and late sun while providing views

How fun it is to see and feel how the spaces change through out this longest day of the year - and, for that matter, daily throughout the year!
Carefully placed windows on all sides of the home is a specialty of Sun Plans!

(Photo at right is of my home office from which I wrote most of this newsletter on the solstice before I took a break to go outside and enjoy it! I have a prism that sends rainbows throughout the space when the sun hits it. Early this morning, it was dancing!)
Sun Plans website
---
Comments and Photos from Sun-Inspired Clients
Throughout the year, clients send us photos and house updates. We thank them for sharing so that we can share with you!
What a nice surprise when Kathy (Moorhaus Cottage 4 client) came through town.
We visited a sun-inspired home where I pointed out some of the similarities to her home which is just starting construction.
Here she is admiring the stair landing shelf in the Southern Cypress.

It was interesting that Kathy seemed to
like the many miscellaneous architectural features such as nooks and crannies as well as carefully placed windows to capture the views as much as she did the energy-related features.
Kathy also commented on what a good deal our internet-based architectural services were compared to most architects. The personal services of many emails and phone calls worked well for her.
After spending over 50 hours designing her home via the internet, with her visit we hugged hello and goodbye just like old friends even though we'd never met face to face!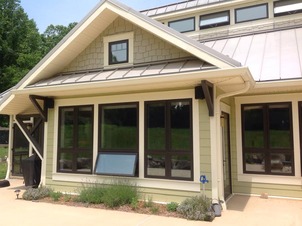 It is really "cool" to see that a home (in WV) still in passive cooling mode in June!!!
Rita shared this photo showing their low awning windows open above a bed of lavender. High above you can see the open clerestory windows that allow the hot air to escape.
"
Scent of Lavender wafting through RISE."

- Rita

See more of
RISE house plans
. Here the home is featured in the
Open House
section which is reserved for homes where our clients send us extra nice photos.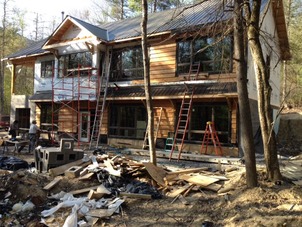 Lauren sent us a few photos of her house under construction along with some comments.
"So far, everyone that has been in the house has commented on how spacious it is, well designed, and the magnificent view of the woods and the creek thru the beautiful windows, oh, and which room is theirs. I can't tell you how happy I am with the overall plan, Debbie." - Lauren
Here you can see more about the
Safe Haven
design.
---
Follow Sun Plans on Facebook
If you would like to receive Sun Plans news more often than every three months on the solstice and equinoxes, then follow us on Facebook.
See the Sun Plans Facebook page
---
---
Sun-Inspired Designs in Progress
Adapting Brunswick South

Eleanor and George want a slightly larger south-facing home with a different type of front porch along with a larger garage and not studio. Simple shape often governs in today's housing market where foreclosures can still be driving appraisal prices.
Adapting Longleaf Atrium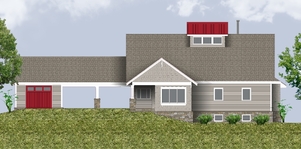 Rosemary and John wanted a slightly smaller home with the entry on the southwest side of this home designed to sit an angle on their specific lot. The back porch will become a three season run room. They have asked us to play around with some color ideas. The red atrium roof and doors of the home add accents.
Adapting Half Moon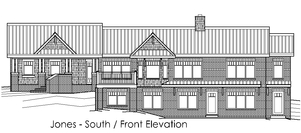 Steve and Ann wanted the garage attached to the west and a front porch on the south which can be a challenge in a passive solar home. We integrated the porch with the garage to have the best of both worlds - a southern porch and passive solar gain into the house.
To learn more about what others are saying about adapting a house design, see
Adapt-A-SunPlan comments.
---
Sun-Inspired Homes/Real Estate For Sale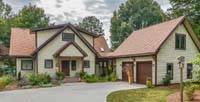 Moorhaus Cottage variation in North Carolina

Take a tour of the recently sold
variation of Moorhaus Cottage 3
on a large piece of property in North Carolina on an island. This client chose to install a higher than average quality of interior finishes.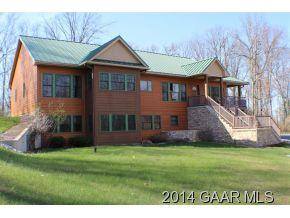 Equinox 3 in Virginia

Recently we heard from an Equinox Homestead owner who has been living in their home for about 20 years. They talked about their low energy bills and home comfort. Just a few days later we found out an
Equinox 3 home is for sale in Virginia on 20 acres. There are more than 30 photos posted.
The first floor is a 3 BR/ 2BA plan, but finishing the daylight basement added more bedrooms and much more square footage to add expandability and flexibility to the home. (The photo is the one posted on the listing site.)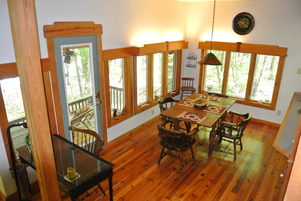 Southern Cypress in Alabama

A 2200 s.f. sun-inspired home on 30 acres will be on the market soon in South Alabama just 45 minutes from Mobile and two hours from white sand beaches on the Gulf of Mexico. This Southern Cypress that you can read about in the PDF download is a variation of the one featured on the Sun Plans web site. Contact Us if you are interested!
Total house energy bills average less than $100 per month. The heating and cooling portion is only about a 1/3 of that amount.
---
The Sun-Inspired House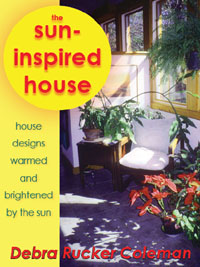 The book is complimentary with orders of any house plan or service from Sun Plans. Purchasing it from Sun Plans entitles you to our Create-A-SunPlan questionnaire in order to start the process of designing your own sun-inspired house design.
In addition to over 50 house plans (over 100 with the E-book version), it has 150 pages of energy and passive solar information based on the dozens of questions that we have been asked over the years.
"The Sun-Inspired House, a 247-page book by architect Debra Rucker Coleman, may be the best available introduction to passive solar design. Coleman's book is much more useful than three better-known books on the topic:..." - Energy Design Update, July 2008
Shop Now if you want to buy it from Sun Plans
(The E-book version is also available only from Sun Plans.)
---
Consulting and Review Fees credited to Future Orders
Mention this Summer 2014 E-Newsletter and get up to $395 credited from Adapt-A-SunPlan or Create-A-SunPlan Consulting and Review to Construction Prints if Sun Plans makes the adaptations or to CAD Files if another design professional makes the changes.
With Consulting, as a rule you will receive detailed review and feedback on your information submitted in the following categories:
- House siting
- Floor plan function
- Energy-related concerns
- Construction materials
- Exterior design
- Preliminary budget estimate for construction costs
- Study Plans of any existing designs that could meet your needs without extensive changes if we find that an existing home design, or parts of one, might be close to what you describe.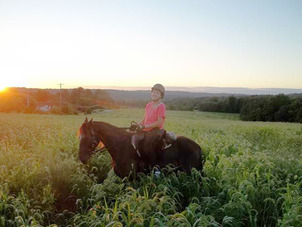 We are working with Eleanor now on her adapting the Brunswick South house design. (That's her pictured on her horse!)
"Everything else is wonderful. Better than I hoped for." - Eleanor

Newly Posted Sun-Inspired Home Designs
Each of these designs can be adapted to various climates from warm to cold (in the U.S. and Canada) and to various client priorities from Energy Star (30% savings minimum). Passivhaus standards (90% savings typical), or all the way to Net Zero where the home produces as much energy as it needs on site on an annual basis through the use of systems such as photovoltaic panels. Most clients choose approximately 50%. Click on the image to see details of each plan and follow the Purchase tab to order a Study Plan to see a lot more detail of each design. (The cost of smaller plans is deductible from future upgrade orders even if you change to another design!)
Gazing Star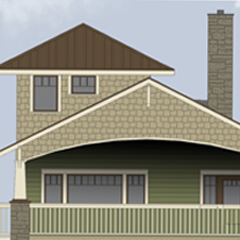 First Floor 1176 s.f.
Tower 210 s.f.
Total 1386 s.f.
Daylight Basement 1176 s.f.
The Gazing Star is ideal for a steep, narrow lot with expansive views to the east and south. The home was inspired by the French Cowgirl series with the small footprint and spacious living areas below. This home features a south viewing tower, a side balcony and a large east deck to take full advantage of the views. A front garage below keeps the house narrow while wide stars lead up to the welcoming east-facing front porch.
Moorhaus Cottage 5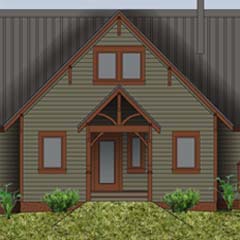 First Floor 1296 s.f.
Second Floor 982 s.f.
Total 2278 s.f.
Daylight Basement 1008 s.f.
The Moorhaus Cottage 5 with its clean-lined simplicity can house a large family with at least four bedrooms. A welcoming north-facing entry with craftsman timber touches emphasizes one of many "quality over quantity" features of this sun-inspired home. It blends with the woods in rural areas as well as other homes in neighborhood. Inside, the central masonry heater that runs vertically through the center warms the home and the heart.
Carolina Lakeside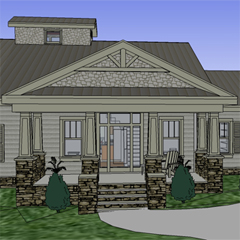 First Floor 1753 s.f.
Second Floor 968 s.f.
Total 2721 s.f.
A north facing lot with views to the south inspired the design of Carolina Lakeside which evolved from similar Sun Plans designs with the delightful central atrium. The welcoming front porch opens into a two story foyer with a large staircase. Immediately through an arched passage way is the main living area that features a fireplace flanked with bookcases on one end and the large kitchen on the other. A spacious laundry and family foyer connect the home to an attached garage and large screened porch for outdoor living.
White Magnolia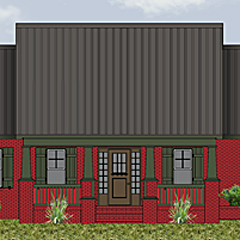 First Floor 2438 s.f.
Sun room Breezeway 384 s.f.
Second Floor Loft 185 s.f.
Total 3007 s.f.
The White Magnolia has less square footage and simpler construction than the Steel Magnolia. The porch is narrower which reduces construction cost yet still large enough for summer evening chats with a group. Less porch roof area also means more light into the adjacent bedrooms. Its spaciousness is apparent upon entering the home through the front door with the open dining on one side and clear view to the south French doors. The welcoming side entry brings guests into the surprise of the home – the sun room/breezeway with the quaint, overlooking loft with dormers north and south to allow sunlight to stream down. When the windows are closed, the space is a sun room, and with them open, it is transformed into a breezeway (with outdoor kitchen) for hot summer days. This north facing home can be as simple or elegant as the home owner's desire by changing the selection of columns.
Link to the entire house plans list. The above designs are marked "NEW" on the list.

---
Inspiring Others

A recent email made me smile that not only is it possible to make home owners happy by helping them design and build a sun-inspired home, but that you can inspire other professionals as well. This was received from
Christine (Bruncati) Liaukus, Architect at The Center for Building Knowledge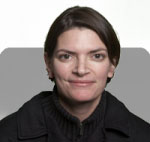 "...I was preparing a lecture for senior year hi
gh school girls about architecture. Something I related to them was that I contacted you about 20 years ago, I was working for a firm...that was not at all concerned about energy or the environment. I found your book in the library (pre Google days!) and wrote you a letter asking for some advice. After about 2 months I got a letter back from you. You apologized that you'd been in Italy...You went on to suggest that I go to Southface Energy Institute to learn more about solar and EE. I pestered Southface until they finally did take me as an intern and that started a whole new trajectory for me. I've wanted to thank you for ages. So THANK YOU! You made a world of difference in my professional life."
- Christine
---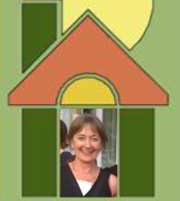 Thanks for reading about our passive solar house designs!
Please feel free to contact me to discuss how the Create-A-SunPlan process can work for you. Also, we can often complete the design in less time for lower fees than you may think as we get more and more efficient with our architectural services.
I looking forward to assisting you with the design of your sun-inspired, nature-inspired home!
Debbie Coleman, Architect, Sun Plans
www.sunplans.com