Happy Summer Solstice from Sun Plans!
Thanks for your interest in our sun-inspired home designs - warmed and brightened by the sun. They are also cool by design!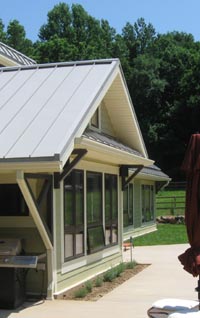 Mid-day in summer when the sun is high in the sky, a properly designed south overhang will shade the south windows. Sometimes the entire south wall will be in shade after noon.
When Sun Plans designs a home, or prepares the
Custom Energy Specs
for a pre-designed home, the process of creating the Custom Energy Specs includes evaluating the overhang length and the exact orientation of the house as well as the insulation and thermal mass. Often it is recommended to orient the home a bit to the east. This varies with each particular house design and the latitude.
At noon, the shade on the south-facing wall should cover the south windows most of the summer. (The photo on the right was taken on the summer solstice when the shade line allows the south-facing glass to be in full sun. Thanks Sean and Rita.)
The cooling strategies that are integral with a Sun Plan typically shorten the cooling system by about a month on each end of summer.


In this Summer 2013 E-newsletter you will find:
Notes from the Architect: Reflections On and Blessing In Sun-Inspired Homes
Mother Earth News carries The Sun-Inspired House book
Video by Energy Star builder in Michigan

New House Plans added to the web site
Read the last Sun Plans' E-Newsletter full of educational information
---
Staying Cool in Alaska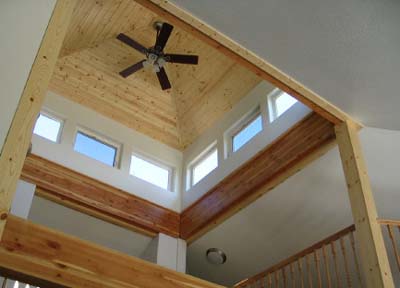 While many clients prefer motorized windows that are hard to reach, Peggy and Steve used a short ladder and the pole that they use for their lower window shades to open the atrium windows from the loft.
---
Reflections On and Blessings in Sun-Inspired Homes
The Sun Plans' architect reflects on what is important to her in a home.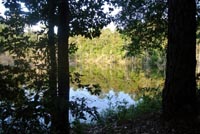 Lately I've been at the office more and therefore at home less. I've noticed that as soon as I get home, I can't wait to get out to "my deck". It is not inside our sun-inspired home, but rather a place on the east side. It serves as a covered place to relax and enjoy the view, but also provides summer shade to the east windows.

A long distance view (regardless of the scene) brings a sense of mental open-mindedness and helps me focus on the priorities of both the day and life in general. The nearby trees that are often full of wildlife provide the connection to nature that I also crave - especially when I am working long hours and can't get out of town as often.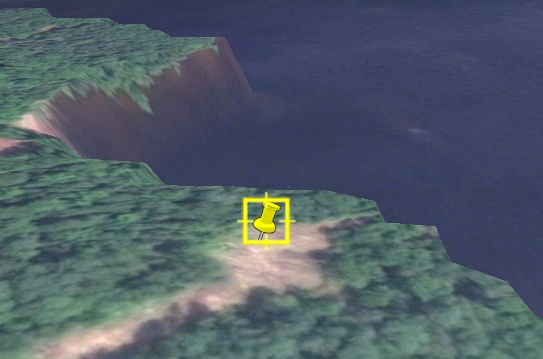 When we laid out the home, we picked the spot on the land with the best views first, the house design and orientation then developed around that location. I've also noticed this pattern with clients, while they may choose to work with Sun Plans because of our expertise in passive solar design, it is often not so much from an energy-saving standpoint as it is to help them create a home connected to nature. Sun light is just one of many features of nature that we consider in the design process.

The image to the left is from Google Earth and represents a site in New Brunswick for which we recently completed a design with wonderul north views facing the water.

What we try to focus on is the placement of windows to best capture whatever type of nature is most important to the home owner. The goal is to make the connection to nature as strong as possible without sacrificing other desired features in a home such as energy savings and floor plan flow.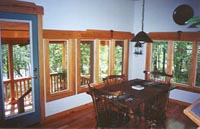 Inside the home, the space that seems to be the one most requested to be connected to nature is the dining area. In fact, all three new house designs added to the web site and featured in this E-Newsletter feature a dining bay window area. I had not realized that they all three have that in common until today. Then I thought about my own dining area. It too is the space closest to the nicest view as well.

At meal time, blessings on food are often spoken. It seems so natural that this should occur within the space most connected to nature.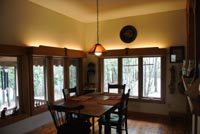 Even in the evening when the light is low, a space surrounded by windows can be graced by the light of the sun. Indirect lighting built in custom built light boxed by my husband add soft light to the space as the sun is setting. (And yes those windows have been set lower than usual since our views a bit downhill and we wanted to see out while sitting down.)

Debbie Coleman - Architect, Sun Plans
---
Yoder Builders has Energy Star Video Made
See the video that an Energy Star builder in southern Michigan had made. It features the Sun Plans' Cherryview Farm. Click on the photo below to see the short video clip.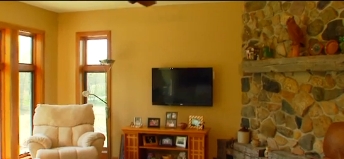 ---
The Sun-Inspired House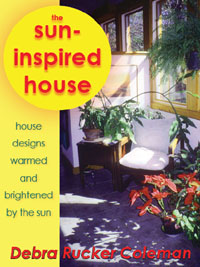 Mother Earth News now carries
The Sun-Inspired House
. Although the book is complimentary with orders of any house plan or service from Sun Plans, if you are ordering other books from Mother Earth News, you can now order The Sun-Inspired House book too!
In addition to over 50 house plans (over 100 with the E-book version), it has 150 pages of energy and passive solar information based on the dozens of questions that have been asked of the architect over the years.
"The Sun-Inspired House, a 247-page book by architect Debra Rucker Coleman, may be the best available introduction to passive solar design. Coleman's book is much more useful than three better-known books on the topic:..." - Energy Design Update, July 2008
Shop Now if you want to buy it from Sun Plans

---
Newly Added Sun-Inspired Designs

Thank you everyone who voted about which house designs were the most appealing. Three of these have been added to the Sun Plans' web site. The others will be added as time allows. Meanwhile, know that if you hire Sun Plans to help with any of the various
Consulting Services
, that you will be notified if your ideas are similar to a design that is not on the web site. The Sun Plans architect will recommend them to you as appropriate and send a complimentary Study Plan!
A very big thank you to Chris and Erin, Fred and Brandee, and Lauren who were the clients for the following new home designs. We look forward to seeing them constructed.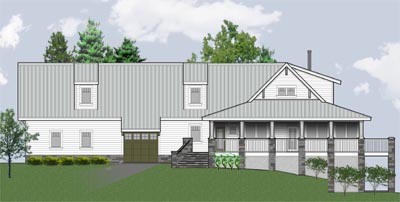 Squirrel's Nest
This west-facing farmhouse style home was created for a family of six who needed a large garage. It features wrap around porches and five bedrooms within 2773 s.f. on 1.5 floors plus a full walkout basement.




Fox Sparrow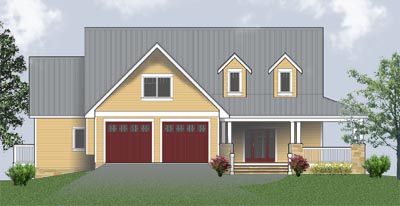 This north-facing farmhouse style home was created for a family of 4. It features wrap around porches and 4 bedrooms within 2471 s.f. on 1.5 floors plus a hybrid foundation of crawlspace and small basement with a storm shelter/root cellar.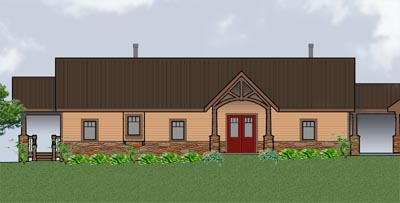 Safe Haven
This north-facing home with a south walkout daylight basement evolved from the Conservation Showhome design. It has a large master bedroom in 1613 s.f. on the first floor and two other bedrooms on the lower level.
(Because others have wondered....Sun Plans does not make a "killing" off of reselling plans that others have paid to have design. We are a small architectural firm that sells very few house plans unaltered. It takes a lot of time to add a design to the web site then provide customer service for it for the entire time that it is on the web site. There are some designs that we have posted to the web site that have never sold except to the original customer typically because they are so custom and unique to their needs.)
---
Spring Equinox E-Newsletter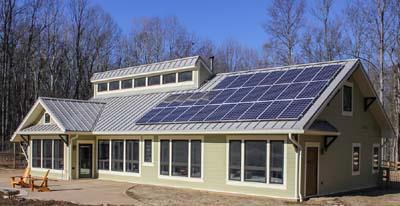 If you missed the last Sun Plans E-Newsletter,
you can read still read it here.
---
Thanks for reading our E-Newsletter!
We hope that you enjoyed reading about our reflections on nature and seeing the new homes that we have designed.
We looking forward to assisting you with the design of your sun-inspired, nature-inspired home!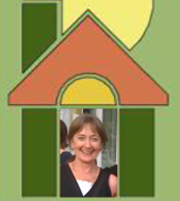 Debbie Coleman, Architect, Sun Plans
www.sunplans.com