Happy Fall Equinox from Sun Plans and Architect Debbie Coleman!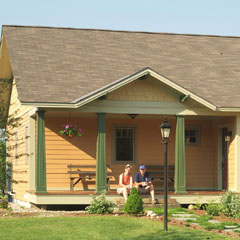 "Simple and Sunny" sums up what Sun Plans' customers seek in a house design.
Simple
because those who care about saving energy are conservative with their money.

Sunny
because of the energy saving benefits of the sun's contribution to the home's winter heat.
Sun Plans' customers prefer to spend money on a simple, well-constructed, well-designed home with few wasted spaces.Sun Plans' Home owners enjoy the delightful characteristics of sunny interiors and the satisfaction that the sun is reducing their need to purchase electricity or gas to heat their home.
This Fall Equinox E-newsletter features:

Mother Earth News:

The Oct/Nov issue has an interview with Sun Plan's architect Debra Coleman and photos of homes such as the Prairie Dog 3 above.
Creating Affordable, Energy-Efficient Passive Solar Homes


Award Winning Home of the CT Zero Energy Challenge:
Most Affordable Energy Efficient Project - Northern Sun Design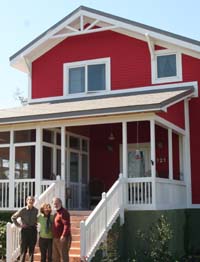 First LEED Certified Home in Ontario:
Atrium 3 Design
Upcoming New House Plans: Sunshine 6
Simplify a home for cost savings
Greenback Conservation
Save dollars while protecting nature
Cherryview Farm
Maximize use of a daylight basement

"We are of course totally in love with the design and everyone who visits is quite taken with it."
Jan and David, Fairy Tale Design

Also addressed in this E-newsletter are cost savings ideas andcomments from the Sun Plans' architect on creating a sun-inspired design in an improving housing market.
---
Simple, Average or Complex?
The Sun Plans' Select-A-SunPlan summary table has a column on the far right labeled "Plan Complexity." While this is subjective and relates to the designs on the Sun Plans web site, it is a good place to start for those with a stretched budget. Like any of the columns, clicking on the column heading sorts by that category so it is possible to sort by "simple", "average" or "complex" which would be for those who would like a bit more complex features such as atriums and clerestories.
The
Selecting A Sun Plan Tips
page discusses more about the Plan Complexity column as well as other tips for selecting a design.

special feature of Sun Plans is showing the percentage of south-facing glass in relation to the floor area. That column can be sorted by also!
(Increasingly the so-called "green-washing" of designs is spilling over into "sun-washing". Some website are claiming such things as "maximizes winter heat gain through south-facing windows", but closer evaluation illustrates that there are only two windows on the south wall. Check the % of south glass. To be considered passive solar, the designs need to have at least 5% south-facing glass.)
Link to the Select-A-SunPlan list
---
Construction Costs Revisited

It seems only fitting to discuss Construction Costs when discussing simple homes. The Sun Plans' website described Cost-Effectiveness:
Passive solar homes typically result in energy savings from 40 to 75% over a minimum code-built home, when combined with above-code, energy-efficient construction. The additional construction costs associated with such standards as Energy Star for energy-efficient construction and passive solar design are typically 0 to 10%.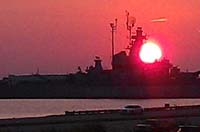 Whether it is a battleship or a home, containing costs is important! (During a meeting outdoors this week on the bay, we were delighted to see how the sun has moved so that it is currently setting right behind the battleship - due west during this equinox time of year.)
Link to Construction Costs on the Sun Plans website
---
Help with Selecting a SunPlan and Free Review Set or Study Plans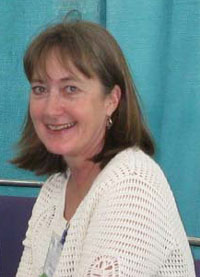 Lately there have been many people requesting assistance with with house plan selection. They aren't quite ready to purchase a Study Plan or Review Set because they are not 100% sure that any one plan is the best one for their needs. Although we have the Select-A-SunPlan
consulting service
for $295, it seems that customers actually would like a bit more help than what that service provides.
Until we develop a more detailed Select-A-SunPlan service, this is what is being recommended for those willing to invest a bit more time to make sure that all their needs are met in their dream house:
1) Request the Create-A-SunPlan questionnaire through
Contact Us
. (The form is a 24 page document that asks TONS of questions about what the home owners would like to see in their home)
2) Complete the form and send it in by email or US mail along with the $495 payment. (If there are several plans that might work, feel free to mark those up and include them too, or make a list of features that you might like about them.) Be sure to state that you are interested in the detailed Select-A-SunPlan consulting.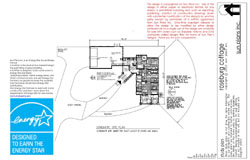 3) The Sun Plans architect then reviews this information just as she would when creating a custom design - with the same attention to detail. She sorts through the SunPlans, including those that might not be on the website, and makes some recommendations as to which ones might be the easiest to modify either by Sun Plans or another designer/architect by using our CAD Files.
She typically has some more questions for you along the way. If several designs show up as options, she sends those Study Plans for no additional charge. If one design stands out, then she sends the more detailed Review Set.
You receive about 5 hours of consulting. Often customers will also send in a list of questions that they have as well about all kinds of energy issues or details. She is happy to answer those too within the limited time although many questions have already been answered in The Sun-Inspired House book or on the FAQ page of the website.
Customers see the value of services that an architect can bring to their house design choice without necessarily going through the Create-A-SunPlan process of starting from scratch - allow we love that too!
---
Award Winning Home of the CT Zero Energy Challenge:
Most Affordable Energy Efficient Project -
Northern Sun Design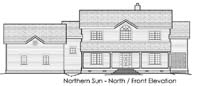 This home was constructed for about $240,000 including the solar photovoltaic panels. The HERS score was 29. The foundation is a hybrid system with a concrete slab on the south where thermal mass is desired to store the sun's heat and a crawlspace on the north where most of the plumbing is located.
Sam told Sun Plans that their carpenters were impressed with the simple layout of the home and the framing plans. They had very little wasted materials. The family did much of the work themselves which contributed to their low construction costs in addition to other changes such as eliminating window trim and reducing the size of the front porch.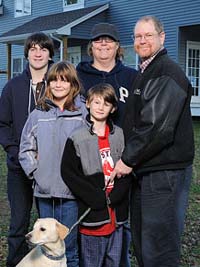 The costs of porches is often overlooked, but can be substantial if the porches are large. Sun Plans encourages its clients to choose right-sized porches as much as right-sized interiors. Although a properly placed porch such as one on the east and west that also provides shading from summer sun can add valuable outdoor living area, one that it too large can block desired daylight from the windows during the wrong time of the day or season.
During construction Sam wrote on his blog:
To be perfectly honest with you all I had been worried that all of this "stuff" would work. By stuff I mean the passive solar aspects of the house. It all seems like smoke and mirrors, having the sun heat our house. It sounds good, but really? Although I was confident that the insulation and tight building specs would be helpful in keeping energy costs down, Teri and I really set out to build as close to a zero carbon footprint as possible.

Today our concept really hit home for me. I spent the entire day in/around the house today. When Jim and I got to the site, it was about 10am and very cold (about 30 degrees). I had set the house temperature at 58 degrees, but when I got into the house it was 62! Our passive solar design truly worked! Tim the electrician, was amazed- he called me in from the garage at one point in the afternoon and asked me to explain what was going on. I explained about the special windows that I had put in, and that we had situated the house towards true north/south. He was standing in the light and couldn't believe how warm it was. During the course of the day our geothermal heat only came on twice, for about 5 minutes each time. This while four kids (not to mention seven adults) were coming in and out of the house constantly, leaving doors open to load and unload equipment. I was thrilled. I suspect that when we install our wood stove, our heat might not go on at all.
See the customized specs posted on the CT Zero Energy Challenge House
---
LEED Gold Certified Home in Ontario, Canada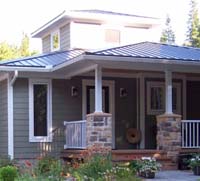 The previously featured
Atrium 3
design has a simple, square floor plan topped with a hip roof crowned with an atrium to bring daylight into the center of the home. The home owners recently notified Sun Plans that their home is the first LEED Certfied home in Ontario, Canada. In cloudy regions, people especially like the ability to bring more daylight into the home.
The builder, Steve Dennison with Dennison Homes, is an engineer by training and wood worker by heart. Sandy and Bill were very fortunate to have him as a builder. In an email to Sun Plans, Sandy stated:
I really can't overstate how happy we are that we purchased from Sun Plans, and that we chose this design in particular. We oscillated, as you know, between plans, and decided to be brave with the unusual atrium design. Bill and I smile (no, we beam!) every time we drive into the driveway, again when we open the door, and so many more times every day! We receive wonderful compliments - so many people who visit say that it is just the right size, and is a dream house.
If you missed the Green Building and Sustainable strategies article mentioned in the last newsletter, you might like to read it now.
---
The Sun-Inspired House (our 256 page book) by Debra Rucker Coleman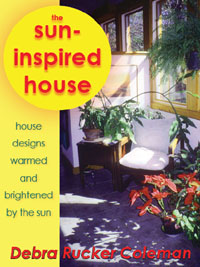 Although the book is complimentary with orders of any kind of plan, order it directly from Sun Plans and the price of $19 can be deducted from future orders. In addition to over 50 house designs, it has 150 pages of energy and passive solar information based on the dozens of questions that have been asked of the architect over the years. (The price includes shipping in the US.)
"The Sun-Inspired House, a 247-page book by architect Debra Rucker Coleman, may be the best available introduction to passive solar design. Coleman's book is much more useful than three better-known books on the topic:..."
-Energy Design Update, July 2008
Buy it Now
---
Upcoming Sun Plans to be added to the Website
Writing detailed house plan descriptions and tweaking a design for placement on the website takes quite a bit of time that is easy to underestimate. So instead of sending the Fall Equinox E-newsletter out late, the new house plans will show up later on the website. We hope they are worth waiting for! They will show up as NEW on the
House Plan List
page.



Sunshine 6
- a version of our popular Sunshine series. This one has been simplified on the exterior, but a full daylight basement has been added. 1520 s.f. first floor plus daylight basement, north-facing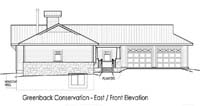 Greenback Conservation
- evolving from the Conservation Showhome, but with a few cost-saving features as well as customizations to add convenience. 1591 s.f. first floor plus daylight basement, east-facing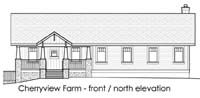 Cherryview Farm
- evolving from Nature's Corner, but with a few simplifications along with more north windows to watch animals such as a family of 'possums trot across the field. (See below. Thanks Larry and Joy!) 1898 s.f. first floor plus daylight basement, north-facing
After the plans are added to the website, a notice will also be posted on the
Sun Plans' Facebook page.
Sun Plans now has 200 Likes which is a major milestone for a small company! Thanks for spreading the word about our passion for passive solar.
---
Thank you for reading our Simple and Sunny E-Newsletter!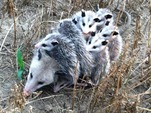 While about 25% of the Sun Plans' business is providing pre-design plans for those who need a house design quickly, the majority have been planning ahead for quite some time. If you are in this latter category, this is most likely not the first sun-inspired E-Newsletter that you have read. Planning for the needs of your family can take time and energy! In the improving economy, both Sun Plans and builders schedules will begin filling up sooner. Rushed projects are more prone to inattention to detail.
To prepare for the numerous features that go into a home design, have you read our book -
The Sun-Inspired House
- published by the Sun Plans architect? Chapter 5 "Custom Design Process - Architects and Options" discusses the art of sun-inspired design and the various design concepts of the architect that are considered in addition to the sun-inspired, passive solar elements. If you are considering working with Sun Plans on adapting or creating a SunPlan of your own, you are sure to gain some valuable insight with that chapter alone.
Architect Debra Rucker Coleman comments:
While writing my book, I mentioned to my husband that I wish I could come up with an analogy in trying to convey the importance of planning to build a home. We spend so much time at home and so much money to build it, doesn't it deserve the same planning and thoughtfulness as other major life decisions?

Dan asked me "isn't it like raising a child?" That is when the light bulb went off and I realized that I felt like a midwife! My responsibility is to help clients "birth" the home ideas that have been nestled in their hearts and minds for years. Creating a SunPlan can be so much fun.

Clients tell me the things that are important to them in a house - starting with our detailed questionnaire then supplementing it with photos and information of their own. I then help them either Select-A-SunPlan from these ideas if they are short on time, Adapt-A-SunPlan if I find their ideas are close to another plan (including plans that may not be on the website), or Create-A-SunPlan if their requirements truly dictate a new solution.

Increasingly we have customers who complete our detailed Create-A-SunPlan questionnaire with the intent of having us help them better select an existing design. The fees are only $100 more than starting with the Adapt-A-SunPlan process where the clients selects just one design from which to start yet with so much more insight to their lifestyle and space needs, I can better assist them select, adapt or create their dream home.

Chapter 5, page 62 of The Sun-Inspired House states: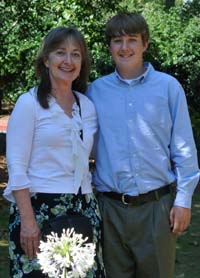 We look forward to helping you and your family when the time is right for you to start planning the home that you have been dreaming about. The fall is typically a bit slower than the spring when our backlog increases so now can be a good time to start designing your home.
Have a wonderful 12 hours of sunlight on the fall equinox day when the sun sets due east and west!
Debbie Coleman, Architect and the Sun Plans staff
(newest part-time member is shown on the right)
Visit the Create-A-SunPlan Comments Page