Happy Spring from Sun Plans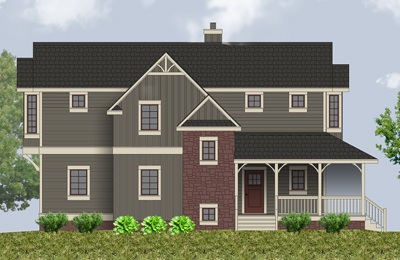 Back for seconds, Alan and Jennifer are getting ready to build their second Sun Plan after years of living in a version of the Moorhaus Cottage. The Winter Solstice E-Newsletter presented a peek at the adaptations that Sun Plans was making during the winter so that Alan and Jennifer could break ground this spring.

Wow, a sun-inspired dinner! One of the spaces that was duplicated in the new home design was a sun room type of dining space that allows for the sun to stream in.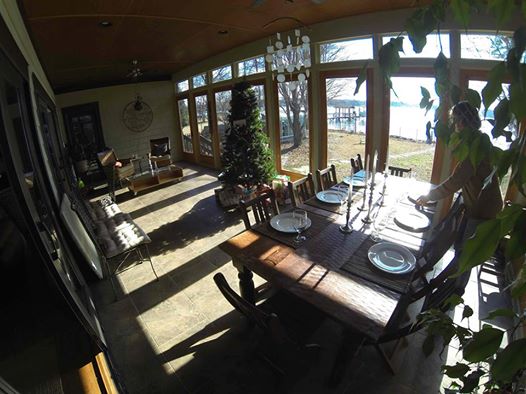 In this Spring 2014 E-newsletter:
New house plans including the Midnight Sun 2


Comments from home owners

Ban the Can - why we dislike recessed can lights


Glimpses of new sun-inspired designs

Mother Earth News overview of sun-inspired designs


Quick turn around times on architectural design services



---
Comments from Sun-Inspired Home Owners
When the temperatures dropped really low this winter, Sun Plans received comments from home owners telling how excited they were about their homes performance and comfort. That made for some wide smiles in the Sun Plans office.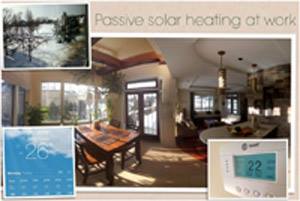 Passive solar homes love cold, sunny days! Nenad from Chicago writes:
"...I am putting...our house to the extreme test today. It's -26C outside (coldest days since I was in US) and there is 22C inside without heating."

That is -14 F outside and 72 F inside.
See more about the
Sunny Dreams
design.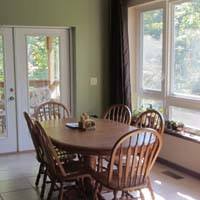 "Now that we have lived in the home three years we can appreciate the hard work that went to design and construction. Sandra enjoys the open floor plan and the wildlife that can be seen out the large windows. Nathan enjoys the free solar heat, which can warm the house into the mid-70's on a typical winter day. It is great to see the house work with the seasons, when the sun drops lower in the October sky our 'heat' automatically comes on."
See more about the
Aurora Lights
design.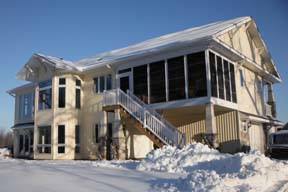 Sun-inspired homes are nature-inspired as well. Larry and Joy's home was designed to take advantage of views in all directions.
"There are several things about the Cherryview Farm house design that we just love. First, with the window size and placement there is almost no location in the house without a view. We are truly "outdoor" people and our country location has so many great views that we seldom pass a window with looking out."
See more about the
Cherryview
Farm.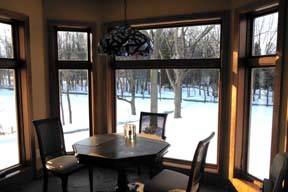 "It is 8 degrees outside. The thermostat is set for 62 and it is currently 71 degrees in here and climbing."
Later in the day, Sandy told us his house climbed up to 75 Fahrenheit.
See more about the
Nature's Corner
design.
---
Ban the Can

Clients often ask why Sun Plans show few if any recessed can lights on the schematic electrical drawings. Green Building Advisor explains the details in their article
Ban the Can
.
(Blue shows the cold air leakage even around cans that are rated to be covered with insulation.)
---
Mother Earth News and Sun Plans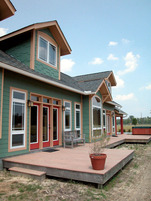 Sun Plans photos were added to the article on Mother Earth News website in conjunction with the article
Passive Solar Design: Creating Sun-Inspired Homes
.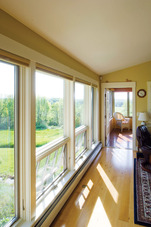 ---
Newly Posted Sun-Inspired Homes
Each of these designs can be adapted to various climates from warm to cold (in the U.S. and Canada) and to various client priorities from Energy Star (30% savings minimum.), Passivhaus standards (90% savings typical), or all the way to Net Zero where the home produces as much energy as it needs on site on an annual basis through the use of systems such as photovoltaic panels.
Like the default listing on the main house plan list page, these are listed starting withthose with the lowest potential for home energy consumption which are the smallest designs.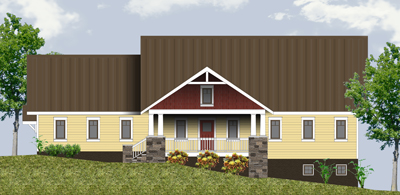 A right-sized first floor, simple shape and overflow spaces in the sunny, daylight basement make the Daylight Dreams home perfect for a practical family that loves the sun. The sunny kitchen opens to the large living area. The lower floor can adapt for expanded living, growing children or aging parents.
First Floor 1293 s.f., Front Faces North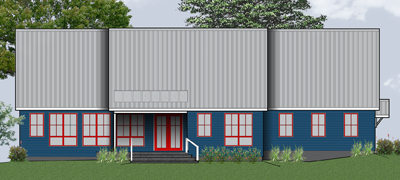 Designed around wonderful views to the north and land that slopes down on the north, the
Brunswick South
is as much nature-inspired as it is sun-inspired. Both the special view and topography are designed around along with the elements of passive solar. With windows on both sides of the home, daylight is very balanced and cross breezes can flow easily.
Main Floor 1792 s.f., Front Faces South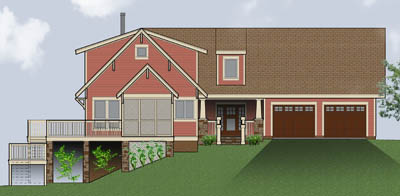 The
Moorhaus Cottage 4
features the charm of a one and a half story home with its upper floor nooks and crannies. The dormers bring in light and add to the craftsman exterior details. The small, but welcoming east-facing front porch makes the garage doors less prominent. With full south windows on all three floors, south views and sunlight are plentiful.
First and Second Floor Total 2227 s.f.
,
Front Faces East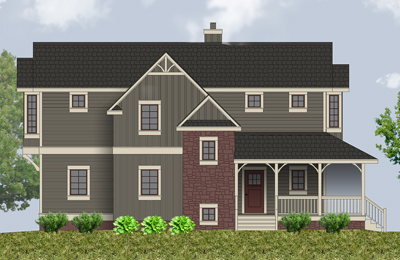 The
Midnight Sun 2
has a large great room with central hearth. On the south, a sun room buffers the central living from direct sun yet on sunny winter days the French doors can be open to allow the sun's heat to flow. The small footprint and detached garage allow for the home to be built on small lots and more economically than homes with a large foundation.
First and Second Floor Total 2384 s.f., Front Faces North
Here is the summary page of the New Designs
---
The Sun-Inspired House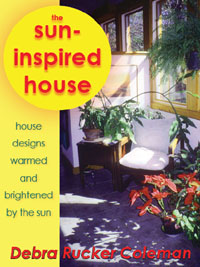 The book is complimentary with orders of any house plan or service from Sun Plans. Purchasing it from Sun Plans entitles you to our Create-A-SunPlans questionnaire in order to start the process of designing your own sun-inspired house design.
In addition to over 50 house plans (over 100 with the E-book version), it has 150 pages of energy and passive solar information based on the dozens of questions that have been asked of the architect over the years.
"The Sun-Inspired House, a 247-page book by architect Debra Rucker Coleman, may be the best available introduction to passive solar design. Coleman's book is much more useful than three better-known books on the topic:..." - Energy Design Update, July 2008
Shop Now if you want to buy it from Sun Plans
(The E-book version is also available only from Sun Plans.)
---
Some Sun-Inspired Designs are not on the web site

Since it takes a lot of time to post a completed design to the Sun Plans web site, some designs are not yet posted on the Sun Plans' web site.
How can find out if a Sun Plan not posted on the web site might work for me?

Once a customer engages us in the Consulting and Review (one of many
services
offered) stage of the Create-A-SunPlan process where we review your long wish list of wants and needs in a home, we will sort through all of our designs then advise you if your ideas have been incorporated even if that home design.
Here one home for instance that is not on the Sun Plans web site: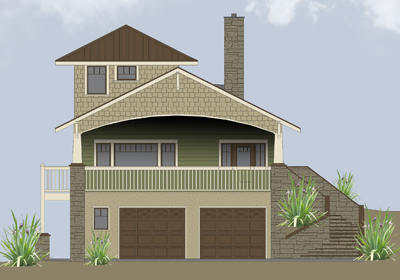 Gazing Star
A twist on the popular French Cowgirl design, but with a southern viewing tower and a garage tucked in the basement below. Our clients have a steep, hillside lot with the drive coming in from the east and gorgeous views to the southwest.







---
Create-A-SunPlan Consulting and Review Same Cost as Adapt-A-SunPlan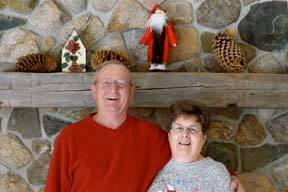 Mention this Spring 2014 E-Newsletter and get $100 off the Create-A-SunPlan Consulting and Review. That makes it the same price as the much more limited Adapt-A-SunPlan consulting and review.
With Create-A-SunPlan consulting, as a rule you will receive detailed review and feedback on your information submitted in the following categories:
- House siting
- Floor plan function
- Energy-related concerns
- Construction materials
- Exterior design
- Preliminary budget estimate for construction costs
- Study Plans of any existing designs that could meet your needs without extensive changes if we find that an existing home design, or parts of one, might be close to what you describe. At that point we would switch to the Adapt-A-SunPlan process but you would not pay an additional consulting and review fee. We loved working with Larry and Joy (photo above) on adapting their own to have a few selectively placed windows on the north, east and west to take advantage of the views on their property.

See the many services provided by Sun Plans
---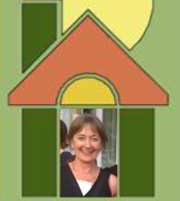 Thanks for reading about our passive solar house designs!
Please feel free to call me to discuss how the Create-A-SunPlan process can work for you. Also, we can often complete the design in less time than you may think as we get more and more efficient with our architectural services.
I looking forward to assisting you with the design of your sun-inspired, nature-inspired home!
Debbie Coleman, Architect, Sun Plans
www.sunplans.com