Happy Spring Equinox from Sun Plans!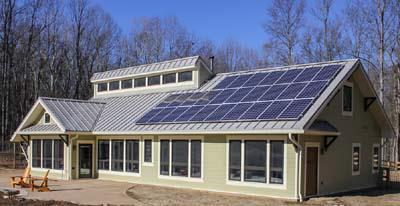 Thanks for your interest in our sun-inspired home designs that are warmed and brightened by the sun.
During the equinox time of the year, the run rises due east and sets due west. Rooms on those sides of the home will be brighter than in winter.
At noon, the shade line above south-facing windows on properly designed passive solar homes should be about midway down the glass for most locations. (The photo on the right was taken closer to the solstice when the shade line allows the south-facing glass to be in full sun.)
Incorporating passive solar heating and passive solar cooling strategies into a house design can on average reduce heating and cooling bills by 30%. When clients add active solar systems, the savings can be net zero.

In this Spring E-newsletter you will find:
Photos from home owners: an assortment from construction and move-in
Trends with customers: less selecting a plan, more creating a home design
Review Set Services: receive opinions of probable construction costs
Home Energy Ratings: importance and Sun Plans example scores
Learning: our favorite web site for planning to build a Sun Plan
New Sun Plans house designs: Take the survey to state your preferences!
---
Photos from Sun-Inspired Home Owners
Starting construction can be an exciting moment. Often clients will send photos along the way and after completion. Here we share a few with you!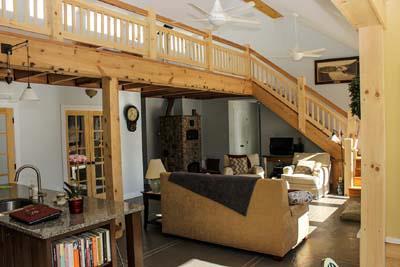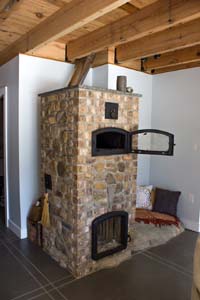 RISE
:
Rita and Sean show off their spacious loft that is lit by the clerestory above. The smallest possible masonry wood heater can provide supplemental heat during long cloudy periods and create a place to bake a pizza!
Nature's Corner
:
Sandy and Marilyn show off the cool north side of their home and the daylight cooling chimney that appears like a chimney from the front of the home. The dining bay with panoramic views protrudes from the south side.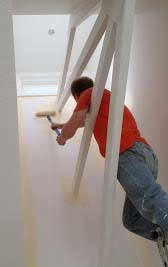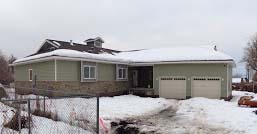 Acorn:
Alice and Kyle show off their daylight cooling chimney (see the
Solar & Energy section of FAQ
) and Kyle's bravery of painting the inside of it. (Those are truss webs extending through.) The "L" shaped front of the home makes the home suitable for drives that approach from the north or east. (or west if reversed)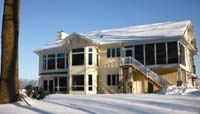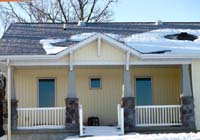 Cherryview Farm:
Larry and Joy show off their central dining bay nook, sunny screened porch and quaint front porch on the north. Touches of stone reclaimed from their old barn adorn the home inside and out.
See Sun Plans house designs list
(The default listing shows the homes with the smallest square footage listed first.)
---
Trends with Sun-Inspired Customers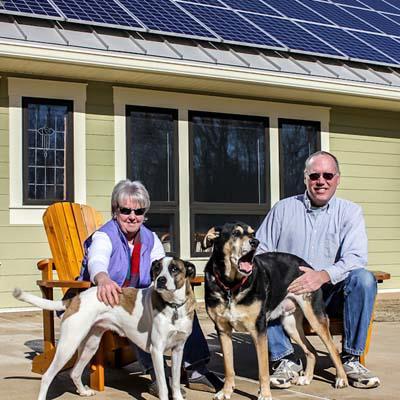 Sun-Inspired home owners are becoming more discriminating with an increase in choosing Create-A-SunPlan architectural services.
Selecting-A-SunPlan
(choosing a stock house house plan) is primarily popular when home owners need to obtain a house design quickly. With people planning ahead more often, this is a small percentage of Sun Plans' business. That makes every order such as a Study Plan or Review Set even more appreciated. So thanks to all of you who help Sun Plans keep the web site online!
(We are extending our offer to include complimentary copies of our book The Sun-Inspired House with all orders - just ask for it at the same time that you place the order and we will mail it along with your plans.) Creating-A-SunPlan
(designing a new home) is providing plenty of work. And since creating new designs is so enjoyable, Sun Plans is happy as are the clients who get a custom designed home! Often details of other homes designs can be used which helps keep the design fees low - typically about a third or a half of what a realtor is paid in purchasing an existing home. Then the design of an efficient floor plan, attractive exterior and easy-to-build home can be given priority.
Adapting-A-SunPla
n
(changes to an existing design) continues to cause some confusion as customers often perceive that it is less costly in the design stage to make extensive changes to an existing plan or to combine two designs. Often the opposite is true. The Adapt-A-SunPlan fees can be HIGHER than Create-A-SunPlan fees. And since the process is completely different from creating a design, the end result might not be the least expensive house to build since the home may not be right-sized for the family and their budget.
Example: After first engaging Sun Plans in Adapt-A-SunPlan consulting of detailed changes to the Canyon View, and hearing the less than favorable comments by the Sun Plans' architect, here is what Joshua had to say:
Thanks for your feedback and insights. As you presumed, disappointing to hear, but best to figure it out now than later; one of the reasons we wanted to consult with you about changes. I did notice that the plan was listed as complex, and appreciate the additional information on where the complexity lies. I'm all in favor of a simpler design that's easier and more cost-effective to execute, while keeping the most important parts and minimizing wasted or unused space.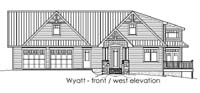 And the best news? Although Joshua and Allison liked the general layout of the Canyon View, they preferred the exterior look of the Sunny Dreams. With Create-A-SunPlan, Sun Plans was able to incorporate the best of both into their custom design! Architects are trained to incorporate whatever desires people want in their homes.


When in doubt, Sun Plans recommends starting with Create-A-SunPlan

Unless you have narrowed down the choice to one design, start by completing the Create-A-SunPlan process rather than the Adapt-A-SunPlan process. The cost is only $100 more for Sun Plans to review all of your ideas and give you advice. (You can certainly reference all or parts of other Sun Plans' designs as a communication tool.) If during the process, it is discovered that there is an existing design that meets your needs, it will be pointed out as an option and at that point it may be recommended to switch to Adapt-A-SunPlan services. Complimentary sets of Study Plans of another design (even if it is one of the many designs not on the Sun Plans web site) can then be provided for review.
With the Create-A-SunPlan Consulting and Review as the starting point, you get the benefit of the Sun Plans architect involvement early in the process:
Reviewing your custom wish list in detail
Searching the database of plans in much greater detail that the web site allows
Providing customized consulting based on your lifestyle, climate and budget
Creating a right-sized, customized design IF you choose to continue the process
Please read what other Create-A-SunPlan customers have been saying.
---
Review Set & Construction Costs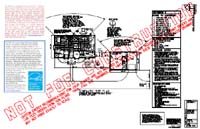 Customers primarily order
Review Sets
to have local builders price the home. Cost estimating is an important first step in planning to build a home and it is better to find out sooner rather than later that the house you plan to build is either too large or too complex for your budget. While obtaining thorough pricing (often for a fee) by an experienced builder is the recommended method for getting within about 10% of construction costs, sometimes Sun Plans can help.
One way is by providing the
Construction Cost
information.
Another is by trying out an introductory service to provide "An Opinion of Probable Construction Cost" for those who purchase a Review Set in 2013. Along with the Review Set, an Excel sheet can be provided that shows the range of construction costs based on information that other Sun Plans home owners have provided.
(Based on national information. Sun Plans is too small of a company to have statistics by state or region.)

Click here to see the example Review Set posted on the web site.
---
Home Energy Ratings

Sun-inspired designs are designed to earn the Energy Star label. Even if Energy Star certification is not sought, the services of a Home Energy Rater can be invaluable. Sun Plans wishes that EVERY home owner would hire a third party energy rater to oversee the energy-related aspects of a constructing home, interpreting Sun Plans Custom Energy Specs, and assuring Energy Star standards are met. They can oversee that the mechanical systems are right-sized for the low-load, high performance home and make sure that insulation is installed properly - that the house is really tight. A blower door is used to check tightness prior to installing interior finishes.
RESNET (Residential Energy Network Services) reports:
Despite the continued challenges of the nation's housing market, the number of homes that were energy rated and received a HERS Index Score increased in 2012. In 2012 there were 128,000 homes in the United States that were issued a HERS Index Score. This represented 35% of all new homes sold in the nation. RESNET Executive Director Steve Baden commented: "These numbers reflect that home energy ratings are fast becoming a mainstream in the U.S. housing market."

Link to Energy Star
---
Green Building Advisor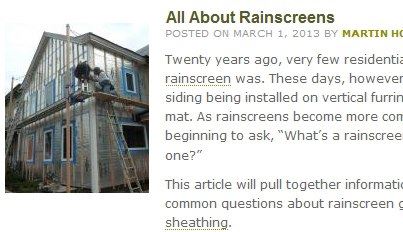 Did you realize that for really curious clients that have not done much of their own research on building a passive solar home that the Sun Plans architect can spend MORE time consulting on various energy issues than drawing the house design? (Think really long emails or phone calls explaining all sorts of energy-related pros and cons.) That is one reason that fixed fees for adapting a design are seldom provided. Clients with simple changes may require extra consulting time on energy-related materials while clients of clientwith complex changes may not require any extra energy advice.
In any case, home owners that have done at least some of their own research can benefit from the knowledge and most likely can reduce the amount of time (therefore fees) of Sun Plans. More common then would be for the Sun Plans architect to assist in evaluating which of the many options are appropriate for the particular climate, budget and lifestyle of the home owners. The builder's costs of various materials are also helpful.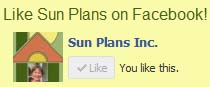 For excellence in research and reporting on the seemingly endless details related to constructing a sun-inspired home, Sun Plans highly recommends Green Building Advisor. If you
follow Sun Plan on Facebook
, then you have already seen the posting about Rainscreens - installing siding over an airspace to facilitate moisture drainage out of the wall to minimize the development of mold and mildew. Their list of subjects goes on and on.
Visit Green Building Advisor
(Martin Holladay, the Energy Nerd on Green Building Advisor, wrote the review of The Sun-Inspired House when he was with Energy Design Update. See below.)
---
The Sun-Inspired House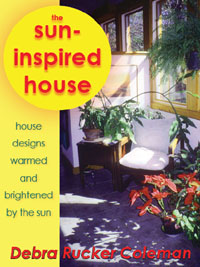 Although the book is complimentary with orders of any house plan or service, order it directly from Sun Plans and the price of $19 can be deducted from future orders over $100. In addition to over 50 (100 with the E-book version) house designs, it has 150 pages of energy and passive solar information based on the dozens of questions that have been asked of the architect over the years. (The price includes shipping in the US.)
"The Sun-Inspired House, a 247-page book by architect Debra Rucker Coleman, may be the best available introduction to passive solar design. Coleman's book is much more useful than three better-known books on the topic:..." - Energy Design Update, July 2008
Shop Now

---
Upcoming Sun Plans house designs: A Survey to state your preferences!

A busy winter has left no extra time for posting new house plans to the website. New sun-inspired home designs are starting to pile up. And since it takes a lot of time to post a plan, it makes sense to provide YOU the opportunity to let us know YOUR preferences of a home design before we add new ones to the web site.
The next sun-inspired house plans to be added to the web site will then be ones that meet the majority of what the prospective Sun Plans customers are looking for in a design.
To vote on the question about your preferences for the house designs listed below, rank them in order of 1 to 7 with 7 being your first choice.
Start the 5 minute survey to state what YOU are looking for in a sun-inspired home.
---
Vote on the following new Sun-Inspired Designs

(First review each design, then jot down your preferences 1-7 and enter the ratings in the survey link above.)
Squirrel's Nest
This west-facing farmhouse style home was created for a family of six. It features wrap around porches and five bedrooms within 2773 s.f. on 1.5 floors plus a full walkout basement.
White Magnolia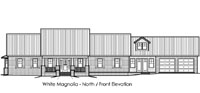 This north-facing farmhouse style home was created for a large lot that could have a slab foundation for thermal mass. It features 4 bedrooms within 2438 s.f. on the first floor plus a small loft above the sunroom/breezeway that opens to the large attic storage or bonus rooms.



Fox Sparrow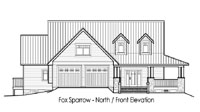 This north-facing farmhouse style home was created for a family of 4. It features wrap around porches and 4 bedrooms within 2471 s.f. on 1.5 floors plus a hybrid foundation of crawlspace and small basement with a storm shelter/root cellar.

Brunswick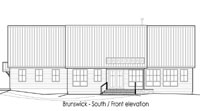 This south-facing clean-lined farmhouse design was created for a challenging Canadian site with both a north water view and north sloping land. It features 2 bedrooms and an art studio within 2092 s.f. on the first floor, a back balcony and other bedrooms and spaces in the walkout north-facing basement.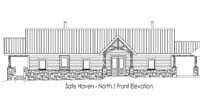 Safe Haven
This north-facing home with a south walkout daylight basement evolved from the Conservation Showhome design. It has a large master bedroom in 1613 s.f. on the first floor and two other bedrooms on the lower level.


Moorhaus Cottage 4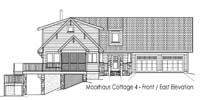 An east-facing home with a small footprint (just 1279 s.f.) yet 2227 s.f. including the second floor. A daylight basement provides even more space. Outdoor living is increased with porches and decks.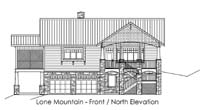 Lone Mountain
Designed for a steep hillside lot, this one story home with full walkout basement has ICF concrete floors for extra thermal mass. The compact two bedroom first floor has 1988 s.f. of living area plus a large front porch and side screened porch.
---
Thanks for reading our Spring Equinox Newsletter and taking the sun-inspired house survey!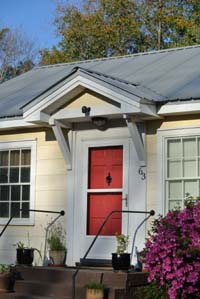 We hope that you enjoyed the information to help in planning your sun-inspired home.
We look forward to hearing from you when you are ready to design a sun-inspired home!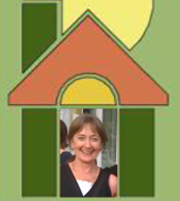 Debbie Coleman, Architect and the Sun Plans staff
www.sunplans.com
(Please
take the 5 minute survey
to let us know the generalities of what you are looking for in a sun-inspired home. However, if you are ready to get started creating your sun-inspired home, then request our Create-A-SunPlan questionnaire which asks MANY more questions about your preferences.)