Happy Winter Solstice from Sun Plans!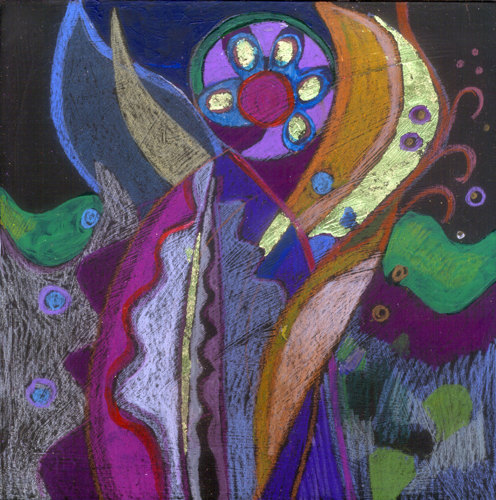 May the golden wings of the sun fill your home with warmth.

We wish you a Joyous Holiday Season, Merry Christmas and a Peaceful New Year.

Debbie Coleman, Architect & Staff
www.sunplans.com
(Artwork by Christina Saj - Golden Wings)
---
The Winter Solstice Newsletter Includes:
Sun-Inspired Home Owners' News

Home Power & Mother Earth News

House Designs in Progress

New Sun-Inspired Designs Added

End of the World Sale on Construction Prints

Housing Market Improves - message from the architect

---
News from Sun-Inspired Home Owners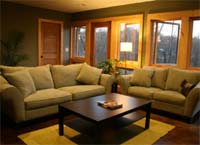 Midnight Sun
Brian Knight of Asheville, NC green builders, Springtime Homes, built this passive solar design by architect Debra Rucker Coleman of Sun Plans. A low score of HERS 42 Energy Star broke the region's blower door test (a measure of house tightness) at the time of its build.
He posted some wonderful photos on Houzz. They can be viewed via the link on the bottom half of the
Midnight Sun Details page
that describes the home further. Brian adapted the home with CAD files.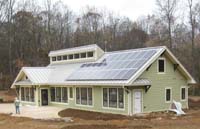 RISE

Rita and Sean were fortunate to be able to build during the slower times of the past year and benefited from reduced construction costs. Sun Plans custom designed the home to fit their budget and priorities. Their builder and home energy rater attention to details has kept the electrical consumption low and RISE was generating its own power even during construction.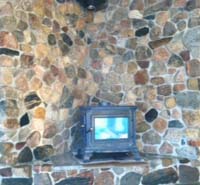 Cherryview Farm

Construction is moving quickly for Larry and Joy who have a wonderful builder, Dick Yoder, that is experienced in working with third-party home energy raters who verify Energy Star compliance. Larry and Joy told Sun Plans:

"We found a "green" bank that offers a $1500 rebate on the closing costs if we get a HERS score of 52 or lower."



The design was created to take advantage of their site and desire to have all wood floors. To the side is a photo of their hearth north wall made with reclaimed field stone from an old barn on their property. They recently wrote:
"Still love the house....what a great view we have, especially to the north. Your windows modifications there are perfect....and I saw today (in December) that the afternoon sun marched completely across the great room floor and now strikes the north wall."
Dream Horse
"Thankful for our little Sun Plans house on the prairie, the Dream Horse!" Janet & Bill
---
Sun Plans in the News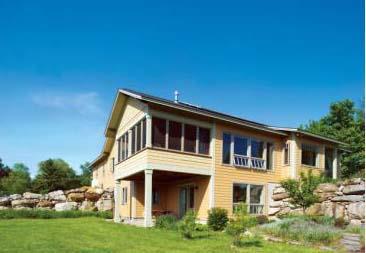 The interview article with the Sun Plans' architect in the Oct/Nov 2012 printed edition of Mother Earth News can now be read on-line: Passive Solar Design: Creating Sun-Inspired Homes .

Jim, a Sun Plan's client who followed the Passivhaus (AKA Passive House) philosophy during construction wrote an extensive article about his home's net zero energy performance in the Aug/Sept 2012 #150 issue of Home Power. Even though 100% passive solar is very difficult to achieve in any climate, even in his cold climate of Colorado, Jim wrote:
This week Jim told Sun Plans:
"...we are in a blizzard with the outside temp of 11 degrees and 30 mph winds, and my boys (home from school because of weather) are running around the 69 degree house in short sleeves, and all of this with no backup heating."

Visit the Sun Plans News page for links to these on-line articles.
---
Sun-Inspired Designs in Progress - Farmhouse styles are popular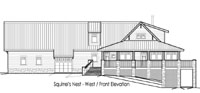 Squirrel's Nest
This west-facing farmhouse style home was created for a family of six. It features wrap around porches and five bedrooms within 2773 s.f. on 1.5 floors plus a full walkout basement.
White Magnolia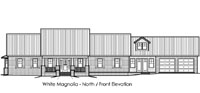 This north-facing farmhouse style home was created for a large lot that could have a slab foundation for thermal mass. It features 4 bedrooms within 2438 s.f. on the first floor plus a small loft above the sunroom/breezeway that opens to the large attic storage or bonus rooms.




Fox Sparrow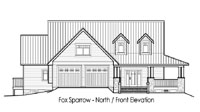 This north-facing farmhouse style home was created for a family of 4. It features wrap around porches and 4 bedrooms within 2471 s.f. on 1.5 floors plus a hybrid foundation of crawlspace and small basement with a storm shelter/root cellar.

Brunswick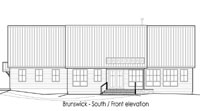 This south-facing clean-lined farmhouse design is being created for a challenging Canadian site with both a north water view and north sloping land. It features 2 bedrooms and an art studio within 2092 s.f. main floor, a back balcony and other bedrooms and spaces in the walkout basement.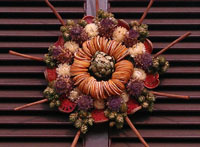 Look for the above designs to be added sometime in 2013 to the
Sun Plans house plan list
where they will be marked "NEW" . As a rule, Sun Plans likes for the home owners to start construction before the designs are placed on the web site.
---
New Passive Solar Designs Added
With cost-savings in mind, these designs have a few items in common:
- Simplification of exterior shape to minimize construction costs
- Placement of less-used spaces in the lower level sunny daylight basements
- Truss-framed attic roofs over the first floor which allow for great amounts of inexpensive blown insulation
- Main living spaces all on the first floor (but then the majority of Sun Plans are designed for this most important aspect of aging-in-place.)

As usual, Sun Plans gives great thanks to the home owners that made these designs possible.
Thanks Kyle & Alice, Larry & Joy and Beverly!
Acorn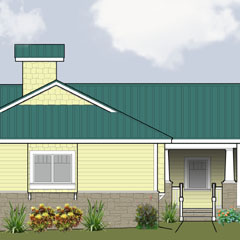 First Floor 1591 s.f.
Daylight Basement 1591 s.f.
Garage & Workshop 878 s.f.
Porches 270 s.f.
Width 69', Depth 60'
9 % South Glass
Inspired by another Sun Plan that was designed for aging-in-place, the Acorn is a bright, low-energy home bursting with sun and convenience. Beginning at the east-facing front door, and continuing throughout, windows are carefully placed to admit the right amount of light and heat. The "L" shaped front of the home creates a type of courtyard and gives flexibility to place the home on land with a driveway approaching from the north or east.

Cherryview Farm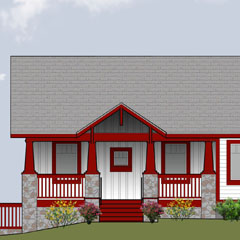 First Floor 1898 s.f.
Daylight Basement Finished 963 s.f.
Basement Garage/Shop 903 s.f.
Porches 448 s.f.
Width 60', Depth 44'
7% South Glass
The north-facing Cherryview Farm is a slightly smaller, simplified version of Nature's Corner. With land that has wonderful north views, windows were strategically located to capture scenes of nature as well as to let in the soft north light and increase house cross breezes. Be connected to nature on every side of the home and especially from the extra large southeast screened porch that could be a three season morning or enclosed sun room to increase the home's solar gain. Enjoy watching summer sunrises from the northeast front porch.
Sunshine 6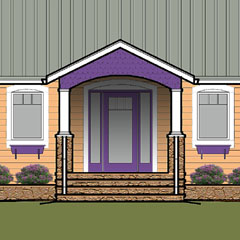 First Floor 1520 s.f.
Daylight Basement 1520 s.f.
Porches 274 s.f.
Detached Garage/Workshop 720 s.f.
Width 54'+Garage
Depth 36'
10% South Glass
The north-facing Sunshine 6 is a simplified basement version of our easy-to-build Sunshine plan series. It features the same large master suite, open living area and long hearth wall. Attractive "U" shaped stairs that lead to the sunny lower level were added near the side family entry. The side porch faces east for sunny mornings and a cool place on hot afternoons.
---
End of the World House Plan Sale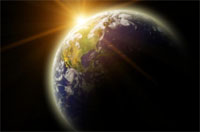 NASA scientists have thoroughly studied and analyzed the possibility of the Earth ending in 2012, and have concluded that 21st December 2012 will be nothing more than a normal
December solstice
.
(Will the world keep spinning after the Maya Calendar ends? Most likely! ©iStockphoto.com/Igor Tchaikovsky)

Still though, what a great excuse for a sale!
Although some have questioned why anyone would be influenced to buy a plan to build something worth at least a quarter of a million dollars under the pressure of a sale deadline, we all like to be offered a bargain now and then so here goes:

Between now and January 6, 2013, you can receive a price reduction of $400 off Construction Prints or $500 off CAD Files with the following stipulations:
No credits for previous purchases will be given
No Custom Energy Specs will be prepared
No checking and updating against the current Sun Plans in-house checklist will be performed
No after-the-sale customer service will be provided regarding changes and plan interpretations
Pay for the order through the Custom Payment link on the secure shopping cart

Who would want a house design without those special services? Perhaps someone who has not yet purchased a Review Set, has an experienced builder that knows how to create Custom Energy Specs to the client's energy preferences or was going to have the CAD Files changed by a local design professional.
Should you still want the above services and choose to NOT accept the discount - no problem. The services are standard with Construction Prints and CAD Files unless you tell us otherwise. If you desire the services during the holidays (before January 6, 2013) please allow a few extra days as Sun Plans will be working part time while spending more time with our families. Thanks
!
---
The Sun-Inspired House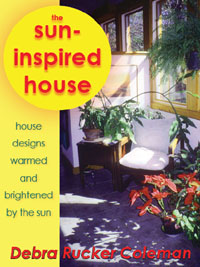 Although the book is complimentary with orders of any house plan or service, order it directly from Sun Plans and the price of $19 can be deducted from future orders over $100. In addition to over 50 (100 with the E-book version) house designs, it has 150 pages of energy and passive solar information based on the dozens of questions that have been asked of the architect over the years. (The price includes shipping in the US.)
"The Sun-Inspired House, a 247-page book by architect Debra Rucker Coleman, may be the best available introduction to passive solar design. Coleman's book is much more useful than three better-known books on the topic:..." - Energy Design Update, July 2008
Shop Now

---
Housing Market Strong

With the schedules of builders and architects filling up, don't wait too late to begin planning your home. The AIA (American Institute of Architects) states in their latest newsletter:
"In a long-awaited turnaround, the housing market has turned into one of the strongest sectors in the economy. In the second and third quarters, housing starts have been up more than 25 percent above the same period in 2011."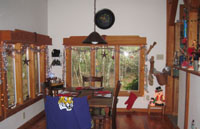 If there is not an AIA architect near your building location that has passive solar design experience, then we hope that you will consider working with Sun Plans through our internet-based custom design.
Debbie Coleman, Architect states:
"If you are interested working with Sun Plans on creating or adapting a home design, I encourage you to send in your Adapt-A-SunPlan or Create-A-SunPlan within the first quarter of 2013 if you plan on starting construction in 2013. Please be assured that even if you fill out the Create-A-SunPlan questionniare (free with any order, even our book) I will let you know if we have an existing house design that can be modified to fit your needs. We have many home designs that are not on the Sun Plans website.

Even before working with Sun Plans, you can start interviewing builders if you already have your financing in order. Telling them that you have cash to build or have been pre-approved for a construction loan will go a long way toward illustrating that you are serious about building soon and may save you a place in their schedule."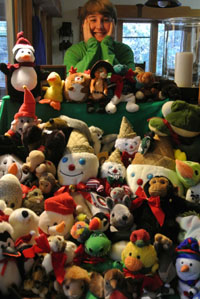 We look forward to providing
sun-inspired architectural services
by creating, adapting or selecting a passive solar house plan for you. If you are already living a sun-inspired home, tell us about your home!
We look forward to hearing from you. Please contact us!
"Have a wonderful Winter Solstice, a grateful Christmas and a Peaceful New Year hanging around with your family and friends!
"
Debbie Coleman, Architect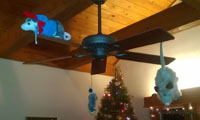 and the Sun Plans staff