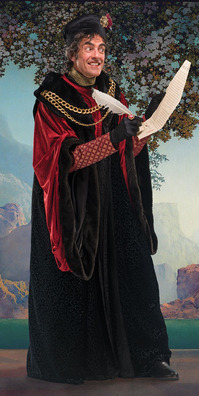 Our costume department are working VERY hard to make sure that absolutely everyone is beautifully clothed!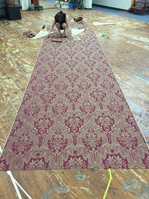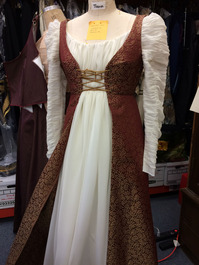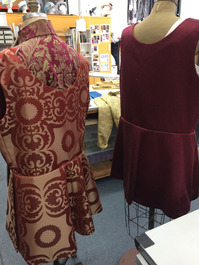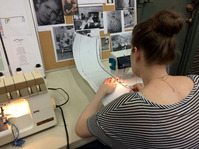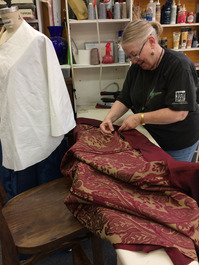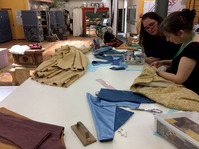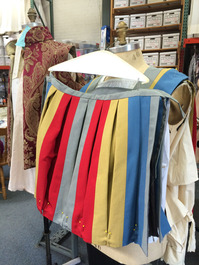 More about our new Mikado!

"
I thought the transition from Japan to Milan went very smoothly, and to G&S aficionados, will provide a few good laughs.
"
"
the Lamplighters Italiano version seems well on track and ... hasn't lost any of the essence of the original.
"
- patrons attending
Mikado
rehearsals
_______________________________________

We have seen Rigoletto in Little Italy, and in Las Vegas. Romeo and Juliet in the Wild West. There has even been a Marriage of Figaro set in Trump Towers! Some of this is no doubt due to a director's desire to shock, to push theater and operagoers out of their comfort zone and consider a different perspective on a classic. Sometimes these updatings don't work out with complete consistency, but in the best of them, you at least notice something you hadn't noticed before about a favorite work.
The Mikado is a fable set in a fictitious country called Japan. And Gilbert chose Japan because it was fashionable in the 1880s. If the rage had been for all things Turkish, we might have an opera called The Pasha. But the fact that it is not at all about Japan makes the transfer to Italy almost seamless. Rehearsing the piece, it seems that not much has changed, except that there is nary a fan in sight! Italian exuberance and joy in life colored every choice we made. In the earthy Lombard countryside, Gilbert's wry and wicked humor, his observation of human foibles and sense of irony are stronger than ever and through this new lens - made even more ridiculous.
In recent years, productions of
The Mikado
have been increasingly drawing criticism from the Asian-American community as promoting "orientalist" stereotypes. While moving forward to remove the words and imagery that may have caused hurt in the past, the Lamplighters endeavor to respect the original intent––as in all of the works we perform––not to preserve the past unthinkingly, but to show how much Gilbert & Sullivan can still teach us about the perennially enduring eccentricities of humanity. The Lamplighters undertake this scenic change in the firm belief that
The Mikado
can be viewed, and produced, with complete respect for the original intent of Gilbert & Sullivan's satire of our universal human nature, no matter what its setting.
Lesher Center for the Arts, Walnut Creek Tickets: 925-943-7469 or lesherartscenter.org
Friday August 5, 8pm
Saturday August 6, 2pm & 8pm
Sunday August 7, 2pm
Mountain View Performing Arts Center, Mountain View Tickets: 650-903-6000 or mvcpa.com
Saturday August 13, 2pm & 8pm
Sunday August 14, 2pm
Yerba Buena Center for the Arts, San Francisco Tickets: 415-978-2787 or ybca.org
Friday August, 19, 8pm
Saturday August 20, 2pm & 8pm
Sunday August 21, 2pm
Bankhead Theater, Livermore Tickets: 925-373-6800 or bankheadtheater.org
Saturday August 27, 8pm
Sunday August 28, 2pm