8 year Thriver, Li-Lien
Sharing my Journey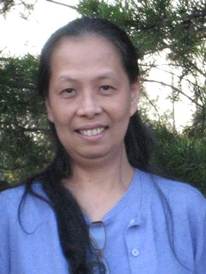 I often struggle on what to say or if I should say anything at all in response to the intros I read from the LMS groups. Everybody's cancer is different and I don't know what would be the best course of action. I recall that my first appointment with the doctor didn't go well, despite the fact that she was a highly recommended sarcoma expert. She did save my life by treating me aggressively. But at the first meeting, she was just like any doctor you might complain about: giving me a long list of side effects, not showing sympathy on the fact that I was the sole bread winner of a family of 7, not saying why I needed the treatment nor if that would work.
It was Dr. Dee, the old timers on this list will remember her, who propelled me beyond all fears of chemo to going through with the chemo. I shared my pathology report with Dr. Dee, and her first response was "You have very aggressive disease. It would be best to use chemo to get some control of the disease, and then use surgery to remove whatever is left after the chemo, so that you have some disease free time after the surgery." In a few words, Dr. Dee helped me not only decide what to do next but also prepare for what was to come.
Along the way, the doctor had been supportive and encouraging and I learned from her: don't fear chemo, fear the cancer. Try to stay fit to help chemo fight the cancer.
It has been 8 years now and I have been blessed that I was able to go through all the treatments while working the whole time. I am still not out of the woods yet, but I am grateful that an aggressive cancer seems to have been controlled without my sacrificing much quality of life.
I hope my journey might provide some comfort to the newly diagnosed. I think the medical world has learned a lot about cancer, as well as sarcoma. So work closely with your treatment team, also research as much as you can. I wish the best of luck to all of us.
2008 ULMS (12*9*8.5cm) diagnosed after abdominal hysterectomy
2009 Jan-
May 7
cycles of gem/tax because CT showed lesions in lungs
2009-10: 3 wedge resections for lung lesions
2011 Aug: metastasis -- 11x10mm soft tissue nodule within the subcutaneous fat of the left paramedian fat at the T10 level
2011 Sep-Nov: trial - Everolimus and Lenalidomide, horrible rashes, trial stopped, tumor removed surgically
2012 Feb: thoracotomy to remove left upper lobe and 2 wedges from lower lobe
2012 Jun-Nov: 8 cycles of gem/tax
NED till 2013 Jun scan - 2 nodules in right lung
2013 Jul: cryoablation to freeze one - didn't work
2014 Jan and April: microwave ablations for the other mets - maybe partially worked
2014 July: stereotactic body radiation therapy for 2 nodules in right lung
Radiation associated pneumonitis since mid-December, resolved over 6 months or so
2015 on: PET every 6 months, chest CT every 3-4 months
2015 Aug: SVC blocked at tip of the port's catheter
2015 Sep: removing port
2016 Aug: SBRT to metastatic mass between T8 and T9 (could be residual from 2011's growth) -- the radiation seems to do what it was supposed to do so just continue the 3 month scans
Have you survived with leiomyosarcoma for 7 years or more? Want to share your story and pass the hope forward to those who need it? Contact Sharon 2SharonAnderson@gmail.com