Dear Friends, Fans & Family...

Yes, it's true. After decades of dreaming and talking about taking a vacation in Europe, here we are, alternately fumbling and romping our way through this fascinating adventure.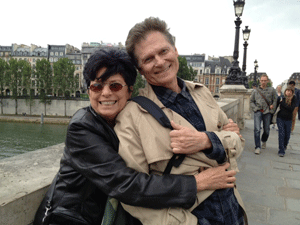 At home, in Colorado, we live in a valley that used to be meadows, aspen groves, and farmer's fields 25 years ago. All the neighborhoods there….except for a couple of farm houses and barns….are quite new. There are no ghosts hanging around, just vague memories of grass and sky and mountains, and maybe the faint echoes of a few Ute Indians passing through from time to time. No wonder we feel at home there, in the natural world, with so much lovely empty space.

Everything here, on the European continent, is SO old, and full of ghosts and history. The walls and the cobblestone streets remember everything. Here on the Rue des Rosiers where we're staying in Paris, Orthodox Jews in black hats and earlocks hurry along the passageways conversing in Hebrew, white beards and horn-rimmed glasses, past shops advertising Kosher pizza under a star of David. Best falafels and Israeli eggplant in the city, right here.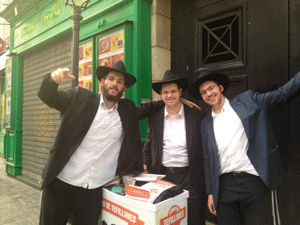 In the gay boy bars, just around the corner, cute American 20-somethings are throwing around their high-school French, when it really doesn't matter what they say. Optical boutiques with Armani frames stand right next to trendy pastry shops with chocolate eclaires to die for.

The Musee d'Orsay used to be a huge train station and now it is full of impressionist paintings and sculptures, and tourists crowding around from all over the world, furbling and snaking through the entrance lines, a few working-class Brits smoking and annoying the Asians who are too polite to comment. The ghost of Van Gogh is alive and well and still mad as a hatter, gleaming out of his insanely beautiful paintings with an energy that knocks you over and literally takes your breath away. His brush strokes are so direct, and so thick with paint, that you're not sure they ever really dried. Maybe they will stand up and fly away like the black crows in his last painting of the corn field....the one he barely finished before he committed suicide. His work is so urgent. The best of his paintings are like a doorway opening into a wildly vibrating dimension of depth and color. You can feel the breeze, and the invitation. If I had more time and more freedom...If these salons weren't so crowded, and if the museum docents with their official badges were not so proprietary....I would look both ways and then step right into Van Gogh's starry night.

Our tired feet are screaming, but we walk to the Latin quarter anyway, and dive gratefully into the quirky and endearingly funky Shakespeare & Company bookstore, which is crammed with English language books on old ramshackle wooden shelves. The salesgirl is a perky just-out-of-university blonde with a delightful London accent and a wide and helpful smile. For the moment it's a great relief not to have to say "Bonjour Madame," and to just ask for our favorite authors as unapologetic Americans.

The winding streets in this part of the city are full of Indian restaurants and sidewalk cafes, creperies and Tunisian sweets. Every shop sells cheap colorful pashminas and touristy scarves, along with postcards of the Mona Lisa and the Eiffel tower, which for some reason makes us feel right at home.

The rain has stopped, and we probably won't need to take our industrial-strength Eddie Bauer umbrellas out tonight. We still have one more night in this gorgeous city. A dear old friend from long-ago Aspen lives here now, and has taken us to a few jazz clubs where they let me sit in and sing a few standards with the band. JD and I were lucky enough to stumble upon an extraordinary choir concert in Notre Dame cathedral which was so beautiful it made us both weep, all those intricately coordinated musical frequencies dancing and re-doubling themselves over and over again in that holy space, the graceful vaulted ceilings at least a football field high. And then the next day we happened upon a full 12-piece chamber orchestra playing baroque music in the Metro, the Parisian subway. The music was just as divine, even with all the people hurrying by.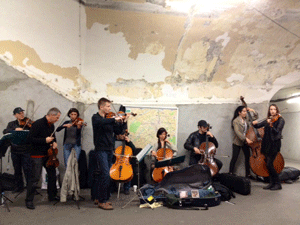 My French language skills are fairly decent as long as we stick to the basics, like asking for the dinner check and commenting on how pretty the silk scarves are. I can speak slowly and somewhat eloquently about 19th century poetry, (I spent my junior year abroad studying literature here) but DAMN, the ordinary people on the street speak incredibly fast, and they never really open their mouths. The French language must be spoken with the mouth in a perpetual pout, which is either sexy or annoying, depending on one's mood or the time of day. God only knows what they think of US.

Which brings us to this delightful poem by Ellen Bass: "Asking directions in Paris."

We go to London next week to see friends and roam the city, happy to be speaking English again. (Of course, the accents there are often so thick we may wish we had subtitles.) We will check back in with you again once we've returned home again, after June 17. We will list upcoming concerts and other live appearances then.

In the meantime, we are sending Big Love to you all,

Love from Jan & JD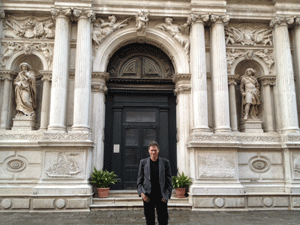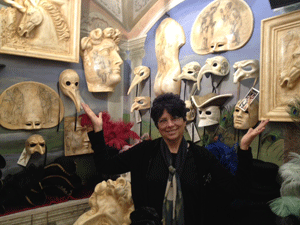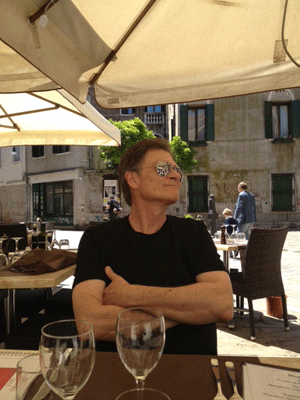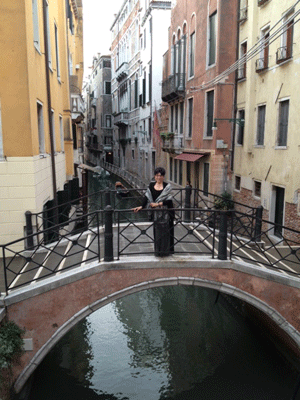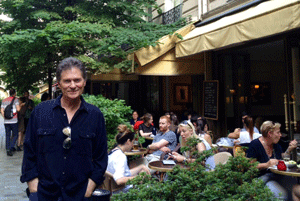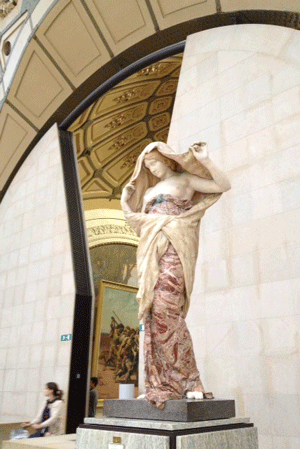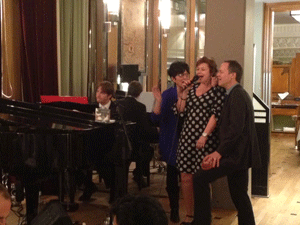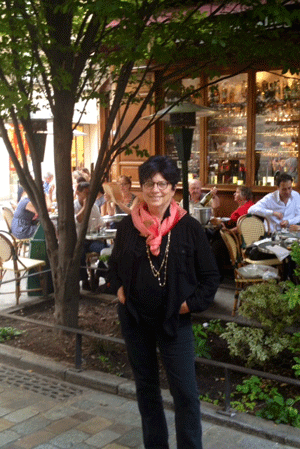 Upcoming Events
Click here for details of all coming events in VA, CO, WA, NM