Dear Friends, Fans & Family....

We did it! Last Saturday night, February 2, JD and I launched our new album "Better Angels" at a special CD release concert here in our home town, at the Aspen Chapel. (We hope to have some video clips from that performance for you soon....stay tuned.) We love the way the album turned out, especially the way it sounds and feels.

Here's one of our favorites: "Shine On."

"Better Angels" is now available in 3 formats: CD, Download, and Thumb Drive. You can take your pick (or order all three!) at the Music Store page of our website:

http://www.garrett-martin.com/better_angels.html

And on this page you can also download the lyrics, the stories behind the songs, the credits and a list of the donors.

We have had great feedback so far, and even had a great write-up in the Aspen Times! (You may have to fill out a ten second form before they'll let you read it!)

We are so grateful to all of you for your continuing enthusiasm for our music in general, and especially these past 8 months for your energetic and financial support in helping to get "Better Angels" produced.

Working our tails off in the studio since June to create this collection of strong and timely songs has felt like such a sane and soulful alternative to obsessively watching the news and freaking out. We are still watching the news, and we are still freaking out, but now at least we have something to show for it: "Better Angels!"

And now that the album is finished, we feel more determined than ever to get these songs out into the world, to as large an audience as possible. We would love your help with this! Once you've purchased your copy of the album, please spread the word (along with our contact info, of course) to everybody and anybody you think might be interested. No doubt you know people, or organizations, or institutions who could use this music to uplift and inspire some focused and aligned action.

I guess it's possible that we are suffering from Delusions of Grandeur here, but if so, it's just because we believe so strongly that really great music has a way of transcending politics, reaching beyond entrenched differences of opinions and ideologies, beyond divisive in-fighting....and landing deeply, powerfully, right in the center of the heart.

This album is all about SYNERGY, where the end result is much more than just the sum of its parts. The circle is widening, and it includes all of you. We will keep inviting each of you to be part of our "Extended Family of the Heart."

This is the peaceful transfer of power, beyond politics: We the People, and the Better Angels of our Nature.

Who knows what magic the songs, and the intention behind them, might work from there?

Thanks and love from Jan & JD.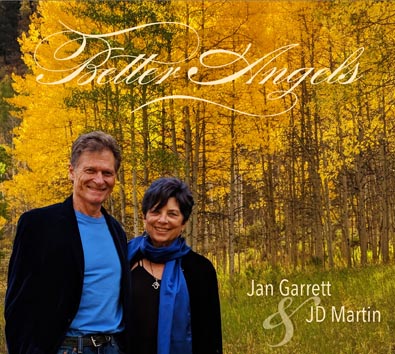 Upcoming Events
Click here for details of all upcoming events

• February 10
House Concert
Ouray County Performaing Arts Guild
Montrose, CO

• February 16
Singing Workshop
Community Congregational Church
Tiburon, CA

• February 17
Music & Message
Community Congregational Church
Tiburon, CA

• February 24
Music & Message
Unity of Palo Alto
Palo Alto, CA

• March 23
Concert
Covenant Mennonite Fellowship
Sarasota, FL

• March 24
Music & Message
Unity of Fort Myers
Fort Myers, FL

• March 28 - April 1
Positive Music Festival
Tampa, FL

• March 31
Music & Message
Unity Southshore Spiritual Center
Ruskin, FL