Dear Friends, Fans & Family....

End of Autumn, the harvest is in, Halloween approaches, and vampires and goblins are spooking the imaginations of the neighborhood kids. We will get a ton of trick-or-treaters at our house tonight, and JD gets to dress up as a classy king's jester. I will probably just go as a good witch, which means I don't have to do anything out of the ordinary. Hahahaha.

All the phony blood and gore aside, we think All Hallow's Eve is a good time to be grateful to be alive, to slow down and remember our ancestors, and to honor the dear ones we've lost along the way.

As the Celtic traditions remind us, this is the time of year when the veil between the worlds is the thinnest. So it's a chance to open up our otherwise narrow lens and include in our awareness all the living spirits who have come and gone....including the ones who are not here yet, but who absolutely know and love us by heart. We have so many allies in the unseen realms. And considering the turbulence in the world these days, we probably need all the help we can get.

I just got back from an extraordinarily extravagant family girl bonding trip to Europe, a refreshing shift in perspective. JD kindly and competently kept the home fires burning while all the ladies adventured our way through London, Paris, and southwestern France with its gorgeous medieval villages and castles. We went canoeing down the placid river Dordogne which was the border between the French and English during the Hundred Years War....from 1300 to 1400.

All that fighting. All the crazy destruction, injustice, and suffering that has happened since. But 700 years later those resilient little villages are alive and well, and the fortresses have survived. So has the music. We heard a fine local French ensemble singing and playing Renaissance tunes, and got to hear the King's College Choir singing at Evensong in Cambridge England. Our hearts soared, and the music continues.
The women in our family are soulful and funny and strong. It was such a treat to have carved out the opportunity to be together. While there, I took a 2-week break from the American news cycle, and realized that it didn't miss me a bit. We played with our very happy grandbaby, who took her first steps while we were there, proof that the world continues to evolve and thrive, regardless of appearances to the contrary.

Back home, JD and I will continue to write and record songs that hopefully inspire and support us all to show up and make a difference in the real world. JD's song, "Home of the Brave," which he co-wrote with David Roth and Karen Drucker, is a powerful anthem about the current immigration situation. Acclaimed filmmakers Sherry Hursey and Rick Cowling of ToTl Entertainment have made a magnificent video which has been nominated for a Positive Music Award. Video is the one category that is based on fan voting, so if you want to lend your support you can. Click here to watch the video.

And here's the link for voting. Voting starts on November 1st. Thanks in advance....

Love from Jan & JD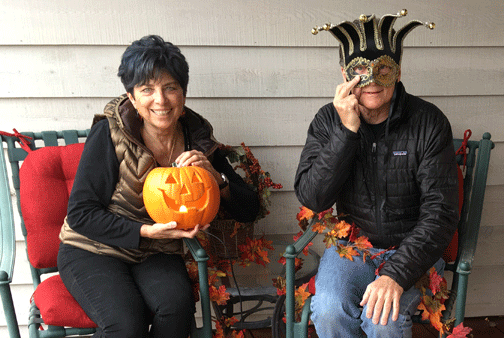 Upcoming Events
Click here for details of all upcoming events

• November 3, 4, 5
Concert, Music & Message and More
Columbus, OH

• November 26
Special Music at Unity of Charlottesville
Charlottesville, VA

• December 1
House Concert at a private home
Fairfax, VA

• December 3
Music & Message at Unity of Gaithersburg
Gaithersburg, MD

• December 10
Music & Message at Unity of Grand Valley
Grand Junction, CO

• December 17
Music & Message at Unity of the Mountains
Edwards, CO

• December 21
27th Annual Winter Solstice Concert
Aspen, CO