Dear Friends, Fans & Family....

We are staying at home for the month of June, looking forward to enjoying the beginning of our Rocky Mountain summer, and recording some of our newest songs in the studio. Hope all is well wherever you are....

JD and I do love traveling and playing our music for all you guys all over the country, but it takes some major organizing to keep everything running smoothly when we're out of town.

Before we left in mid-May for a long-ish tour of Virginia, we made sure that the guy who takes care of our sprinkler system knew he had to get everything up and running before we left, so that we could come back to a happy healthy lawn. Unfortunately, the signals got crossed somehow, and it never got done. So we returned home to a very sad (dead) lawn, with some patches so dry that the grass actually crunched when you walked on it.

And in the meantime, our brave aspen trees (whose roots are all connected underground) gallantly sprang into action to make things better, and sent out a bunch of little "volunteer" baby trees, about 5 or 6 inches high, as if to say, hey no worries, who needs grass anyway....here's a forest for you!

So, things were a little out of balance. But it's all coming around again, with some concerted effort on our part. The grass is reviving, and the aspens seem fine with us cutting back their volunteer forest. The good news is that life finds a way to show up and flourish, no matter what. Just like people. We keep volunteering. We come and we go. The new ones shine, and the old ones pass away.

Granddaughter Lucy, now 18 months old, tries to walk in her Mama's shoes. She also loves to put a ballet tutu on her head and play hide and seek. This brilliant type of creativity runs in the family.

And JD honored his own mother at her memorial service a couple of weeks ago by singing this beautiful song he wrote about the Bible story of the little lost lamb. Ninety-nine were safe in the fold, but the good shepherd went out to find that one missing baby and bring it home again. Love is not confined to any one situation, or any particular time or place.
| | |
| --- | --- |
| | |
Here is daughter Annie holding a baby alpaca in Peru last summer. And last weekend JD and I got to sing at a wedding for the daughter of a good musician friend here in our valley, a sweetheart girl who took lessons from me when she was in middle school.

Round and round....the seasons come and go.....And we are so grateful to be on this ride with all of you. Happy Summer! And thanks for keeping in touch.....

Love from Jan & JD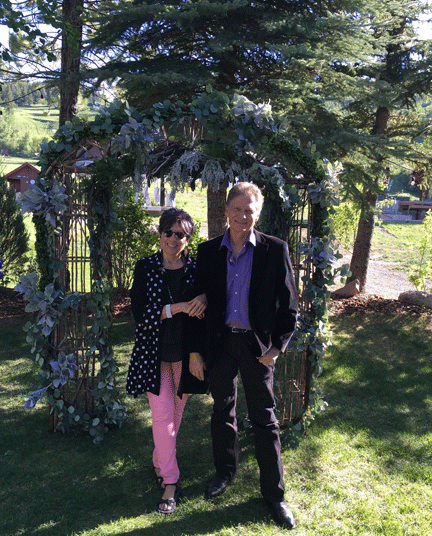 Upcoming Events
Click here for details of all upcoming events

• July 29
Music & Message at Unity of Fort Collins
Fort Collins, CO

Please check back next month for more information