Dear Friends, Fans & Family....

Big News: JD and I are in the midst of recording a new album of potent, pertinent, and uplifting songs....perfect for the intensely challenging times we are all living through right now. We can't wait for you all to hear these new tunes......

More about that in our next newsletter, but right now we are dreaming of rain.

A little over a month ago, July 3, a couple of kids (I say kids....they were 22 or 23 years old) were doing target practice at the local shooting range, in the mountains about 3 miles east of where we live. It was hot and dry, and they were using "tracer rounds," a military style bullet with an incendiary phosphorus tip which burns at 5,000 degrees Fahrenheit. (This kind of ammunition is used in combat situations, so you can see where you are shooting at night, and it was illegal at the time in Colorado because of fire restrictions)

Maybe these guys were ignorant, or just trying to impress each other, or thinking that they wouldn't get caught. Or maybe they thought it was part of their 2nd amendment gun rights, who knows? At any rate, they missed their target and the bullets landed in dry underbrush, starting a blaze which quickly spread to the surrounding juniper and pinon pine forest.

By late afternoon on July 4 the wildfire was burning out of control, threatening to consume homes in the area cross the road from us, and the downtown of our neighboring town of Basalt. JD and I started getting nervous, so we began organizing a few essentials in case we had to flee. He packed up the recording studio, all the computers and speakers and cords and the fancy microphone which costs more than the car.

By 9:30 that night we could see the flames leaping up just on the other side of the ridge across from us. By 9:35 it had topped the ridge and started roaring down the mountain, an inferno consuming everything in its path. Here's what it looked like at 10:45 as we evacuated our house, heading to safety with friends in the next town down valley. It felt like the world was on fire. Click here to listen to our song.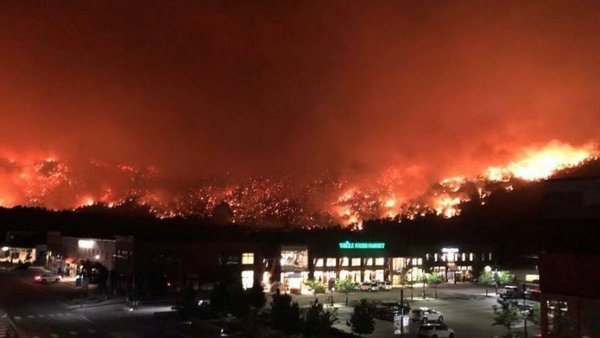 With the help of a fantastic crew of over 500 firefighters from all over the country, our neighborhood was saved, and after a month of helicopters and slurry bomber planes flying steadily overhead, the Lake Christine wildfire is finally about 90% contained. But nearly 13,000 acres have been burned, and the total cost of fighting the fire so far is now around $13 million. The smoke from this, and other fires in the area, is so hazardous and debilitating that we've been spending most of the summer indoors.

On July 9 a local woman posted a Face Book request for residents to come out and thank the firefighters as they came in from their day. She thought maybe 30 or 40 people might show up. As it turned out, the appreciative crowd was over 700 strong. Even the babies came out to clap and cheer in this video. The fire fighters and first responders said they have never seen such an outpouring of gratitude from any community.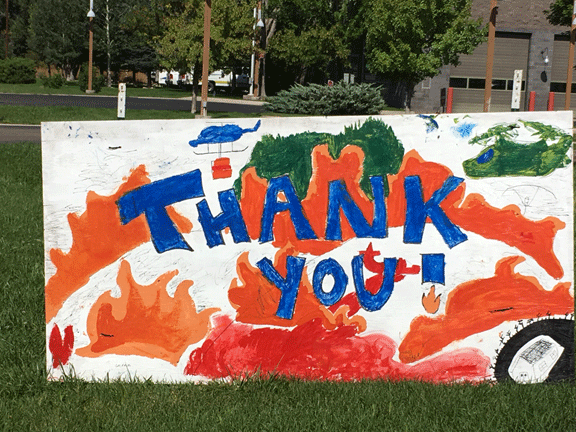 This is just our personal story. At last count there are over 100 wildfires currently burning in the western US and Canada, especially large and devastating ones in California.

Please suport organizations that help firefighters, first responders, and those who have lost homes and loved ones.

In the meantime, we are dreaming of rain. Please click here to sing along.

Love from Jan & JD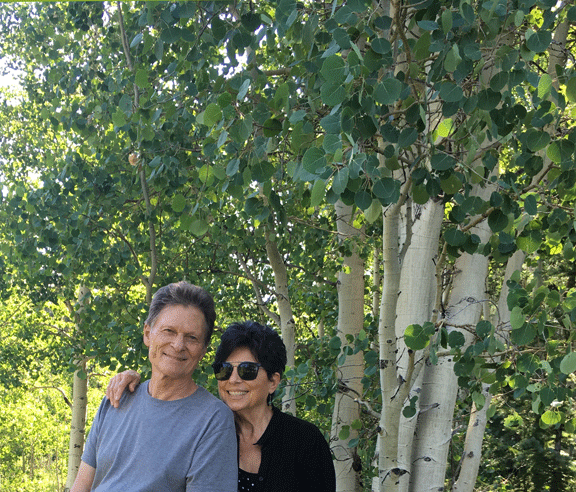 Upcoming Events
Click here for details of all upcoming events

• September 23
Special Music at Unity of Charlottesville
Charlottesville, VA

• September 23
Special Music - Marianne Williamson Event
Charlottesville, VA

• September 29 & 30
Singing Workshop
Music & Message at Unity of Fairfax
Fairfax, VA

• October 7
Music & Message at Unity of Grand Valley
Grand Junction, CO

• October 19 to 21
Music to support Evan Hodkins' retreat
Fort Collins, CO

• October 20
House Concert
Fort Collins, CO

• October 21
Music & Message at New Thought NoCo Center for Spiritual Living
Loveland, CO

• November 10 & 11
Singing Workshop
Music & Message at Unity of Denver
Denver, CO