Dear Friends, Fans & Family...

We are happily home from our fabulous European adventure, but before it all slips into oblivion, here are a few of Jan's observations from our time in the UK.

"Yes Yes, London! Maybe it's just that my DNA resonates with these people, who all look like my relatives, or at least familiar faces & body types out of Central Casting at the BBC. The moment I step off the Eurostar from Paris and onto British soil my whole body relaxes. My French mouth pout disappears. This is the land of my ancestors, after all, all those ruddy Celts and happy Druids, and the place where our favorite goofball word game, "Balderdash" was born.
London is wonderful, if slightly insane….all those English accents flying around in a hugely diverse cultural atmosphere….crowding past the Houses of Parliament, built in the 1300's, and crushing into Harrod's enormous and opulent department store….while little old ladies (high, no doubt, on their afternoon Yorkshire Gold tea) are trying to figure out the red double decker bus system. JD, in the meantime, becomes adept at navigating the Underground subways, and has Apps on his phone to guide us quite flawlessly around the city.

Our hosts Joan and Peter walk us to all the sights worth seeing, take us to hear an authentically funky pub band, and then sneak us (free) into the Tower of London because Joan's very jolly school chaplain (also chaplain to the Queen) leads the services there. The choir members, in their cardinal red robes, have voices so resonant and clear that their heads are like bells, ringing and filling the space with music written 400 years ago.
We go up to Cambridge to visit my dear old friend Rosie…yes, Rosemary Crump, how English can you get? Rosie and I were students together at the University of Grenoble in the 60's, and lost track of each other for decades. But even after all these years, she still has the same delightfully dry sense of humor, and one of those beautiful high-class British accents that makes everything she says sound profound. Her house is about half an hour's drive out of Cambridge on the outer edge of a tiny village called "Reach." She likes to tell people (in her wonderful aristocratic accent) that she enjoys living Just Out of Reach.
How can you not love the English language? I have taken notes on some of the quirky place names here. The following are stops on the Underground line between where we were staying in Southeast London and downtown, near London Bridge:

• Bushey • Hackney Wick • Blackhorse Road • Wrapping • Crouch Hill • Frognal •Shepherd's Bush • Queen's Park • Killburn High Road • Gospel Oak • Hatch End
• Kensal Rise (and) • Barking (Yes, Barking. I didn't make that up.)

This is obviously deeply thrilling for someone who grew up in Small Town America, on West Sixth Street."

Back home now in Colorado, JD and I are once again loving our lives, our flexible time schedule, and the wide open spaces here. We are happy to be Americans. We are grateful for our cozy and efficient home, our recording studio, the work we get to do as we sing and play our way across the country, our brilliant musical friends and co-conspirators, our sweet students who did not abandon us while we were gone, and for YOU all. THANK YOU again for sticking with us, and for loving the music as it evolves.

People ask us what we loved and learned from this European trip, and the year of preparation leading up to it. If I had to summarize, I might say this: Time and Space are collapsible. And expandable.

OK, it's just a theory and a fun metaphor, but I think that most of us just assume that (in spite of what the quantum physicists tell us) we are all moving along on a linear ribbon of time, headed in one direction only, propelled forward on a trajectory, flinging us into the unknown territory of the Future. Yes, of course, we always have this present moment, but we are often too anxious or bored to really live here fully. There's always History, and our personal memories, but basically the past is unreachable and mostly forgettable, and who knows what might happen tomorrow?

But after walking through the winding streets of Venice, which was a thriving commercial and cultural center as far back as the 1100's, I know intuitively that the walls of these stone buildings remember everything: The brilliance of the Italian Renaissance, the inspirations for all that art & music, even Leonardo's AHA moments. They never went away. And we can tune into that same ultra inspiring energetic if we just adjust our perception to the right frequencies. They are universal resonances common to all of us, right now.

The same goes for the holy impetus that inspired people to build the grand cathedrals and universities. All that amazing music, all that poetry and classical drama, all those individual lives lived for better or for worse. We are the fortunate inheritors of all that's gone before. What a smorgasbord of possibilities!

Time can bend back upon itself, like an accordion collapsing, so that ideas and feelings we thought were long gone are completely within our reach. Everything is alive and available, just as vital now as it ever was. Same for the future. Time is like a winding labyrinth that takes a linear journey (a pilgrimage from one starting point in physical space to another place, seemingly a long way away) and folds it up into a compact meditative practice. We are always searching for the center, but we forget that we are always already IN the center, because the center is in us. Always has been, always will be.

We are sneaking some of these ideas and feelings into the songs we are writing right now for our Christmas album, which will hopefully be released by November of this year. Yep, Christmas in July, talk about playing creatively with time & space. One brand new tune, which has a definite Celtic feel, might include these lyrics (we're not sure yet:)

"Everyone we've ever loved is still alive and well
The heart remembers everything, as far as I can tell
And all our fondest hopes and dreams are loving us so much
That Time bends over backwards to make sure we keep in touch…."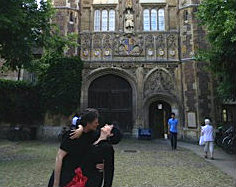 Thanks for listening. Please stay tuned.
Love from Jan & JD




Upcoming Events
Click here for details of all coming events in VA, CO, WA, NM