FEBRUARY 2014
February is Heart Month. Whether you're interested in emotional health or cardiac fitness, we hope you'll love our heart-healthy programs this month.
Heart Health Fair
Wednesday, February 26
8 - 11:30 am
Noble Conference Center
Here's your chance to ask questions of Greenwich Hospital cardiologists, pharmacists, dietitians, holistic practitioners and other healthcare experts. Blood pressure screenings and handouts available. Walk-ins welcome. Learn more. FREE.
Cholesterol Screenings
Wednesday, Feb. 26
7:30 - 10:30 am
As part of the Heart Health Fair, a limited number of fasting cholesterol screenings will be available. Registration is required.
You must fast from midnight the night before. To make an appointment, call 203-863-4277 or 888-305-9253. FREE.
Do you know your blood pressure? Stop by for one of our many free blood pressure screenings throughout the community.
Want to stop smoking? Call 203-863-4444 for a personal Smoke Stoppers consultation.
Eating for Life: Breaking Free from Emotional Eating
Wednesday, February 26
6 - 7:30 pm
Greenwich Library
Speaker: Psychologist Jennifer Denkin, PhD
The cycle of emotional eating begins with a trigger that is "comforted" with food. The result is weight gain and an unhealthy relationship with food that can last a lifetime. Learn how to break the cycle by identifying triggers, managing stress and changing thought patterns. To register, call 203-863-2939. Learn more. FREE.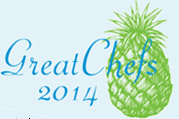 Friday, March 7
Great Chefs
Great Food, Great Times
Westchester Country Club
This annual event benefits Community Health at Greenwich Hospital and features more than 50 chefs from the area's leading
restaurants and catering companies.
Learn more or purchase tickets.
Greenwich Fertility Center, affiliated with New York University Fertility Center and Greenwich Hospital, helps parents-to-be conceive their dreams. Sometimes getting pregnant requires help from advanced technology and an emotionally supportive team. Learn more at www.greenwichIVF.com. Locations in Greenwich and Tuckahoe.