UCR Researchers Develop "Windows to the Brain"

A team of UCR researchers, led by Prof. Guillermo Aguilar, have recently reported the development of novel, ceramic-based transparent cranial implants in the journal Nanomedicine: Nanotechnology, Medicine, and Biology, a leading journal in the field of nanomedicine. By providing a permanent window through which doctors can perform laser-based procedures, the team envisions potential for their implants to open new treatment options for patients with life-threatening neurological disorders, such as brain cancer and traumatic brain injury.
BIEN Undergraduate Student Mentored by Prof. Franco Selected as Finalist in a Notre Dame Competition in Nanoscience and Nanoengineering

Project Title: Designing an in vitro bistable biological circuit using RNA aptamers
-Claire Tran, has won a $500 initiation grant from the Notre Dame Competition in Nanoscience and Nanoengineering connect initiative, and she was selected as a finalist in this nationwide competition. RNA is a programmable polymer, whose structure can be determined by choosing its sequence of bases. Many RNA sequences have been selected to enhance or inactivate the activity of other molecules such as proteins. These RNA polymers are called aptamers. This project focuses on building a circuit using synthetic aptamers that interact with proteins to generate a bistable behavior.
http://nano.nd.edu/ndconnect2013.html
Prof. Masaru Rao awarded $70K UCR Collaboration Seed Grant

In collaboration with Profs. Victor Rodgers (BIEN) and Kaustabh Ghosh (BIEN), Prof. Rao has been awarded a $70,000 grant from the UCR Collaborative Seed Grant Program for a proposal entitled "Rationally-designed surface nanopatterning: A new paradigm for mitigating adverse physiological responses to coronary stenting." The funds will support studies focused on developing deeper understanding of vascular cell response to surface nanopatterning, and in doing so, will help the team generate compelling data that improves the competitiveness of large, multi-investigator proposals they will be submitting to continue such studies.
Brandon Davis awarded GEM Associate Fellowship

Brandon is one of two incoming students that were designated as GEM Associate Fellows at UCR. GEM fellows can participate in the GEM network, which includes many companies with internship opportunities as well as other resources. Further, it increases UCR's attractiveness for other GEM applicants and allows us to include our commitment to GEM in our proposals. GEM is well known for its outreach to underrepresented minorities in pursuing graduate studies. Nearly 40 GEM fellow applicants (out of more than 1,000) also applied to UCR for graduate studies. Brandon will be working with Prof. Sandeep Kumar starting this fall.
Prof. Venkatram Part of $360,000 Air Resources Board Research Project

The California Air Resources Board has awarded UCLA and UCR a $360,000 grant for the research project "Identifying Urban Designs and Traffic Management Strategies for Southern California that Reduce Air Pollution Exposure." Akula Venkatram of the Department of Mechanical Engineering at UCR is one of three co-principal investigators. The project, which includes field studies and modeling, seeks to understand the factors that govern exposure to pollutants emitted by vehicles traveling on urban roads. Dr. Venkatram and his students are responsible for developing a dispersion model that can be used by urban and transportation planners to develop strategies to mitigate exposure to roadway emissions. The strategies include traffic management to reduce emissions and design of streets and buildings to reduce exposure to emissions.
Kendrick Mensink Wins NSF GRFP Honorable Mention

"In my NSF GRFP application I shared three key experiences that gave me the background skills and motivation to attend graduate school and apply for this prestigious national fellowship. The first was my undergraduate senior research project at Walla Walla University in which I led out in a small group of professionals and students to develop and build a prototype system that would automatically adjust semi-truck aerodynamics according to trailer size. The second experience was working as a consultant with a small start-up company over a summer on a groundbreaking product that nobody had designed before. The third was an international volunteering experience where I was blessed to work in an administrative role at a struggling hospital in rural Ethiopia where I learned adaptability against adversity and to work for the benefit of the larger community. That brought me to proposing to research a novel approach to treating many kinds of brain pathologies with "windows to the brain". These windows are made from transparent ceramics manufactured and processed in our ME labs and would allow for on-demand optical access to the brain. I specifically proposed to work on writing wave-guides on the ceramic with our high power ultra-fast laser to increase the light transmission through the ceramic implant "windows". I believe that developing such innovative cranial implants will make a broad positive impact for the millions of patients who undergo craniotomies due to traumatic brain injury and other brain disorders. Furthermore, studying the basic material interaction process of how an ultra-fast laser can change the optical properties of our Zirconia ceramic would deepen our understanding of the basic physical sciences of our world."
– Kendrick Mensink
2013 Faculty Retreat is a Success

The Department of Mechanical Engineering held its 2013 faculty retreat on September 10 at Dana Point. ME faculty and staff joined for a group picture, from left to right: Sandeep Kumar, Fabio Pasqualetti, Lorenzo Mangolini, Javier Garay, Kambiz Vafai, Susana Aparicio, Paul Talavera (kneeling), Guillermo Aguilar, Marko Princevac, Sarah Nosce, Robert Godoy (kneeling), Hideaki Tsutsui, Guanshui (Alex) Xu, Heejung Jung and Akula Venkatram. ME faculty not in this picture: Profs. Elisa Franco, Masaru Rao, Cengiz Ozkan, Thomas Stahovich and Reza Abbaschian. Click here for link to larger photo.
GRMP Awarded to Thomas Lopez and Darren Banks and DYP awarded to Shannon Gott

Thomas Lopez, a second year Ph.D. student working under the supervision of Assistant Professor Lorenzo Mangolini and Darren Banks, a third year Ph.D. student working under the supervision of Professor Guillermo Aguilar have received the Graduate Research Mentorship Program (GRMP) fellowship for one quarter of the 13—14 AY. Shannon Gott, a 4th year student working under the supervision of Assistant Professor Masaru Rao, received the DYP (Dissertation Year Program) fellowship.

The Graduate Research Mentoring Program (GRMP) and Dissertation Year Program (DYP) awards are intended to enhance the mentoring of domestic PhD students entering their 3rd, 4th, or 5th years of graduate school who are actively engaged in research. Congratulations Tom, Shannon and Darren!
Prof. Mangolini at 3M Science Fair and International Conference on Plasma Nanoscience

Assistant Professor Lorenzo Mangolini participates for the second year in the 3M Science Day (Saint Paul, MN, June 2013). Professor Mangolini continues to receive funding from 3M via the Non-Tenured Faculty Award Program. Professor Mangolini also gave an invited talk titled "Plasma produced nanomaterials for energy recovery and storage" at the Fourth International Conference on Plasma Nanoscience (Wednesday, August 28, 2013 in Asilomar, CA).
Prof. Elisa Franco Receives Award for "Programmable Dynamic Self-Assembly of DNA Nanostructures"

The Department of Energy, Basic Energy Sciences, Biomolecular materials research area awarded a $411,000 three-year award to Prof. Elisa Franco(PI). This project aims at generating a new class of materials that can adapt their shape and nanoscale organization depending on external inputs. These materials imitate the organization of cellular scaffolds like the cytoskeleton, which self-assembles depending on chemical instructions from the cellular control circuitry. This project will focus on DNA nanotubes, a simple analog to cytoskeltal filaments: assembly instructions for the nanotubes will be provided by molecular circuits made with DNA, which will process information from physical inputs such as light, temperature, and chemical gradients. These adaptive materials can be potentially decorated with a variety of nanoparticles and ligands: thus, they will be useful templates to create reconfigurable nanodevices for optoelectronics and drug delivery.
Prof. Jung's IPSD Project Funded by CARB

Prof. Jung's group conducted major experimental tests for a project called IPSD. IPSD stands for integrated particle size distribution method to convert measured particle size distribution from online instruments to cycle averaged PM mass. This project was funded by CARB (California Air Resources Board) and the goal was to investigate alternative new metric and/or method to accurately quantify low particle emissions from light duty vehicles. Collaborators include researchers from CE-CERT, DRI, Hanyang university and CARB.
Yasaman Damestani Wins ASLMS Grant

"The ASLMS grant allowed me to take an essential step in the enhancement of my research towards having a direct and timely implication for improving patient care. Research performed with this grant will improve patient care through the development of a transparent ceramic implant that allows for noninvasive optical therapy and imaging of brain. The transparent "windows to the brain" implant would allow use of emerging laser treatments and imaging for brain pathologies such as brain tumors and traumatic brain injuries without having to remove a portion of patient's skull repeatedly. The implant is made from Yttria Stabilized Zirconia- a tough, traditionally opaque ceramic used in dental crown- processed with high pressure and temperature to make it transparent. The ASLMS student grant facilitated the evaluation of long term biocompatibility of the implant in animal models, an essential step for clinical translation of the implant." – Yasaman Damestani
Chaparral Fire – Passive or Active Crown Fire?

"Experimental study will be conducted to determine the conditions when the tree crown fire becomes "active". An active or independent crown fire would be a fire that can spread through the canopy without the surface fire. On the other hand, a passive, or dependent crown fire, can only spread together with the surface fire. Although numerous studies reported passive or active crown fire behavior there is no established criterion that would determine the nature of crown fire. In this project we will deploy the existing wind tunnel setup, which was recently upgraded with the environmental controls, to determine conditions that are favorable to active/passive crown fire. The results have applications in firefighting and in planning the prescribed burns."
Assistant Professor Hideaki Tsutsui featured in "UCR Living the Promise"



Link to Full Story: http://promise.ucr.edu/profile-sustainability-tsutsui.html
ME and ME-Advised Graduate Students Win National Recognitions and Awards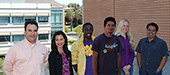 Link to Full Story: http://www.me.ucr.edu/news_spotlights/student_awards.html