---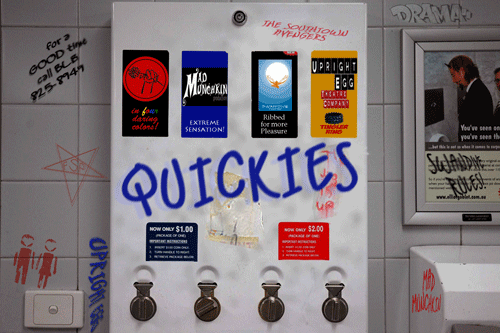 Four dynamic independent companies come together to give you Quickies 2009. A series of comedic shorts takes you on a relationship ride through young love, seasoned love, and yes, love among the undead. Each script is ribbed for pleasure (both for him and her), and is guaranteed to tickle you in the right spot. Whether it's heaven or hell you're looking for, have a one night stand with Quickies 2009: Theatrical pleasure one act at a time…

Following the smash success of Quickies 2007 and 2008, The Flower Shop Project, Mad Munchkin Productions, Swandive Theatre and Upright Egg Theatre Company are back with four more one act plays to enhance your theatre love life!

---
November 6, 13 & 20 @ 7:00 pm
Doors open one hour in advance

at the Bryant-Lake Bowl
810 W Lake Street, Minneapolis, MN

tickets: 612-825-8949 or online
$12-$15/Pay What You Can, $10/Fringe Button Holders
---

---
The Flower Shop Project presents The Necromancer
Written and directed by Stephen Moeller
Featuring James Allen Gappa, Bethany Hummel & Megan Murphy

Josephine the Blackhearted: Harnessing the powers of the living to control the dead and the undead in Maple Grove and throughout the Metro since 2009.

Mad Munchkin Productions presents Love Bites
Collaboratively written by Cameron Hager, Ted Hansen, Alan Pagel, and Laura Wilhelm
Co-directed by Alan Pagel and Cameron Hager
Featuring Cameron Hager, Ted Hansen and Laura Wilhelm

Boy meets girl. Girl falls in love with boy. Zombies attack.

Swandive Theatre presents Post-Its (Notes on a Marriage)
Written by Paul Dooley and Winnie Holzman
Directed by Damon Runnals
Featuring Ben Layne and Ruth Virkus

In this homage to Love Letters, an actor and actress read the hilarious and touching Post-It notes between a couple that span the duration of their lives together.

Upright Egg Theatre Company presents The Magnitude of a Freckle
Written by Brian Watson Jones & Cast
Directed by Bryan Grosso

A boy and his dog, determined to be.
Featuring Kelsey Cramer, Matt Riggs, Larissa Shea and Danielle Siver
---
Hope to see you all there!