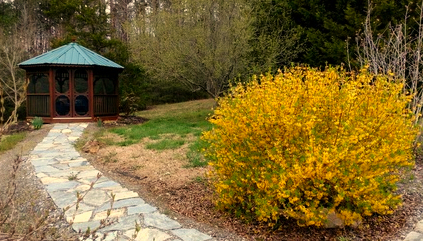 Spring 2018

Looking for Harmony
A Balance Between Structure & Nature
After recently participating in an immersion workshop in Cherokee, NC, the profound contrast in the values of mainstream American society versus the traditional values of Native Americans has provided much contemplative food for thought. Our society's emphasis on constant doing and achieving success, however you define such, can often take away from being with immediate family, extended family, self, and our Higher Power. Continuous motion can leave us feeling out-of-sync with the rhythms of nature, causing an uneasiness of spirit.
A common reason for the constant motion we propel ourselves through can be avoidance of what lies below the surface. If we don't slow down, we never have to deal with the questions and emptiness that may lie within. Taking a personal journey to soul can be healing both emotionally as well as mentally, physically and spiritually.
Finding Harmony and her sister, Balance, is a conscious decision to create white space around that accomplishing mentality. I never seem to arrive at the place of being finished for I simply create one more thing to do before taking time for stillness. With social media, I never have to be alone or lack for entertainment; distraction from what is real is only a click away.
The road to Harmony is not only a literal road trip when coming to Well of Mercy, but also a figurative journey. Well was created to help heal the broken and provide respite for the weary. When I am quiet long enough miracles seem to happen but choices continue to present; how do I balance work & rest, play & reflection, hurry & calm, house & nature, a full calendar & white space? It's when I truly commune with God, not just send up requests, that change begins. The change begins with my own soul, how I see the world, how I react to others, and what I choose to pursue in life. When I find myself stressed or overwhelmed, I have to question myself; "Is less more?"
Well of Mercy, near the town of Harmony, waits for you; a place where guests are greeted with a Well Hug, have the chance to be grounded through nature, refreshed with a good night's sleep, and nourished by food lovingly prepared. Taking time to "be" may require penciling white space on your calendar,
Well of Mercy Staff

April 22, 2018
2:
00pm
- 5:
00pm
Morning Star Marina
$50/person
See you on the boat!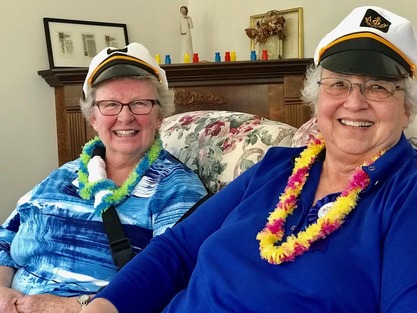 Enjoy a beautiful afternoon cruising Lake Norman, aboard the Carolina Grace of Charters for Charities. The afternoon includes visiting with Sister Brigid & Sister Donna, delicious refreshments, live music provided by our own Brenda Wallace and band, silent auction, all while enjoying the landscape along the shores of Lake Norman. Limited Tickets available, on-line only, and must be purchased in advance.
REGISTER
---
Well Wednesdays

Well offers mini workshops to introduce newcomers to Well of Mercy and to enhance personal growth. Registration for the workshops is online. If you wish to stay overnight in conjunction with a workshop, please call the office to reserve a room at (704) 539-5449.
April 18, 2018
1:
30pm
- 4:
30pm
Chapel of Mercy
$45 No Lunch
We will discover items to keep and release as we stroll through Prayer Land at Well. We will learn ways to meet with God and what to say while with Him, by collecting prayers from His Holy Word. As we travel on our short walk we will fill our Prayer Book with ideas for pondering and also collect items to complete a special prayer bracelet followed by quiet time for reflection. Everything is provided including a light snack.
REGISTER
Tammara

McCombs

, your leader for the afternoon, has been on staff at Well of Mercy for the past 6 years and has a passion for teaching both children and adults.
May 30 - 31, 2018
Beginning at
2pm
Chapel of Mercy
$135 includes overnight
Celebrate the arrival of spring by tuning into our feathered friends.
The afternoon begins learning to identify our resident birds by sight and
sound
. We will then go out individually on the property to enjoy time listening and watching for the birds. The group will reconvene briefly before room-check-in and join in community for dinner. Following the evening meal, we will walk the labyrinth together, listening to day's-end bird songs as the sun sets.
Participants will rise early and settle into a porch rocker to watch the sun rise and listen to the bird world waking up. Following will be time on your own for breakfast, with a closing group session before lunch. The overnight stay and lunch the following day are included in your workshop reservation.
CALL the Office to confirm your class registration and overnight room. Those wishing to stay more than one night can make their request at this time. REGISTER
Jane

Motsinger

, staff member at Well of Mercy and avid bird watcher will lead this birding adventure.
See the entire calendar for the remaining workshops.
---
Southwest Egg Salad
14 hard-boiled eggs
1/2 cup red pepper, diced
Mix eggs, celery, garlic, red pepper & cheese. Prepare dressing: mayo, lime juice, cumin & chili powder in separate bowl. Gently fold dressing into egg mixture. Add salt, pepper & additional mayo to taste. Cover & refrigerate. Garnish with parsley before serving.
---


Mission Statement
Well of Mercy is a ministry of hospitality and healing sponsored by the Sisters of Mercy. It provides quiet sanctuary for adults seeking right relationship with self, others, God and creation. By offering spiritual companionship, emotional support, respectful acceptance and sacred space, Well of Mercy provides rest and renewal for guests.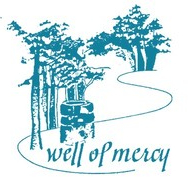 In This Issue
Looking for Harmony
Cruising for Well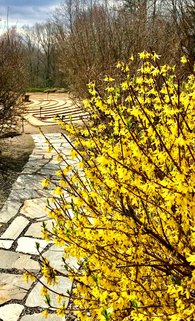 This past fall,
friends presented
Sisters Brigid & Donna
a song;
On The Road to Harmony
, in celebration of Well of Mercy's
20th
Anniversary. Music is by
Bude

Van Dyke
who is of Cherokee descent, lives in Tennessee and is a long time friend of the Sisters.
Your support is most appreciated
as we want to offer
Quiet Respite
for the individual at
Well of Mercy
for years to come.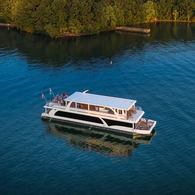 Cruising for
Well of Mercy
April 22, 2018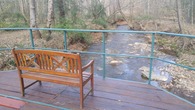 Journey to a Prayer Book
April 18, 2018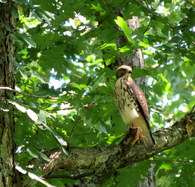 In Tune with the Birds
"Stay in
harmony and balance
in your life's journey,
and may the spirits guide you as you walk the path of good medicine."
The Cherokee
Full Circle
JT Garret &