Meet Our New Executive Director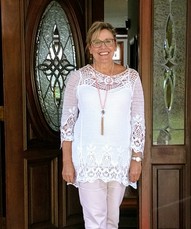 It is with great privilege and pleasure that I share with you the arrival of our new Executive Director, Donna Smith! After an extensive search and rigorous interview process, our Board of Directors and Foundresses, Sister Donna and Sister Brigid, unanimously agreed that Donna Smith is the right person to lead Well of Mercy.
Donna Smith comes to us after spending the last 16+ years as Director of Faith Formation at St. Mark's Catholic Church in Huntersville, NC. She recently completed the Wake Forest Non-Profit Leadership program, she has a Master's degree from Loyola in Religious Education & Theology, and an undergraduate degree in Finance & Accounting. While Donna is impressive "on paper," we trust that our guests will find she is truly an exceptional individual when they meet her in person. She has lots of energy, a wonderful spirit, and she connects with the mission of Well.
Balancing the traditions of the past while creating a vision for the future can be a challenging proposition, yet we know that Donna, the staff, the board, and the Sisters are all working together to ensure that Well of Mercy remains the special place that we all have come to know and love over the past 20 years.
Donna is married to Fred Smith and has two grown daughters, Taylor and Kendall as well as a little Maltese, Bailey. She loves to read, garden, and cook ... all of which can come in handy when working at Well of Mercy!
Please take an opportunity to welcome Donna to her role as executive director when you can.
With Gratitude for Well,
Mike Smiley
Well of Mercy Board Chair