Executive Director's Message
IBank Launches Online Application Portal
Greetings:
IBank has entered a new era of high tech convenience and efficiency with a one-stop online application portal launched this month. The online applications are making it easier for FDCs to serve lenders and small businesses. Many updated features improve upon the old system. To name a few:
The landing page is a responsive design that is flexible for any device you are using, whether it's a computer, phone or iPad.
The security login process uses an e-mail key system instead of a stored password, preventing someone from fraudulently getting into an account.
End-users can upload documents online.
More than one authorized person can view applications and help fill them out.
The database feature allows applicants to start a lengthy application and get back to it hours or even days later.
The information submitted will load into the new database, allowing IBank staff and FDC's to generate reports.
IBank's Small Business Finance Center offered a webinar to train end-users on the online application system. FDCs learned how to sign on to the system, fill out and submit Conditional Approval Requests (CARs) online. The webinar is available to review here.
The first application to go live is the Conditional Approval Request (CAR). Additional applications to go on line will be the Lender Certification to Participate, FDC Certification to Participate, Quarterly Recovery Default Report, and Request for Payment on Defaulted Guarantee. After the Small Business Finance Center's applications are complete, IBank will launch online applications for its other programs.
To check out IBank's new application portal go to http://applications.ibank.ca.gov/.
We hope you will find the new online application portal as convenient as we do.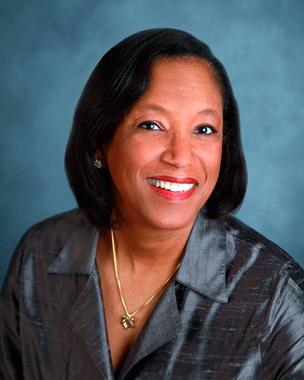 Take Care,

Teveia Barnes
IBank Executive Director
---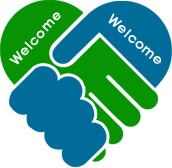 Redwood Credit Union (RCU) was founded in 1950 and is a committed community partner who provides financial education to local communities. Redwood Credit Union offers personal and business banking products and services.
Ventura Community Bank is a division of Ojai Community Bank, which was established in 2005. Ventura Community Bank is dedicated to making a difference to its customers by being a financial partner to help in the growth and success of business and community.
---
Financial Development Corporation (FDC) Rankings for Guarantees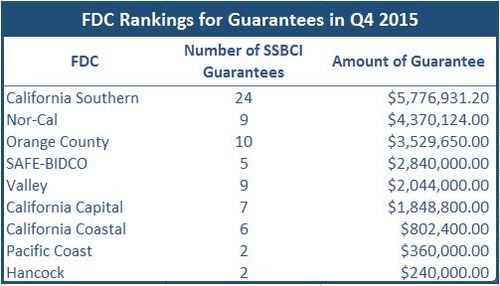 ---
FDCs in the News...
The Fresno Bee reports:
Debbie Raven, president of Valley Small Business Development Corporation in Fresno, was recognized nationally through Farm Credit 100 Fresh Perspectives, a search to identify and honor 100 leaders who are changing rural communities and agriculture for the better.
Sacramento's California Capital expands services for small businesses.
The Sacramento Bee's Cathie Anderson reports:
Clarence Williams of California Capital has quietly expanded the range of services that his nonprofit development corporation offers to get small-business owners the training, counseling and capital they need to grow. Read more here.
---
State Small Business Credit Initiative (SSBCI) Fast Facts
Jobs Created and Retained:
As of December 31, 2015, jobs created and retained resulting from IBank SSBCI-supported loans totaled 34,893 with the third quarter alone resulting in 1,609 jobs.
SSBCI-supported Loans:
Through December 31, 2015, IBank supported 1,041 loans, amounting to $418.2 million, with SSBCI-supported guarantees totaling $295.7 million.
---
Top Lenders for Small Business Loan Guarantee Program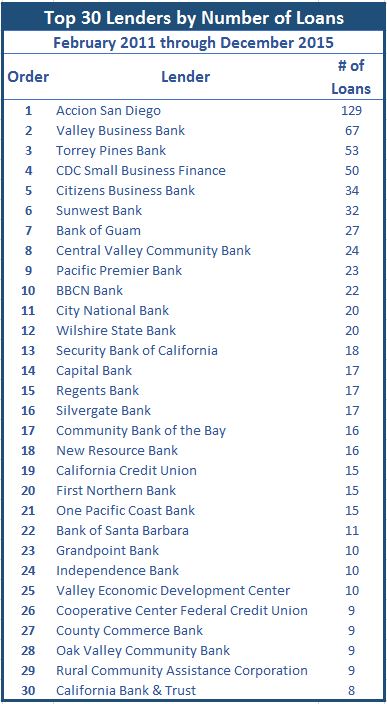 ---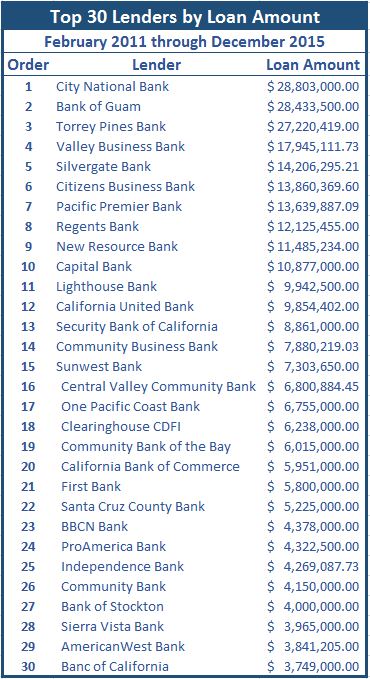 ---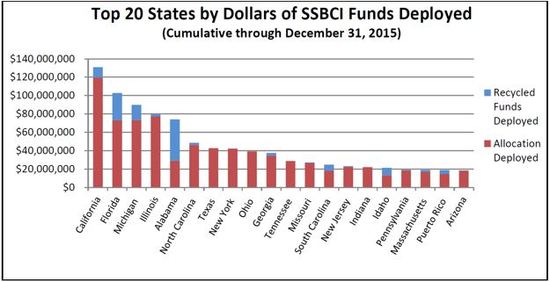 For more information on SSBCI funds deployed by state, go to the latest quarterly report here.
---
IBank Showcased in GO-Biz Small Business Webinar Series
In Honor of Small Business Month in May
The Governor's Office of Business and Economic Development's (GO-Biz) Office of Small Business Advocate is hosting a free webinar series to educate small businesses and aspiring entrepreneurs on available resources. IBank's Small Business Loan Guarantee Program will be featured in the webinar series in recognition of Small Business Month in May.
IBank's Chief Deputy Executive Director Nancee Trombley and Small Business Finance Center Manager Chris Houlemard will discuss the benefits of the Small Business Loan Guarantee Program for both financial institution lenders and small business borrowers. "The program encourages lenders to provide loans to borrowers that have challenges accessing capital," said Trombley.
The IBank webinar will be held May 19, 2016 from noon to 1:00 PM. To register go to this link: Webinar: Overview of California's Small Business Loan Guarantee Program.
In addition, two other small business webinars are included in the series. Both will also be held between noon and 1:00 PM.
Protect Your Business from Disaster will be held Wednesday May 4. This webinar will feature a joint presentation with the California Governor's Office of Emergency Services and the U.S. Small Business Administration. It will include information on state and federal disaster planning and preparedness efforts for small businesses and communities, and how to get involved with response and recovery efforts when a disaster occurs.
Connect Your Small Business to the Global Marketplace will be held Thursday May 12. This webinar will cover key issues businesses should consider when exporting, as well as information on export-related services and programs offered by the state and federal government. Specific topics will include required documentation, export financing, export assistance programs, and services provided by the GO-Biz International Unit, including grants for trade/export promotion available under the State Trade and Export Promotion (STEP) Program for small businesses.
Space is limited and registration is required. To register for any of these webinars, please visit the calendar of events on the GO-Biz website home page at http://business.ca.gov.
---
IBank Celebrates 1,000th SSBCI Small Business Loan Guarantee
to Emeryville-based Sustainable Products Company Modern-twist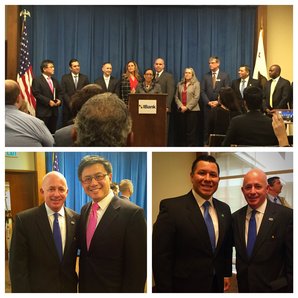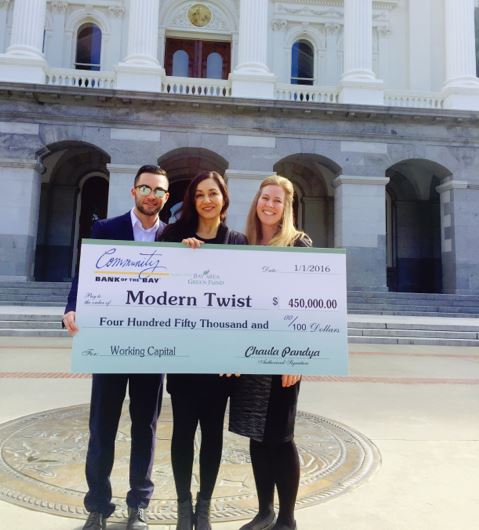 On February 3rd, 2016, IBank announced its 1,000th SSBCI small business loan guarantee at a news conference in the Governor's Council Room at the State Capitol.
"Small businesses with big dreams are our innovators and visionaries, pace-setters and disrupters," said Teveia Barnes, IBank Executive Director. "Small business entrepreneurs serve as the engine driving California's economy, making up 99.2 percent of all employers in the State. When small businesses prosper, California prospers."
Flanked by State Treasurer John Chiang, Legislators, and program partners from the State Assistance Fund for Enterprise, Business and Industrial Development Corporation (SAFE-BIDCO) and Community Bank of the Bay, Barnes presented a $450,000 symbolic check to the 1,000th loan guarantee recipient, entrepreneur Kat Nouri. Nouri owns Modern-twist, an Emeryville-based small business that makes household products out of food grade silicone – a sustainable, man-made material from silica, an abundant natural resource found in sand combined with oxygen. It is recyclable through industrial facilities and a more sustainable choice than plastic. The mother of three wanted to create home products that are safe for people and the planet.
"IBank's loan guarantee is a game changer for me. I can actually grow my business and go into mass distribution with my products now," said Nouri. "Other traditional loans didn't work for my business and this one really makes a difference." Modern-twist is also able to hire six more employees with the help of the loan guarantee.
---