Dear Island Neighbor,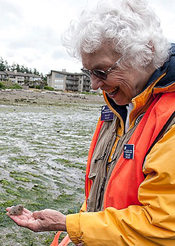 I'm Maradel Gale. I haven't lived on Bainbridge as long as many of my friends, but I have been a very active volunteer for my ten years here on the island.
I love
exploring Bainbridge beaches
, like the one in this picture.
Much of my volunteer work has given me a direct connection with the City of Bainbridge Island government.
On Halloween night, I was delighted to be in the midst of the families on Winslow Way, handing out treats and information with City Manager Doug Schulze and his wife. We were all in costume and engaging Islanders of all generations about the treat that will be
our revitalized Waterfront Park
.
As a volunteer with this and similar projects, I've been privileged to observe in a close-up and personal way what works and what doesn't work in our city government. I have seen the difference between two kinds of City Council members.
There are some who come to our City Council with pre-conceived ideas, do not build bridges with the Council as a whole, and seem to distrust the City and its staff.

Happily, t
here are others who are open-minded, fact-based problem solvers, who follow the guidance of our Governance Manual, and who engage collaboratively with the City Manager and staff to address community needs.
Based on my extensive observations over the years, I've found three candidates in this election who would be outstanding Council members of the collaborative kind:
Wayne Roth,
Roger Townsend and
Val Tollefson.
I urge you to join me in voting for them. Each of these candidates has built this Island's assets through public service and nonprofit boards.
Those three are giving voters the ability to invest in creative problem solving and a brighter future.
Please VOTE
, and please encourage your friends and neighbors to vote! If they are
undecided, share your insights
.
The greater the turnout, the more likely we will elect candidates who will serve the island well and share our community values.

Sincerely,
Maradel Gale


Sponsored by Quality Bainbridge (QB). No political candidate paid for this message. The QB Steering Committee members are John Ellis (Pres.), Gloria Sayler (VP), Kathy Dunn, Maradel Gale, Juliet LeDorze, Barry Peters and Randal Samstag.

All are local Bainbridge residents who want to preserve our island's character and its shared values such as: a beautiful and conserved environment, safe neighborhoods and good schools for families, good and smart governance with local control, a thriving local economy (Shop Local!), maintenance of our roads and other infrastructure, and a good quality of life for all residents. Our committee's disclosures will be on the State's website later this week.