Dear Island Neighbor,
This week you will be getting an important ballot in your mail. We are asking you to open it and vote YES for the renewal of the Technology and Operating levies for our local school district.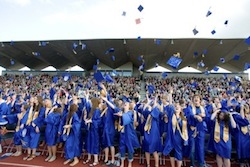 Why we're voting for our community schools and the students
These funds help our community prosper: Good schools draw families to our Island who enliven and nurture our community and help to maintain our property values.
These levies help prepare our students to meet a complex and challenging world in which to work, raise families, and live.
They are renewal levies – they are not new taxes; they replace tax levies that will expire, with a slight adjustment to meet costs.
Bainbridge Island schools get less money than other comparable districts from our state legislature - so we need these funds to ensure that our kids get the tools, skills and attention they need to be successful in a 21st century world.

What does the Educational Programs and Operations Levy pay for?
24% of BISD's operating budget.
26 FTE (full time equivalent) certificated staff - 11% of teachers, counselors, librarians, specialists, nurses.
58 FTE support staff - 48% of classroom paraeducators, school secretaries, custodians, bus drivers.
Special education and remedial programs.
Curriculum materials and instructional supplies.
Student transportation.
Extracurricular activities, such as clubs, interscholastic sports, band, drama.
The Technology Levy pays for:
Student computers and technological devices, now an integral part of the curriculum in all subjects
Teacher computers and presentation tools necessary to implement the curriculum, access instructional materials, and carry out required tasks (attendance, grading, etc.)
Online subscriptions and information systems
Hardware and software to differentiate and individualize instruction
Equipment and software for students to complete required online state and national tests
Technological systems for communication and collaboration
For more details, please see the
fact sheet
at the School District website.
Thank you for your support for our future.
Please forward this email to neighbors and friends on Bainbridge.
Join us in being involved,
The Steering Committee of Quality Bainbridge
The QB Steering Committee members are: John Ellis (Pres.), Gloria Sayler (VP), Kathy Dunn, Maradel Gale, Juliet LeDorze, Barry Peters, Randal Samstag and Delight Willing.

All are local Bainbridge residents who want to preserve our island's character and its shared values such as: a beautiful and conserved environment, safe neighborhoods and good schools for families, good and smart governance with local control, a thriving local economy (Shop Local!), maintenance of our roads and other infrastructure, and a good quality of life for all residents.
Sponsored by Quality Bainbridge (QB). No political candidate paid for this message.