Dear Island Neighbor,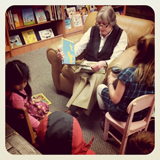 I'm Kathy Dunn, and I'm known to many of you as a retired 30-year Bainbridge public school teacher who taught many of your children in kindergarten.
I'm also a 4th generation islander, and have two grandchildren who will soon enter Bainbridge schools who are 6th generation islanders! So I have those two very wonderful reasons to care about the future of our island community and its public schools.
Today, it's my pleasure to enthusiastically announce our Quality Bainbridge endorsement of Mike Spence in this year's only contested School Board election.
Mike Spence, who
now serves as our School Board's president
, has earned the confidence of fellow board members who elected him to that leadership position. During the recent candidate forums, Mike clearly showed knowledge of the crucial school district issues, plus strong commitment, positive attitude and passion for Bainbridge Island schools -- where he has two children attending.
Check out his
Facebook page
and a few of his
professional qualifications
.
During his 4 years on the 5-member School Board, he has helped achieve many accomplishments:
returning about $800,000 to Bainbridge taxpayers;
saving island taxpayers $12,000,000 over the life of the long-term bond for the construction of the Bainbridge High School building, by using an innovative federally-supported refinancing;
achieving an on-budget completion of the construction of the environmentally-sensitive green-built Wilkes Elementary School; and
implementing several innovative programs for better education and more cost-effective schools operations.
Mike earned our endorsement as a result of a 3-step process:
we requested and reviewed candidate responses to our questions;
we attended both of the candidate forums where candidates spoke; and
we reviewed news about the candidates and our BI school district.
We appreciate opponent Dale Perry's willingness to offer public service, but felt his focus on schools was narrower than Mr. Spence. At a forum, he emphasized transparency, metrics and test scores. We are troubled by over-emphasis on test scores as a top evaluator of education quality. But we appreciate his level of analysis and caring for our schools and students and hope he'll continue his generous volunteer service for the Bainbridge Schools Foundation.
Unopposed Candidates:
We applaud
Mev Hoberg
(currently serving a partial term on the Board) and
Sheila Jakubik
(long-time teacher and director of the local Bethany Lutheran Preschool), who are each uncontested candidates. They demonstrate commitment for Island schools through years of involvement as volunteers and/or professionals.
And for a few more of my personal thoughts on why I'll vote for Mike Spence, see my
post
on the Quality Bainbridge website. An island couple who have known Mike for 10 years offer their views
here
.
Sincerely,
Kathy Dunn
Sponsored by Quality Bainbridge. No political candidate paid for this message. The QB Steering Committee members are John Ellis (Pres.), Gloria Sayler (VP), Kathy Dunn, Maradel Gale, Juliet LeDorze, Barry Peters and Randal Samstag.

All are local Bainbridge residents who want to preserve our island's character and its shared values such as: a beautiful and conserved environment, safe neighborhoods and good schools for families, good and smart governance with local control, a thriving local economy (Shop Local!), maintenance of our roads and other infrastructure, and a good quality of life for all residents. Our PDC filings and disclosures are open to the public on the State's PDC website.