Dear Island Neighbor,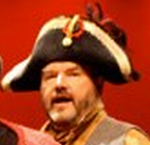 I'm John Ellis -- known by a lot of you as an improv comedy guy on Bainbridge. But I am also a local businessman, a waterfront homeowner and a father. This island community means a lot to me so forgive me if I seem passionate about local politics.
I've thought a lot about our shared island values, and I'm thrilled to report that we have 3 outstanding City Council candidates who will work for us to protect those values.
However, in the words of Will Rogers, "Even if you're on the right track, you'll get run over if you just sit there."
Your ballots arrive by mail this weekend
. This time, it's vital to vote.
Click on the pictures (left) to see the qualifications of our 3 outstanding candidates and what they love about our beautiful island. Each of them is also endorsed by the local Democrats and the
Sierra Club
.
Because they are running for three City Council positions,
you can vote for all 3
.
So,
about Quality Bainbridge
. I helped form Quality Bainbridge because it seemed the naysayers were taking over the conversation on Bainbridge. I want island life to stay positive and optimistic. And, with ballots arriving, I want to tell you
about those 3 outstanding candidates
who support our
shared island values
.
Our small committee of 7 is chipping in enough of our own donations to cover communication expenses, so we don't have to ask you for money. But
we ask you to vote!
We feel this approach is in stark contrast to
the PAC that Gary Tripp formed last month
-- with a political party official from Seattle as treasurer -- which is out to raise big campaign money for its slate of 3 opposing candidates.
In fact, that PAC has raised
over $23,000 to date
. (By contrast, no Council candidate spent more than $11,000 in the last election.) Let's show them that their PAC can't buy Bainbridge voters!
Please check out our website at
QualityBainbridge.org
to find information about our
local candidates
and the value of having a
good, smart local government
.
Please "like" us on Facebook.
And please forward this email to other Bainbridge voters.
Let's use this month's election ballot to reject that big-money approach, and stand up to restore the small-town person-to-person campaigns we've appreciated on Bainbridge Island in the past.
Vote to keep it local !!
Sincerely,
John Ellis
Sponsored by Quality Bainbridge (QB). No political candidate paid for this message. The QB Steering Committee members are John Ellis (Pres.), Gloria Sayler (VP), Kathy Dunn, Maradel Gale, Juliet LeDorze, Barry Peters and Randal Samstag.

All are local Bainbridge residents who want to preserve our island's character and its shared values such as: a beautiful and conserved environment, safe neighborhoods and good schools for families, good and smart governance with local control, a thriving local economy (Shop Local!), maintenance of our roads and other infrastructure, and a good quality of life for all residents. Our committee's disclosures will be on the State's website later this week.