Dear Catherine Cebula Editor:
Longevity News, brought to you by WAAAM

The World Anti-Aging Academy of Medicine (WAAAM)
shares
Longevity News
with our members. We are grateful to the
A4M (American Academy of Anti-Aging Medicine)
, the publisher of
Longevity News
and a Sustaining Member Organization to WAAAM, for making this information available to the WAAAM membership.
Social Interactions Promote Cognitive Health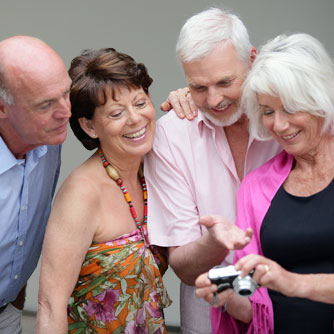 Among persons ages 65 years and older who have dementia, more frequent social activity appears to be associated with subsequently reduced rates of cognitive decline. Bryan D. James, from the Rush Alzheimer's Disease Center (Illinois, USA), and colleagues evaluated data from 1,138 older study subjects, mean age 79.6 years, without dementia at baseline, enrolled in the Rush Memory and Aging Project during an average follow-up period of 5.2 years, extending up to 12 years. The team employed a questionnaire to assess how often during the past year participants engaged in six common types of activities that involve social interaction, including visiting restaurants, church, or relatives' or friends' houses and participating in civic clubs and volunteer activities. Cognition was measured in five domains, namely: episodic memory, semantic memory, working memory, perceptual speed, and visuospatial ability. Social activity scores ranged from 1 to 4.2. The researchers found that a 1-point increase in social activity score was associated with a 47% decrease in the rate of decline in global cognitive function. The rate of global cognitive decline was reduced by an average of 70% in persons who were frequently socially active, as compared with persons who were infrequently socially active. This association was similar across the five domains of cognitive function measured. The researchers conclude that: "These results confirm that more socially active older adults experience less cognitive decline in old age." [Bryan D. James, Robert S. Wilson, Lisa L. Barnes, David A. Bennett. "Late-Life Social Activity and Cognitive Decline in Old Age." Journal of the International Neuropsychological Society, Issue 2011, pp 1-8, April 8, 2011.]
---
NOW AVAILABLE in eReader Format Anti-Aging Therapeutics, Volume XII
[390 pp; 2009 conference year]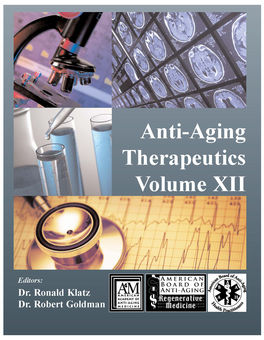 Proceedings of the Seventeenth World Congress on Anti-Aging Medicine & Regenerative Biomedical Technologies, Spring, Summer and Winter Sessions. Also includes Anti-Aging Clinical Protocols, 2010-2011.
Available in PDF (for PC/MAC), EPUB (iPad, Nook, other eReaders), MOBI (Kindle), and LIT (Microsoft eReader) formats.

---
Too Much or Too Little Sleep Accelerates Cognitive Aging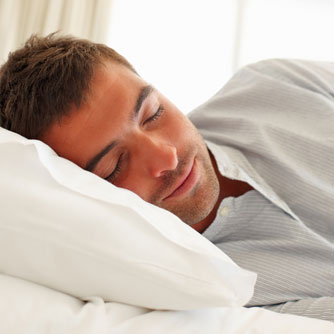 New research suggests that changes in sleep that occur during late middle-age appear to have a significant effect on cognitive function later in life. Jane Ferrie, a senior research fellow at University College London Medical School in the UK, and colleagues studied data from 5,431 people taking part in the on-going Whitehall II study of more than 10,000 office staff aged 35-55, which began in 1985. Normal sleep duration was measured during Phase 5 (1997-1999) and Phase 7 (2003-2004) of the study. Results showed that 7.4% of women and 8.6% of men reported sleeping for longer than the 7-8 hours reported at Phase 5. In comparison with participants whose sleep duration had not changed, this increase in sleep duration was associated with lower scores at follow-up on five out of six cognitive function tests. On the other hand, 25% of women and 18% of men reported sleeping for less than the "6, 7, or 8 hours" reported at Phase 5. This shift was also associated with a decline in cognitive function, with participants scoring lower at follow-up on three out of six cognitive function tests. Results also showed that, for women, 7 hours of sleep per night was the most beneficial in terms of cognitive function, closely followed by 6 hours of sleep per night. For men, 6-8 hours was optimal. The researchers concluded that their findings suggest that women and men who begin sleeping more or less than 6-8 hours per night are subject to an accelerated cognitive decline that is equivalent to four to seven years of aging. "The main result to come out of our study was that adverse changes in sleep duration appear to be associated with poorer cognitive function in later-middle age," said Ferrie. "Given that our 24/7 society increasingly impinges on the lives of many people, it is important to consider what effects changes in sleep duration may have on health and well-being in the long term." [Jane E Ferrie, Martin J Shipley, Tasnime N Akbaraly, Michael G Marmot, M Kivimaki, Archana Singh-Manoux. "Change in Sleep Duration and Cognitive Function: Findings from the Whitehall II Study." Sleep. 2011;34:565-573.]
Read about the Role of Sleep in Aging
---
Join the Global Discussion on Anti-Aging & Regenerative Medicine


The A4M, American Academy of Anti-Aging Medicine
is proud to announce
The WHN Forum for Anti-Aging & Regenerative Medicine
-- a global discussion group on issues affecting health, wellness, and longevity. It features medical Commentators providing expert insights on 200+ active threads updating throughout the day.
Join The WHN Forum
---
Blueberries Help Fight Fat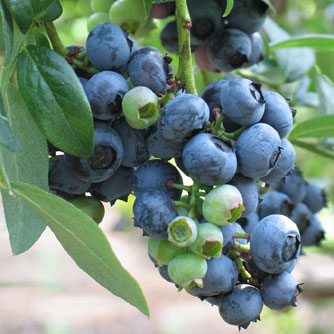 The benefits of blueberry consumption have been demonstrated in several nutrition studies, more specifically the cardio-protective benefits derived from their high polyphenol content. Shiwani Moghe, from Texas Woman's University (Texas, USA), and colleagues assessed whether blueberry polyphenols play a role in adipocyte differentiation, the process in which a relatively unspecialized cell acquires specialized features of an adipocyte, an animal connective tissue cell specialized for the synthesis and storage of fat. Plant polyphenols have been shown to fight adipogenesis, which is the development of fat cells, and induce lipolysis, which is the breakdown of lipids/fat. The research revealed that the blueberry polyphenols suppressed adipocyte differentiation in a dose-dependent manner. As well, the highest dose of blueberry polyphenols yielded a 73% decrease in lipids. The team submits that: "The promise is there for blueberries to help reduce adipose tissue from forming in the body." [Moghe S, et al. Experimental Biology 2011, April 10, 2011.]
---
Positive Work Environment May Prolong Life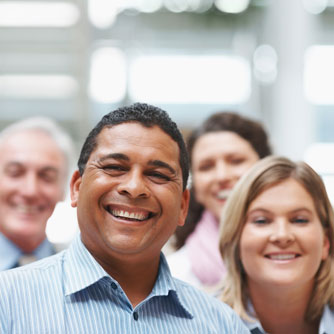 People who have a good peer support system at work may live longer than people who don't have such a support system, and this effect of peer social support on the risk of mortality was most pronounced among those between the ages of 38 and 43 years. Arie Shirom, from Tel Aviv University (Israel), and colleagues reviewed the medical records of 820 adults who were followed for 20 years, from 1988 to 2008. The workers came from some of Israel's largest firms in finance, insurance, public utilities, health care and manufacturing, reported working on average 8.8 hours a day, who had been referred to an HMO's screening center in Israel for routine examinations. The researchers controlled for confounding health factors, and obtained data on the control variables from each person's periodic health examinations, including tests of physiological risk factors and a questionnaire completed during the examinations by all participants. In addition, participants were administered another questionnaire that measured job demands, control at work and peer and supervisor support. The researchers rated peer social support as being high if participants reported that their co-workers were helpful in solving problems and that they were friendly. Control and decision authority were rated high if participants said they were able to use their initiative and had opportunities to decide how best to use their skills, and were free to make decisions on how to accomplish the tasks assigned to them and what to do in their jobs. The team reported that "the risk of mortality was significantly lower for those reporting high levels of peer social support," explaining that: "Peer social support is a protective factor, reducing the risk of mortality." [Shirom, Arie; Toker, Sharon; Alkaly, Yasmin; Jacobson, Orit; Balicer, Ran. "Work-based predictors of mortality: A 20-year follow-up of healthy employees." Health Psychology, 2011 Volume 30, Issue 3, Pages 268-275, May 2011.]
FREE Longevity Tips
---
Thank you for your Membership in The World Anti-Aging Academy of Medicine (WAAAM). Since 1995, WAAAM is a member-based society dedicated to the protection and preservation of the health of the public, and the advancement of education and research in the clinical specialties of anti-aging and regenerative medicine. In its objectives as the first global entity specifically established to unify and coordinate cooperation among organizations on the national level that are involved in the advancement of progressive preventive medicine, WAAAM adopts the United Nations model for organizational participation.