Dear Catherine Cebula Editor:
Longevity News, brought to you by WAAAM

The World Anti-Aging Academy of Medicine (WAAAM)
shares
Longevity News
with our members. We are grateful to the
A4M (American Academy of Anti-Aging Medicine)
, the publisher of
Longevity News
and a Sustaining Member Organization to WAAAM, for making this information available to the WAAAM membership.
---
Anti-Aging Lifestyle Extends Productive Lifespan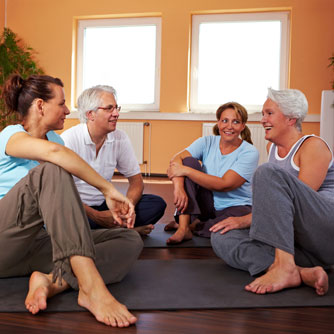 Making positive and sustainable changes in one's daily routine can result in measurable improvements in quality of life. Florence Clark, from University of Southern California (USC; California, USA), and colleagues enrolled men and women ages 60 to 95 years in a five-year long study, during which at six-month intervals, licensed occupational therapists assisted the subjects to develop sustainably healthy lifestyles and assess subsequent changes to the participants' overall quality of life. The team found that subjects who maintained an active social, spiritual and physical life were at reduced risks of developing health declines. Commenting that: "A lifestyle-oriented occupational therapy intervention has beneficial effects for ethnically diverse older people recruited from a wide array of community settings," the researchers urge that: "Because the intervention is cost-effective and is applicable on a wide-scale basis, it has the potential to help reduce health decline and promote well-being in older people." [Florence Clark, Jeanne Jackson, Mike Carlson, Chih-Ping Chou, Barbara J Cherry, Maryalice Jordan-Marsh, et al. "Effectiveness of a lifestyle intervention in promoting the well-being of independently living older people: results of the Well Elderly 2 Randomised Controlled Trial." J Epidemiol Community Health, 2 June 2011.]
---
A4M eMembership Revolutionizes Patient Empowerment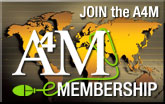 Sixty-one percent (61%) of adult Americans have used the Internet to search for health or medical information, and 49% of adults have accessed a website that provides information about a specific medical condition or problem, reports The US Centers for Disease Control & Prevention (CDC).
The Internet is quickly becoming an important source of health information for consumers, and physicians and health practitioners must keep pace with this rapidly evolving resource.
The A4M is proud to announce the new A4M eMembership program. A custom-built platform drives a feature-rich program that provides members with exclusive electronic benefits that leverage the reputation of the A4M as a non-biased, quality information knowledge base of aging intervention science.
Join the A4M as an eMember and gain access to a range of resources that help your practice to share essential anti-aging knowledge with your patients.
---
Tree Leaf Compounds May Fight Skin Aging
Previous studies of the species of trees known as Populus suggest the tree's extracts may possess anti-inflammatory properties. Xavier Vitrac, from Universite Victor Segalen Bordeaux (France), and colleagues tested an extract from poplar tree (Populus nigra) leaf buds. The team found that poplar bud extract had moderate antioxidant activity, resulting from a high total phenolic content, with the main phenolic compounds identified as phenolic acids and flavonoid aglycons. Finding that "poplar bud extract significantly regulated genes involved in antioxidant defenses, inflammatory response and cell renewal," the researchers submit that: "The collective antioxidant properties and transcriptional effect of this extract suggest potential antiaging properties." [Stephanie Dudonn, Pascal Poupard, Philippe Coutire, Marion Woillez, Tristan Richard, Jean-Michel Mrillon, Xavier Vitrac. "Phenolic Composition and Antioxidant Properties of Poplar Bud (Populus nigra) Extract: Individual Antioxidant Contribution of Phenolics and Transcriptional Effect on Skin Aging." J. Agric. Food Chem., 2011, 59 (9), pp 4527–4536, March 22, 2011.]
---
NOW AVAILABLE in eReader Format: Anti-Aging Therapeutics, Volume XII
[390 pp; 2009 conference year]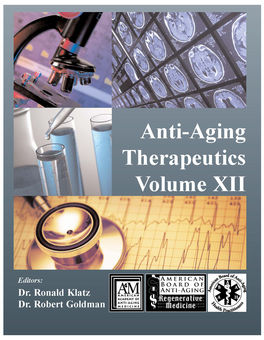 Proceedings of the Seventeenth World Congress on Anti-Aging Medicine & Regenerative Biomedical Technologies, Spring, Summer and Winter Sessions. Also includes Anti-Aging Clinical Protocols, 2010-2011.
Available in PDF (for PC/MAC), EPUB (iPad, Nook, other eReaders), MOBI (Kindle), and LIT (Microsoft eReader) formats.
---
Community Gardening Cultivates Emotional & Physical Health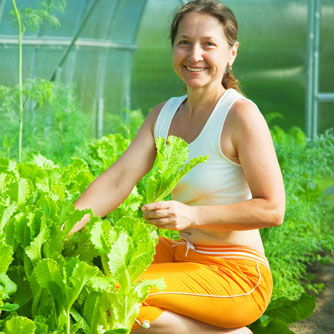 Community gardens are neighborhood spaces that are accessible to people across the lifespan -- regardless of age, race, socioeconomic status or educational background. Jill Litt, from the University of Colorado School of Public Health (Colorado, USA) found that community gardeners cultivate relationships with their neighbors, are more involved in civic activities, stay longer in their neighborhoods, eat better and view their health more positively. In fact, 20 minutes of gardening a day translated to statistically higher ratings of health. Moreover, people who garden found their neighborhoods to be safer, cleaner and more beautiful, regardless of educational and income status. These differences were rooted in the cultural, social and ecological connections created within the garden setting. The co-benefits of gardens stem from their ability to support healthy eating and active living. More than 50% of gardeners meet national guidelines for fruit and vegetable intake compared to 25% of non-gardeners. Gardeners report they get 12 hours a week of moderate to vigorous physical activity, which is about 30% more exercise than non-gardeners get. Observing that: "The physical and social qualities of garden participation awaken the senses and stimulate a range of responses that influence interpersonal processes (learning, affirming, expressive experiences) and social relationships that are supportive of positive health-related behaviors and overall health," the researchers submit that: "Community gardens have therapeutic qualities that contribute to a more holistic sense of health and well-being." [James Hale, Corrine Knapp, Lisa Bardwell, Michael Buchenau, Julie Marshall, Fahriye Sancar, Jill S. Litt. "Connecting food environments and health through the relational nature of aesthetics: Gaining insight through the community gardening experience." Social Science & Medicine, Volume 72, Issue 11, June 2011, Pages 1853-1863.]

---
Expert Commentators Participate in Global Discussion on Anti-Aging & Regenerative Medicine


The A4M, American Academy of Anti-Aging Medicine
is proud to host
The WHN Forum for Anti-Aging & Regenerative Medicine
. Featuring 120+ Discussion Boards, our
Medical Commentators
share their expert insights on a wide variety of issues affecting health, wellness, and longevity. .
Join The WHN Forum
---
Meditation May Slow Age-Related Brain Changes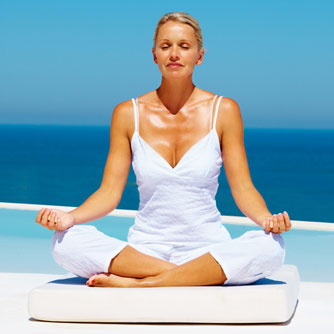 Previously, researchers at the University of California/Los Angeles (UCLA; California, USA) found that specific regions in the brains of people who engaged in meditation for an extended duration were larger and had more gray matter, as compared to the brains of individuals in a control group. A follow-up study suggests that people who meditate also have stronger connections between brain regions and show less age-related brain atrophy. Having stronger connections influences the ability to rapidly relay electrical signals in the brain. And significantly, these effects are evident throughout the entire brain, not just in specific areas. Eileen Luders and colleagues enrolled 27 active meditation practitioners (average age 52 years) and 27 control subjects, with each group composed of 11 men and 16 women. The number of years of meditation practice ranged from 5 to 46; self-reported meditation styles included Shamatha, Vipassana and Zazen, styles that were practiced by about 55% of the meditators, either exclusively or in combination with other styles. Engaging a method of brain imaging known as diffusion tensor imaging (DTI), the team gained insights into the structural connectivity of the brain. Results showed pronounced structural connectivity in meditators throughout the entire brain's pathways. The greatest differences between the two groups were seen within the corticospinal tract (a collection of axons that travel between the cerebral cortex of the brain and the spinal cord); the superior longitudinal fasciculus (long bi-directional bundles of neurons connecting the front and the back of the cerebrum); and the uncinate fasciculus (white matter that connects parts of the limbic system, such as the hippocampus and amygdala, with the frontal cortex). Observing that the differences between meditators and controls are not confined to a particular core region of the brain but involve large-scale networks that include the frontal, temporal, parietal and occipital lobes and the anterior corpus callosum, as well as limbic structures and the brain stem, the team concludes that: "Meditation might be a powerful tool to change the physical structure of the brain." [Eileen Luders, Kristi Clark, Katherine L. Narr, Arthur W. Toga. "Enhanced brain connectivity in long-term meditation practitioners." NeuroImage, Volume 57, Issue 4, 15 August 2011, Pages 1308-1316.]
---
Thank you for your Membership in The World Anti-Aging Academy of Medicine (WAAAM). Since 1995, WAAAM is a member-based society dedicated to the protection and preservation of the health of the public, and the advancement of education and research in the clinical specialties of anti-aging and regenerative medicine. In its objectives as the first global entity specifically established to unify and coordinate cooperation among organizations on the national level that are involved in the advancement of progressive preventive medicine, WAAAM adopts the United Nations model for organizational participation.