---
Dear Friends & Family of LapSF and the Surgical Weight Loss Center of Hawaii,
We hope you are all having a wonderful, fun-filled, and safe summer. We have some new products to share with you this week, as well as a special event for our patients at this month's San Jose support group meeting.
*A gentle reminder regarding LapSF support groups:
Our patients choose to have surgery here because of our excellent results and unique approach to aftercare. One of the amenities included in patient fees is the support groups led by Dr. Cirangle. We have had many requests lately from patients who are choosing/have chosen to have surgery elsewhere, yet want to come participate in our groups for Dr. Cirangle's guidance. Post-operative programs vary greatly between physicians and patients should be participants in the programs led by their surgeon. Our support groups concentrate on the principals of Dr. Cirangle's practice of medicine and are planned specifically for our patients who have decided to have Dr. Cirangle and LapSF as their medical team.*
---
NEW PRODUCTS IN THE E-STORE!

We have a few new products that we have added to our E-store.
Healthwise Protein Wave Gelatin: Topical Fruit and Grape
80 calories, 15 grams protein, 6 gm carbohydrates, 0 gm fat
Instead of having regular sugar free jello with no added nutrition benefit, these gelatins will provide you with the same great flavor and texture but also 15 grams of protein!
Healthwise Protein Drinks in MINT Hot Chocolate!
A tasty new addition to the hot chocolate line we carry. This drink mix can be made hot and cold, and has a refreshing, minty flavor.
Healthwise Protein Drinks in Amaretto Cappuccino!
For those of you who love our Vanilla Cappuccino, this is a new product for you. Same great taste with an Italian flair. Amaretto is a nice almond liqueur flavor. Great for those mornings you want coffee, but need protein!

---
FYI: Change of Address
Please note that our San Jose office has changed to a different suite number, but still located in the same building.
3803 S. Bascom Avenue
Suite 200
Campbell, CA 95008
We will begin using this new office starting July 25th.
---
ATTENTION ALL SUPPORT GROUP MEMBERS:
We have a guest speaker at this month's San Jose support group.
Topic: "The Connection Between What You Feed Your Head & What You Feed Your Body".
Guest Speaker: Jill Temkin (from Living Thin Within)
When: San Jose Support Group, July 25th, starting at 7:30
According to Ms. Temkin, your internal reality can either support-or weaken- your potential for sustaining health, weight loss and well-being. If you have a commitment to living a healthy lifestyle, but still "tune in" to limiting beliefs that trigger old patterns of self loathing and self-soothing (i.e., over-eating) than you would benefit from attending this special presentation. Ms. Temkin will talk about what it takes to cultivate practical, healthy strategies that successfully deal with the underlying needs we used to try to meet through food.
Jill Temkin has been facilitating counseling and training programs for almost 30 years. Jill has a Master's Degree in Psychology, is a Certified Psychodrama Trainer, Educator, and Psychotherapist, a Registered Addiction Specialist, and a Non-Violent Communication Mediator & Coach. Jill founded Living Thin Within in response to her own journey for support after WLS. Her mission is to support others in the WLS process to thrive in their new bodies and radiate health from within.
Jill will be facilitating a full day workshop on the same topic on Saturday, July 28th, if interested in more information or a flyer, contact Jill at jill@livingthinwithin.net. For more information, visit her website at www.livingthinwithin.net
---
Nutrition Bite of the Month: Gluten-Free Green Chili Turkey Burgers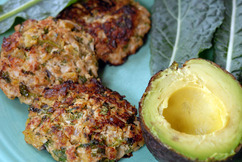 (adapted from Elana's Pantry, food blog, picture courtesy of Elana's Pantry)
These mini burgers are delicious and will leave you not even missing that old bun your burgers use to have. The green chiles and cumin give it great flavor!
Ingredients:
-1 (4 oz) can diced green chiles
-1/2 lb ground turkey
-1/2 cup cilantro, finely chopped
-1/4 cup onion, finely chopped
-1 tsp cumin
-1/2 tsp chili powder
-1/2 tsp celtic sea salt
Directions:
1. Mix all the ingredients in a bowl, lightly with your hands.
2. Form into small, 2 oz patties (makes about 4).
3. Grill and serve.
---
July's E-Store Specials
Buy 10 boxes of Healthwise Drinks, Get 2 Free
---
LapSF New Patient Seminars and Support Groups
Concord Seminar and Support Group
Tuesday, July 10th, 7:00-9:00pm
John Muir Hospital, 2540 East Street, Lafayette Room, 2nd Floor, Elevator A Building
*New patient seminar begins at 7:00pm
**Support group begins at 8:00pm
San Francisco Seminar and Support Group
Monday, July 16th, 6:30-8:30 pm
CPMC, Stanford Building board room
*New patient seminar begins at 6:30
**Support group begins at 7:30
San Jose Seminar and Support Group
Wednesday, July 25th, 6:30-8:30pm
Good Samaritan Hospital, 2425 Samaritan Drive
San Jose, CA 95124
*New patient seminar begins at 6:30pm
**Guest speaker: Jill Temkin, begins at 7:30pm
Stockton Seminar and Support Group
Fridaym July 27th, 6:00-8:00pm
Stockton Courtyard Marriott, 3252 W. March Lane
Stockton, CA
*New patient seminar begins at 6:00pm
**Support group starts at 7:00pm
Sacramento Seminar and Support Group
Saturday, July 28th, 9-11:00am
Woodlake Hotel 500 Leisure Lane
Sacramento, CA 95815
*New patient seminar begins at 9:00am
**Support group begins at 10:00am
---
Sincerely, the Team at Laparoscopic Associates of San Francisco
Laparoscopic Associates of San Francisco
1700 California Street
San Francisco, CA 94109
415-820-5939
and
Surgical Weight Loss Center of Hawaii
111 Hekili Street, Suite #285
Kailua, HI 96734
Change Your Life Today!
866-957-3627