Dear Friends and Family of Laparoscopic Associates and The Surgical Weight Loss Center of Hawaii
The season's festivities are just around the corner. Halloween is just weeks away so this newsletter has a special article addressing strategies to switch things up come Halloween night. Its best to be prepared or have a plan if you know the treats around the house are going to be a temptation.

We also have a new recipe listed below. We are always looking for more suggestions so if you have anything, send it to RD@lapsf.com. Thank you!
5 Tips to Avoid Self-Sabotage and Weight Gain Over Halloween

1. Don't Buy Candy You Like for the Trick or Treaters- Buying our favorite candy can really test out willpower. To avoid fighting the urge and temptation, buy something you don't like and won't eat.

2. The Switch Witch- When your kids come home with candy, let them keep 10 pieces. Have them put the rest of their candy on the porch and when they go to sleep, replace this extra candy with a Halloween gift—a DVD movie, a new board game, etc.

3. Get Dressed Up- Halloween is on a Friday this year so find a costume for yourself and have some fun! Occupy your time and put your energy to being as creative as possible.

4. Create a Barrier- Put a couple pieces of candy in small decorative Halloween bags and wrap with a ribbon. It looks extra special for the children, but also everything will be sealed up and you don't have small pieces of candy around the house tempting you.

5. Try Something Different- Cut out the treats all together and give something else in place. Spider rings, pencils, key chains, etc. Or make it a fun game night with family or friends instead of going out trick or treating.

Tips adapted from ShrinkYourself.com

How Many Calories are in that Sugar Packet?
We often add sugar to our coffee or sprinkle it on our oatmeal for some added flavor. But how many calories and carbohydrates are in the sugar? A regular packet of sugar is roughly 1 heaping teaspoon which generally has 23 calories and 6 grams of carbohydrate. Listed below are other common sugar packets you'll find:

Regular Sugar Packet: 23 calories, 6 g carbohydrate
Sugar in the Raw Packet: 20 calories, 5 g carbohydrate
Splenda, Equal, Sweet & Low: 0 calories, 0 carbohydrate

One packet of sugar might not contain much but when aiming for a low carbohydrate intake, 2 sugar packets (12 grams of carb) can add up fast. Try the sugar substitutes for zero calories and carbohydrate.

Cancer & Weight Loss Surgery

"Obese adults who undergo surgery to lose weight may reduce their risk for developing some cancers by as much as 80%, according to a study presented at the 25th annual meeting of the American Society for Metabolic and Bariatric Surgery" states a recent article in Obesity Care News. (Sept 08, Vol 2, No 3). Dr. Christou from McGill University in Canada compared cancer rates of morbidly obese patients and patients who had undergone bariatric surgery that were 5 years post-op. He found that 21 bariatric patients were diagnosed with cancer where as 487 non-surgical patients were diagnosed. The rates for developing cancer were drastically lower in those patients who had undergone bariatric surgery, breast and colon cancer in particular. Though the exact reason is unclear, findings suggest bariatric surgery might not only prevent cancer, it can remove cancers that are already present.

Read more about this article by signing up with Obesity Care News online:

Recipe: Parmesan Crisp

Here is a great tip from one of our newsletter subscribers!

"I crave salty/crunchy. For a low carb alternative to crackers or chips, sprinkle a lacy thin layer of shredded Parmesan cheese onto a piece of parchment paper, the kind that comes on a roll that you line baking sheets with. Sprinkle with a tiny bit of salt. Microwave on high for a few seconds until it begins to puff-up and lose shiny look, or bake in a 400 degree oven for approximately 3 minutes. It has the crunch and consistency of a cracker or chip"

Thank you, and keep them coming!

Unflavored Protein Powder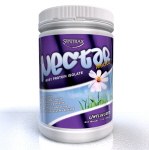 Unflavored Protein Powder is now available. Visit our website's eStore if you are interested in an unflavored protein powder which can be added to soups, yogurt, cottage cheese, eggs and other foods for added protein at meal times. One scoop is 40 calories, no carbohydrate, and 10 grams of protein.

Also, if you are looking for Vitamin D3-50,000 IU it is now available at our eStore.

Food Alert! and Suggestion

Many people find cream cheese is easy to go down. However, because it is in the "cheese family" it is higher in calories and fat. 1 tablespoon of regular cream cheese is about 50 calories, 5 grams fat, and 1 gram protein. These calories can certainly add up and therefor this choice is not going to be the best.

Substitution recommendation: If you find yourself using cream cheese, try Laughing Cow Light spreadable cheese. These individually wrapped cheese wedges are only 35 calories, 2 grams fat, and 2.5 grams protein. Though it is not a high protein food, it is a better choice than cream cheese.
Preparing for Surgery: Shopping List

If you are in the process of preparing for surgery, making a shopping list and getting the necessary items is one thing you can do ahead of time to make the post-op period smoother. Utilize your Postoperative Weight Loss Manual to help formulate a list. Some common "must haves" are: a liquid or chewable multivitamin (with folate and iron), chewable calcium, ADEK supplement, Vitamin B12 supplement, protein supplements, chicken or beef broth, sugar free jello, popsicles, non fat milk, ½ cup measuring utensil (1/2 c = 4 oz), water bottles or measuring glass to keep track of fluid intake. Please note your Postoperative Weight Loss Manual for vitamins and supplements specific to your surgery. When purchasing protein supplements aim at getting a variety of flavors so you don't become bored with one taste. Supplements should be at least 15 grams of protein per serving. The more protein per serving the better, though you want to stay low on the carbohydrate and calories. If you haven't already, take a look at our online eStore to see the protein supplements, soft foods, and vitamins & minerals that we have available. Getting these things ahead of time is one less thing to worry about!

This article is also posted as our latest Blog which you can find on our website.

Seminars & Support Groups
Sacramento Seminar & Support Group
Saturday, October 25th from 9-11 am
Red Lion Hotel at Arden Village, 1401 Arden Way
9am for Pre-op patients
10am for Post-op patients
Amy Ingols, RD will be attending.

Stockton Seminar & Support Group
Saturday, October 25th from 1-3pm
Courtyard Marritt, 3252 West March Lane
Stockton, CA Start time is 1pm.
Amy Ingols, RD will be attending

Maui Seminar & Support Group
Thursday, October 30th from 6-8pm
Maui Arts & Cultural Center, 1 Cameron Way, Kahului, HI 96732
"Getting to Know You" Post-op activity and discussing holiday season strategies with Dr. Cirangle.

Honolulu Seminar & Support Group
Saturday, November 1st from 10-12pm
Oahu Veteran's Center, 1298 Kukila Street, Honolulu
10am for Pre-op patients
11am for Post-op patients

Kona Seminar & Support Group
Monday, November 3rd from 6-8 pm
Royal Kona Resort, 75-5852 Alii Drive, Kailua-Kona 96740
"Getting to Know You" Post-op activity and discussing holiday season strategies with Dr. Cirangle.

San Francisco Seminar & Support Group
Monday, November 10th from 6-8 pm
2333 Buchanan St, Lobby Level, Enright Room
Amy Ingols, RD will be attending

Petaluma Seminar & Support Group
Saturday, November 15th from 9a-12p
Sheraton Sonoma County, 745 Baywood Drive
New patient seminar at 9am, Support Group at 10:30 am
click here to view Calendar
Sincerely,
--The Team at Laparoscopic Associates of San Francisco
---
If you no longer wish to receive these emails, please reply to this message with "Unsubscribe" in the subject line or simply click on the following link: Unsubscribe