---
Dear Friends & Family of LapSF and the Surgical Weight Loss Center of Hawaii,
Happy Memorial Day!
We want to wish you all a Happy Memorial Day weekend. We hope it is filled with lots of sunshine and fun. For all our patients who have served our country or know someone who has, we salute to those people this weekend, and celebrate the fact that we live in a country that is free.
---
LapSF's Live Vertical Gastrectomy with Twitter Feed!
Here at LapSF we are still on cloud nine from the opportunity we had to perform the first Live Vertical Gastrectomy with Live Twitter Feed last Saturday!
Dr. Cirangle performed the surgery live and everyone got a close-up view of what he does when he performs a vertical sleeve gastrectomy.
Not only were the viewers able to see the live surgery as it happened, but they were also able to ask questions live via twitter that Dr. Cirangle, himself, answered while he was working in surgery.
If you were unable to watch the live, view the entire surgery right from the operating room at the link below.
This can be viewed on iPads, iPods, as well as iPhones as well for easy viewing.
Did any of you watch? We would love to hear your feedback.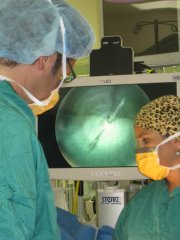 Click Here to Watch! http://www.lapsf.com/live-sleeve-gastrectomy-surgery/
---
Refreshing Summer Drinks!
Citrus Mint Green Tea Cooler:
-1 package mint, fresh
-1/2 gallon brewed decaf green tea
-1/2 gallon water
-ice
-1-2 naval oranges, sliced
-2 lemons, sliced
-splenda to taste
Directions:
1. Boil about half a gallon of water and add green tea to steep for about 2 to 3 hours.
2. While tea is brewing, clean mint sprigs, oranges and lemons (do not peel).
3. Slice orange and lemon.
4. After the tea has brewed and cooled down, discard the teabags and in a 1 gallong pitcher, pour the tea and fill the remaining space in the pitcher with water up to about an inch from the rim.
5. Add fruit and mint, mix and refrigerate. The citrus essense from the skins will seep into the tea, giving it a nice citrus taste. The fruit and mint also gives the tea a nice garnished look.
6. Add splenda if you want, and serve over ice.
Nutrition Facts: Drink should be around 5-10 calories per 8 oz serving.
FYI: Green Tea contains antioxidants, called catechins, that scavenge for free radicals that can damage DNA and contribute to cancer, blood clots, and atherosclerosis.
Strawberry Lemonade Protein Cooler (single serving):
**This recipe uses our Healthwise Lemonade drink mix located in our E-store.
-1 packet Healthwise Lemonade protein drink
-1-2 strawberries sliced
-1/2 lemon, sliced
-few sprigs of Basil
-8-12 oz water
-ice
Directions:
1. In a cup or blender bottle, pour protein powder, sliced strawberries, sliced lemon, and basil. Muddle with a pestle or fork so that the juices of the fruit and flavor of the basil of brought out and will enhance the flavor of the drink.
2. Add the cold water and ice.
3. Shake or stir and serve.
Nutrition Facts: ~80 calories, 15 grams of protein, 1-2 gm carbs, 0 gm fat, and whole lot of flavor!
---
Is Obesity The Result of A Self Care Crisis? by Jill Temkin, MA
I was watching "The Biggest Loser" last month, and was reminded of how difficult it can be for family members to remain supportive of our efforts to lose weight, particularly when the process requires us to move our attention away from taking care of them, to the serious business of taking care of ourselves.
In the episode I watched, one of the female contestants considered leaving the show after her husband expressed feeling overwhelmed and depressed without her. Her husband's discomfort left her feeling confused and guilty, because in meeting her own needs to get healthier, her family had to make some temporary sacrifices.
The choice to either stay connected to our own needs, or, to put the needs others ahead of our own, is a choice we all make countless times each day. If we are courageous enough to choose self-care in moments like the one on "The Biggest Loser," it can, and often does feel terrifying. And yet, more often than not, our new lives depend on making tough choices just like this one.
"The Biggest Loser," it can, and often does feel terrifying. And yet, more often than not, our new lives depend on making tough choices just like this one.
In order to make the kind of lasting and sustainable changes that serve to prevent weight regain after WLS, you need to learn how to listen and respond to your needs with the same reverence and compassion you would usually reserve for your child.
Jill founded Living Thin Within in response to her own journey for support after WLS that she had done with LapSF. Her mission is to help women thrive in their new bodies and radiate health from within.
---
LapSF New Patient Seminar and Support Group Dates
June 1st, 6:00-8:00pm
Stockton Seminar and Support Group
Courtyard Marriot
3252 West March Lane, Stockton
New patient seminar starts at 6:00pm
Support group starts at 7:00pm
June 2nd, 9:00am-11:00am
Sacramento Seminar and Support Group
Woodlake Hotel (Formerly the Radisson Sacramento)
500 Leisure Lane, Sacramento 95815
New patient seminar starts at 9:00am
Support group begins at 10:00am
June 13th, 7:00-9:00pm
Concord Seminar and Support Group
John Muir hospital
2540 East Street, Lesher Room
New patient seminar starts at 6:30pm
Support Group starts at 7:30pm
June 18th, 6:30-8:30pm
San Francisco Seminar and Support Group
Stanford building, board room
New patient seminar starts at 6:30 pm
Support group starts at 7:30 pm
June 27th, 6:30-8:30 pm
San Jose Seminar and Support Group
Good Samaritan Hospital
2425 Samaritan Drive, San Jose, 95124
**Located in the teleconference trailers in the east parking lot**
New patient seminar starts at 6:30 pm
Support group starts at 7:30 pm
Sincerely, the Team at Laparoscopic Associates of San Francisco and the Surgical Weight Loss Center of Hawaii
Laparoscopic Associates of San Francisco
1700 California Street, Suite 280
San Francisco, CA 94109
415-820-5939
lapsf.com
Surgical Weight Loss Center of Hawaii
111 Hekili Street, Suite #285
Kailua, HI 96734
hawaiiweightloss.com