Dear Friends & Family of LapSF and the Surgical Weight Loss Center of Hawaii,
Autumn has officially arrived and Halloween is just around the corner. As the leaves start falling and changing colors, it is a good time to reflect on the concept of change and transformation. A big aspect of being successful after weight loss surgery is to accept the new changes to your life that come with WLS. If you don't accept the new changes it really inhibits your growth. This week's motivational quote has a message related to the concept of change and I think many of you will truly relate to this quote:
"Progress is impossible without change and those who cannot change their minds cannot change anything."- George Bernard Shaw
---
Happy Halloween!


There are some treats you can make this Halloween that are Bariatric diet friendly. Try this deveiled egg recipe at your next Halloween get together.
Low Carb Deviled Egg Eyeball Appetizer!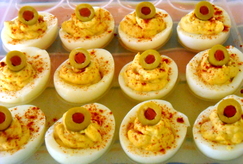 Ingredients:
-6 large hard-boiled eggs
-1/3 cup Greek yogurt
-3/4 tsp. paprika
-salt and pepper to taste
-6 pimento-stuffed green olives
Directions:
1. Cut tops off eggs, about 1/3 from tip, just enough to scoop out the yolks.
2. Mash yolks with Greek yogurt and paprika; salt and pepper to taste.
3.Mix thoroughly; fill egg white "eye sockets" with the mixture.
4. Press an olive into each yolk mixture, pimneto facing out. Trim the end of the eggs to create a flat surfasce; stand eggs upright on serving platter.
Nutrition (serving size: two eyeballs): 70 calories, 7 gm protein, 0.4 gm carbs, 6 gm fat.
---
LAST CHANCE! October E-store Special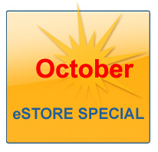 Buy any 10 of our Healthwise drink products that can be made hot, and get TWO FREE!
Flavors include:
-Hot chocolate
-Mint hot chocolate
-Amaretto Cappuccino
-Vanilla Cappuccino
Buy Today!
---
Nutrition Bite: How and Why to Cut Out Sugar Intake
Did you know?
Americans devoured about 130 pounds of sweetener per person in 2011, increasing risk of diabetes, obesity, and high blood pressure-and making dietitians cringe.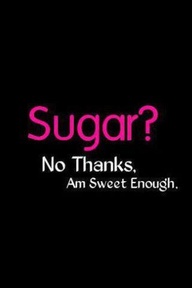 1. Ease stress levels.
Everday stressors such as deadlines or meetings spur adrenal glands to release the hormone cortisol. Cortisol can spike blood sugar levels in preparation for the primal "fight or flight" response. Chronic stress exhausts adrenals, making them unable to produce enough cortisol-leading to brain fog, lethargy, and unfortunately sugar cravings.
2. Be consistent with your meals, and do not go too long without eating.
If you aim to eat every 2-4 hours throughout the day; in each one include protein and if possible fiber to maintain proper blood sugars and satiety. This will also ensure that you are meeting your protein goal everyday and not be over your carbohydrate requirement.
3. Trust the science.
A recent study published in The Journal of Physiology showed that when rats ate a steady fructose diet for six weeks their learning and memory abilities diminished. Researchers believe that sugar consumption can cause insulin and fructose to cross the blood-brain barrier, provoking a type of metabolic syndrome in the brain. The insulin flood may cause receptors to grow resistant, leading to memory problem down the road.
4. Eat most of your carbohydrates from vegetables.
When you eat refined carbohydrates such as bread and pasta, your body tries to metabolize the sugars all at once, leading to a flood of insulin and energy variations. Instead, eat vegetables like tomatoes, onions, and broccoli-which contain natural sugars and a good amount of fiber, which helps regulate blood sugar.
---
LapSF New Patient Seminar and Support Group
October 31st, 2012, 6:30 to 8:30pm
San Jose Seminar and Support Group
Good Sam Hospital, 2425 Samaritan Drive, San Jose, CA
*Located in the teleconference trailers in the east parking lot.
**New patient seminar begins at 6:30pm
***Post-operative seminar begins at 7:30pm
---
Laparoscopic Associates of San Francisco
1700 California Street, Suite 280
San Francisco, CA 94109
(415) 820-5939
and
The Surgical Weight Loss Center of Hawaii
111 Hekili Street, Suite #285
Kailua, HI 96734
(415) 820-5939