As we soon say goodbye to Summer and welcome Fall, it is a good time for you to get back into work mode. After a summer of leisure and fun, it may be beneficial to think about where your life is going and make goals on where you want it to be. Whether, you have fallen off your exercise program from traveling this summer and you want to begin again, or you have a goal of fitting in your leather skinny jeans that you recently purchased for fall (a real goal we heard from a patient this week!)- it is good to start making goals that you want to work on this season. As you form those goals, our team will be forming goals on how to make the patient experience even better and interactive!
As you will see from this newsletter, we have new projects forming and special events occurring that everyone can be excited about. If you ever have an idea on something we should do such as a special support group speaker or a new product in our E-store, do not hesitate to e-mail or call us with your ideas. We love hearing from you!
Are you ready for your close-up?
LAPSF is offering a FREE professional make-over and photo shoot to any patient who wants to participate!
Date: August 28th, 2012
Time: Schedule your time! (8:30am-5:00pm)
Where: LAPSF SF office, 1700 California St. #280
Please schedule yourself a spot by emailing Rachel Picard at Rachel@lapsf.com
Get ready for your close-up!
Come Participate for a Good Cause!: ASMBS and OAC's "Walk from Obesity"

This year's (first annual) Northern California Walk from Obesity event will take place on Saturday, September 1, 2012 at the Campbell Community Center Track. We invite you, your family, friends, and healthcare providers to join us in offering opportunities for both youth and adults to adopt and maintain an active and healthy lifestyle. Registration is only $25.00 online and $35.00 at the event; children under the age of 12 are FREE, with a paid parent or guardian.
All registrants will receive an official Walk from Obesity t-shirt and a free one year membership into the OAC. The walk is scheduled to kick off at 8:00am, and registration starts at 7:00am.
The ASMBS Foundation and Obesity Action Coalition (OAC) were created to give a voice to those affected by obesity. Both nonprofit organizations raise funds for conducting research and education, increasing public and scientific awareness and understanding, and improving access to quality care and treatment of obesity and morbid obesity.
The Walk from Obesity is the only event that brings together those who are directly affected by obesity. This year we are expecting about 100 individuals from the local community to attend the Walk as participants, volunteers and/or sponsors. Event details can be found online at
www.walkfromobesity.com. For information on volunteering, donating and sponsorship please email us at wfoncal@yahoo.com. You can also follow us on Twitter at www.twitter.com/wfoncal.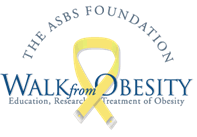 .
For more information, contact Sandra Aguirre of LostFoundMom at Saguirre625@gmail.com
For those who attended the San Jose Support Group this past Wednesday, provided is Kelly's information if you would like to contact her.
Anyone who was unable to make it, Kelly is a certified personal trainer and she came and spoke about all things exercise. She went over how to form goals and start a exercise program as well as provided answers to everyone's exercise questions includsing providing some simple exercises to start with.
Kelly trains clients at Club One Santana Row, Apple Inc., and holds bootcamp classes in Willow Glen (San Jose area). If you are interested, please contact her at: kelly27@gmail.com or 408-472-4727.
Visit Kelly's Website for more details.
San Francisco Seminar and Support Group
Monday, August 20th, 6:30-8:30pm
CPMC, Stanford building board room
*New patient seminar begins at 6:30pm
**Support group begins at 7:30pm
Sonoma County Seminar and Support Group
Friday, August 24th, 6:00-8:00pm
Filgas Medical Group
8911 Lakewood Drive, Suite 23, Windsor, CA 95492
*New patient seminar begins at 6:00pm
**Support group begins at 8:00pm
Eureka Seminar and Support Group
Saturday, August 25th, 9:00-10:30am
2223 Fourth Street, Eureka, CA
*New patient seminar begins at 9:00am
**Support group begins at 9:30am
Walnut Creek Seminar and Support Group
Monday, August 27th, 7:00-8:30pm
1656 North California Blvd, Walnut Creek, CA
*New patient seminar begins at 7:00pm
**Support group begins at 7:30pm
Stockton Seminar and Support Group
Tuesday, August 28th, 6:00-8:00pm
Courtyard Marriott,3252 West March Lane, Stockton, CA
*New patient seminar begins at 6:00pm
**Support group begins at 7:00pm