---
Dear Friends & Family of LapSF and the Surgical Weight Loss Center of Hawaii,

Halloween is the beginning of the holiday season when "healthy eating" and diets can often go awry. A tip for sticking to the not so scary side of the holiday; DO NOT buy candy for trick-or-treaters until the DAY BEFORE, or better yet, the day of Hallowen!! If you buy the treats too far in advance you may be tempted to snack on them. Feeling tempted by Starbuck's Pumpkin Spice Latte -- give this high protein alternative a try. LapSF wants you to have a fang-tastic Halloween by trying a few of these pumpkin and fall dishes!
---
Tasty Bites by Alisha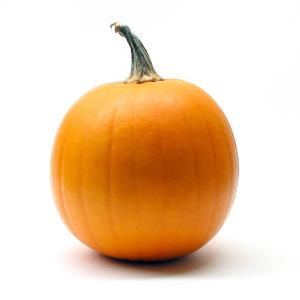 Pumpkin & Chicken Soup
½ c of water
1 small onion, chopped
2 c pumpkin puree (NOT PIE FILLING)
1 ½ c vegetable broth
½ tsp ground cinnamon
¼ tsp nutmeg
1/8 tsp ground pepper
½ c fat-free milk*
1 green onion, chopped (green only)
1 c cooked chicken breast, shredded or cubbed
In a large saucepan, heat ¼ cup of water over medium heat. Add onion and cook until tender, about 3 minutes. Add the remaining water, pumpkin, broth, cinnamon and nutmeg. Bring to a boil, reduce heat and simmer for 5 minutes. Stir in the milk and and cook until hot (do not boil!)
Makes 4 servings: 194 calories, 5 g fat, 7 g carbohydrate, 18 g protein
Apple & Fennel Roasted Pork Tenderloin
Adapted from EatingWell: September/October 2007
2 medium sweet-tart apples, sliced (Fuji or Braeburn)
1 large fennel bulb, trimmed, cored and thinly sliced
1 small red onion, sliced
1 tbsp canola oil, plus 2 tsp, divided
1 lb pork tenderloin, trimmed
1 tsp kosher salt
¼ tsp freshly ground pepper
3 tbsp cider vinegar
Preheat oven to 475° F, position oven racks in upper and lower thirds of oven. Toss apples, sliced fennel and onion with 1 tbsp oil in large bowl. Spreadout on a rimmed baking sheet. Roast on the lower oven rack, stirring twice, until tender and golden brown, 30-45 minutes. About 10 minutes after apple mixture goes into the oven, sprinkle pork with salt and pepper. Heat the reamainging 2 tsp oil in a large ovenproof skillet over medium-high heat. Sear the pork on one side, about 2 minutes. Turn the pork over and transfer the pan to the top oven rack. Roask until just barely pink in the center and an instant read thermometer registeres 145° F, 12 to 14 minutes. Transfer the pork to a cutting board and let rest for 5 minutes. Immediately stir vinegar into the pan, scraping up any browned bits, then add to the apple mixure. Thinly slice the pork; serve with apple mixture and fennel fronds.
Per 2 oz serving: 125 calories, 4 g fat, 10 g carbohydrate, 13 g protein
Creamy Pumpkin Mouse
½ c pumpkin puree
1 box Sugar-Free Fat-Free Instant Vanilla Jell-O Pudding
½ c skim milk
¼ c Sugar-Free Cool Whip
1 ½ c water
1 tsp cinnamon
2 scoops Unflavored UNJURY Protein Powder
Mix water, skim milk, and 2 scoops of UNJURY together until smooth. Add Instant Jell-O Pudding powder and cinnamon to liquid mixture. Fold in pumpkin puree and sugar-free cool whip. Divide into 4 small containers – ½ servings – refrigerate until ready to serve.
Per ½ cup serving: 82 calories, 1 g fat, 7 g carbohydrate, 12 g protein
Pumpkin Spice Latte
1 scoop Nectar Vanilla Bean protein powder
1 tbsp pumpkin puree (NOT PIE FILLING)
¼ tsp apple pie spice (cinnamon, nutmeg, allspice)
½ c skim milk
½ c water
1 tsp Instant Coffee
Heat water (below 130°F) and mix in instant coffee. Combine prepared coffee, milk, pumpkin, vanilla protein powder, apple pie spice in blender and blend until combined. Re-heat in microwave until warm or serve over ice.
Makes 1 serving: 140 calories, 0 g fat, 7 g carbohydrate, 27 g protein
---
LapSF eSTORE October Special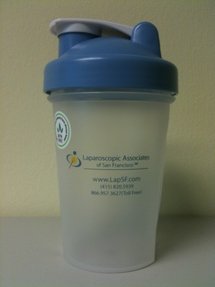 ONE MORE MONTH!!!
Orders over $125.00 will receive a free LapSF Blender Bottle with their eStore purchase for the month of October (Value $8.00)
OFFER ONLY VALID ON PURCHASES MADE ONLINE
---
New Product: PRO Strength - 15 g Protein / ounce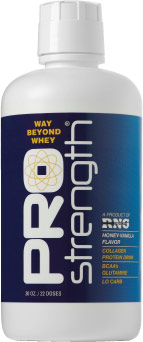 PRO Strength is the latest breakthrough in the protein supplement market, providing 15 g of protein in each 1 oz serving (72 calories). It is comprised of collagen protein, which is hydrolized (or "pre-digested") liquid derived from 100% kosher beef - and easily absorbable. This means, it quickly enters the body and immediately provides the protein needed to nourish muscles and maintain lean muscle mass.
$52.00/bottle (30 servings)
Vanilla Flavor
Lactose/Gluten Free
Does not require refrigeration
PRO Strength will soon be available to order through the lapsf.com/estore but please call 415-820-5944 to place your order today.
---
Upcoming Seminar & Support Groups
San Francisco Seminar & Support Group
Monday, October 17th from 6:00pm-8:00pm
California Pacific Medical Center's Stanford Building (Hospital Board Room)
*New Patient Seminar at 6:00pm
** Support Group at 7:00pm
San Jose Seminar & Support Group
Wednesday, October 19th from 6:30pm - 8:30pm
2425 Samaritan Drive, located in the telaconference trailers in the
East Parking Lot
*New Patient Seminar at 6:30pm
**Support Group at 7:30pm GUEST SPEAKER Debra Kashiwabara will be speaking on stress and traditional Eastern practices of using herbs and plant-derived nutrients to achieve optimal health.
***LapSF dietitian to attend
Sacramento Seminar & Support Group
Saturday, October 29nd from 9:00am - 11:00 am
Radisson Sacramento, 500 Leisure Lane, Suite 300
Sacramento, CA 95815
* New Patient Seminar at 9:00 am
** Support Group at 10:00 am
Stockton Seminar & Support Group
Saturday, October 29nd from 1:00pm - 3:00pm
Courtyard Mariott, 3252 West March Lane, Stockton, CA
* New Patient Seminar at 1:00 pm
** Support Group at 2:00 pm
Sonoma Seminar & Support Group
Saturday, October 30th from 9:00am - 11:00 am
Filgas Medical Group, 911 Medical Center Plaza, Suite 23, Windsor, CA, 95492
* New Patient Seminar at 9:00 am
** Support Group at 10:00 am
---
Help LapSF Keep In Touch With You
Please e-mail your updated contact information to weightloss@lapsf.com, so we can keep in touch with you and provide you with the best service.