Dear Friends & Family of LapSF and The Surgical Weight Loss Center of Hawaii,
As the 2012 Olympic Games begin, we can all admire the dedication, athleticism, and not to mention perfectly-physiqued bodies of all the athletes participating. Not only are the games great entertainment, but watching also gives us motivation to get out and get moving! Contrary to what is sponsored to be the official meals of the Olympic games (i.e. McDonalds and Subway), these athletes are not noshing on hamburgers and sandwiches to give them the edge they need to win the gold medals.
The key to a great performance and a chiseled physique is eating a clean and lean diet supplied by real, whole foods. There was a recent poll from the dietitians who work with the Olympic athletes and they came up with a list of the top ten foods most consumed. Surprisingly enough, 5 out of the 10 foods are the most popularly prescribed foods we ask our patients to consume as well. These foods included: eggs, lean meats, Greek yogurt, tuna, and cottage cheese. You can be rest assured you are not the only one eating a high protein diet. When losing fat, and building muscle, protein is the key nutrient needed to maintain a healthy weight and body. It also helps sustain long hours of physical activity by being slowly digested and suppressing appetite.
GO USA!
---
Special Support Group Event: Kelly Lee, Certified Personal Trainer
Where: San Jose Support Group, Good Samaritan Hospital
When: August 15th, Wednesday, 7:30pm
Topic: All things exercise!
Kelly Lee is a passionate, empowered, and knowledgable personal trainer. Along with her love for fitness, she is enthusiastic about each and every client. Not only does she work to encourage a higher level of fitness – she will take a holistic approach to creating a healthy lifestyle.
Kelly started Fit2BX in early 2012. Taking this revolutionary opportunity Kelly is interested in helping people achieve their goals, step by step. Kelly has worked with a wide range of clients throughout the years. As an certified personal trainer she has fit the needs of many clients such as athletic performance, weight loss, muscle toning and those with health issues.
"Overall, my main focus is to get you to live a healthy, happy, lifestyle and achieve your desired level of fitness. I believe that everyone should have the benefit of living a healthy lifestyle. I'm here to teach the skills necessary to achieve any health and fitness goal."

Kelly is excited to meet you!
www.fit2bx.com for information on her wonderful services!
---
August's E-Store Special!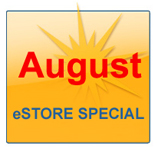 For the month of August, receive 10% off your order of Nectar products on purchases of $100 dollars or more. (redemption code: NECTAR10PER).
**NOTE: In order to get promotion discount you must enter correct redemption code from above. To use redemption code please choose all your Nector products and add to your cart. Then add the redemption code for the discount to be applied (in step 2 of the checkout process).

Purchase Now! www.lapsf.com/estore
---
LapSF Patient Recipe: Elina's Green Chicken Soup
One of our patients, Elina, has shared one of her most famous recipes that she loves to make a big batch of and eat throughout the week. This soup is loaded with protein, vitamins, and minerals.
Ingredients:
-3 large chicken boneless/skinless breasts with fat trimmed (31 oz)
-2 large cans of fat free chicken broth, low sodium (49.5 oz per can)
-1 bunch of broccolini chopped (8 oz)
-3 baby bok choys chopped (9 oz)
-4 large celery stalks chopped (9 oz)
-5 medium garlic cloves chopped
-1/2 bunch green onions chopped (1 oz)
-3 large carrots chopped (11 oz)
-1 tbsp Dill weed chopped
-1/2 bunch fresh parsley chopped
-6 oz frozen green peas
-6 oz fresh green beans chopped
Directions:
1. In a large pot, combine all ingredients, except the peas and green beans. Keep the chicken breasts whole (you'll shred them later). Boil for about 30 minutes. Once the chicken breasts are completely cooked, remove them to cool (pull them apart a little bit so they will cool faster).
2. Meanwhile, put the vegetables and broth through a blender. (When doing this, it is a good idea to carefully pulse them in a blender with a towel around the blender lid and hold the lid firmly, as sometimes pressure can build with hot liquids in the blender.) then transfer the blended soup back into the large pot.
3. When the whole chicken breasts have cooled a bit, pull them apart with a fork or your hands and shred them. They should be a little stringy when in shredded form, with no large chunks. Add the shredded chicken back into the pot. Chop-up the green beans fairly small, and add into the pot along with the frozen peas. Cook for about 10 more minutes, add salt & pepper to taste and enjoy!
Nutrition (per 1 full cup serving): 63 calories, 0.35 gm Fat, 2.96 gm carbohydrates, 1.05 gm sugar, and 9.85 grams of protein.
**Elina is a LapSF maintenance patient and this is an original recipe that she created. She likes to make a big pot of this on those weeks she needs extra rejuvenation such as after vacation**
---
Nutrition Bite of the Month: Dietiting vs. Exercise
Have you ever started to exercise and noticed that you weren't losing weight?
There may be answer as to why.
And in a just world, frequent physical activity should make us slim. But repeated studies have shown that many people who begin an exercise program lose little or no weight. Some gain.
There are many theories as to why but a big part is over estimating calories needed, and also the justification of calories, and increasing calories in the diet when it is seen to be unnecessary.
In two studies that came out this week, the studies showed that as people lost weight their metabolic rate actually decreases, so calories must stay the same or decrease when losing weight. You cannot stay at the same calorie level, or increase if you expect to lose weight (even if adding physical activity). Also, the amount of calories we "burn" is highly overestimated on the machines in the gym and on the heart rate monitors.
It is recommended that those who want to lose weight, you must do two things.
1. Change your diet to be rich in lean protein, vegetables, low- fat dairy, while also being low calorie.
2. While losing weight, keep exercising but do not account for extra calories consumed. To get the biggest benefit, add a cardiovascular and weight resistance program to your regimen to build strengthen your heart and build lean muscle mass.

For more information, read the article below:
http://well.blogs.nytimes.com/2012/08/01/dieting-vs-exercise-for-weight-loss/?ref=health
---
LapSF New Patient Seminar and Support Group
Sacramento Seminar and Support Group
Saturday, August 11th, 9:00-11:00am
Woodlake Hotel
500 Leisure Lane, Sacramento, CA 95815
*new patient seminar begins at 9:00am
**support groups begins at 10:00am
San Jose Seminar and Support Group
Wednesday, August 15th, 6:30-8:30pm
Good Samaritan
2425 Samaritan Drive, San Jose, CA
*located in the teleconference trailer in east parking lot
**new patient seminar begins at 6:30pm
**support group/Kelly Lee's presentation begins at 7:30pm
San Francisco Seminar and Support Group
Monday, August 20th, 6:30-8:30pm
CPMC, Stanford Building board room
*new patient seminar begins at 6:30pm
**support group begins at 7:30pm
Walnut Creek Seminar and Support Group
Monday, August 27th, 7:00-9:00pm
1656 N. California Blvd., Walnut Creek, CA
*new patient seminar begins at 7:00pm
**support group begins at 8:00pm
---
Sincerely, the Team at Laparoscopic Associates of San Francisco and the Surgical Weight Loss Center of Hawaii
Laparoscopic Associates of San Francisco
1700 California Street, Suite 280
San Francisco, CA 94115
1 (415) 820-5939
and
The Surgical Weight Loss Center of Hawaii
111 Hekili Street, Suite 285
Kailua, HI 96734
Change Your Life Today!
1-866-957-3627