---
Dear Friends and Family of Laparoscopic Associates and the Surgical Weight Loss Center of Hawaii,
We hope everyone had a safe and healthy Halloween. One holiday down, two more to go. As the holidays approach, it is good to come up with a plan (or plans) to help you survive them. Temptation to eat high carbohydrate, and high fat foods are all over this time of year and finding the willpower to say no to a your old favorite holiday foods will take some motivation. If you keep your protein intake high and follow your normal routine as much as possible, this will help tame cravings and prevent running into situations where you eat foods that are inappropriate for weight loss and maintenance.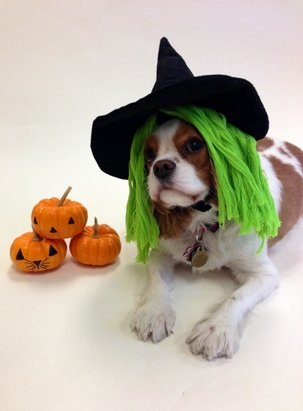 Pashima, our office dog, had a great time and dressed up this year as a witch!
We do have one exciting and fun way to be prepared for this holiday season. This week we launched our food blog, Cafe Frisco, which showcases gourmet food that can be made after weight loss surgery that come from the brain/kitchen of one of our successful patients. Many of these recipes will be great to follow this holiday season if you have a party or event to hold but are not sure what to serve that will be bariatric diet friendly but also wow your guests. Try the Thai Chicken Satay as a party food, or make the Chinese Chicken Salad and substitute with Thanksgiving turkey leftovers.

---
LapSF Publishes First Gourmet Food Blog for WLS Patients
Café Frisco:

Culinary Concepts for Diet after Weight Loss Surgery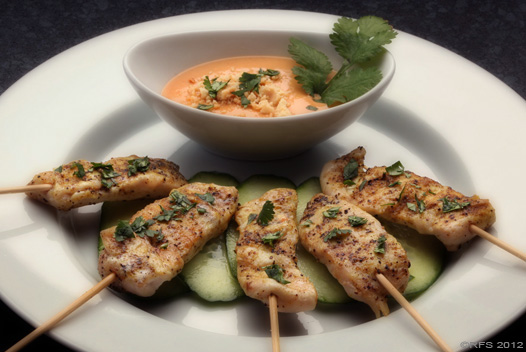 The blog is LIVE and we want you all to check it out.
Tell your friends! Tell your family!
Check it weekly, or even daily to get ideas on what to eat after weight loss surgery and still keep to the WLS prescription. This blog is not designed by a chef or RD-but rather designed by a patient and assessed by Gabriella, RD and Dr. Cirangle.
Cafe Frisco's recipes all fit the following criteria:
-Must stay within the nutritional guidelines

-Must use proper portion control.

-Must use low carbohydrate, higher protein foods

-Must be easy, quick, & delicious

- Easy to obtain ingredients from "normal" grocery stores and simple preparations.

- Teaches you how to be experimental, to de-construct, re-invent, re-purpose, & substitute.

- Focuses on quality, not quantity.
Look for Cafe Frisco HERE!: www.lapsf.com/cafe-frisco/
Press release:
http://www.sfgate.com/business/prweb/article/Noted-Weight-Loss-Surgeon-Publishes-the-First-3999459.php
---
LapSF November E-store Special!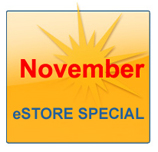 For the month of November, for those who spend $150.00 or more will receive a 2 week supply (1 jar) of the First Nutrient Nutrivie Botanical supplement.

**NOTE: Please note in the comments section if your have a preference for Immune, Stress, or Energy.
---
Did you have surgery in 2011? Then join LapSF's Online Yearbook!
What do you have to do?
Submit a before and after picture to rachel@lapsf.com (2 separate files) and include a quote (1-3 sentences) which will be included under your picture.
Want to win $100??
Submit a quote and WHY you think you should win one of the following:
-Most School Spirit
-Most Likely to Break a World Record
-Most Likely to Become President OR Best Celebrity Look-a-like
Good Luck and Congratulations on Your Success!
---
Nutrition Bite: How to Eat at Holiday Dinners and Survive the Holidays
1. Stay focused more than ever.
It is easier to stay on track with your healthy meal plan when temptation is not in sight, but with the holidays you will be put in more situations than in non-holiday season. For example, you will be asked frequently if you would like some candy, cakes, party food, etc. Make a daily plan of what you should eat and stick to it.Even if you have to cross it off a list-you know that you did everything you can to be prepared.
2. Plan out your Holiday dinners in advance.
If you go to the same family dinner every year, most likely you have an idea of what types of dishes will be served. Build a plate based on the foods that best fit your typical meal structure and serve yourself. Do not let others serve you, if possible.
Example plate:
-2.5 oz. of white meat turkey
-1 tsp. gravy (moderation due to high fat content)
-1-2 oz. vegetable (sauteed spinach, kale, broccoli, green beans)
-1-2 Tbsp. sweet potato mash
3. Experiment with recipes for Holiday desserts (do not eat all holiday season-just the day).
It is a good idea for the most part to stay clear of the candy and treats during the holidays, but the actual day you may want to bring a healthier dessert alternative that you can have as well as the guests. Adapt holiday recipes to include Splenda or Stevia instead of sugar and stick to your appropriate portion size. You can also use high protein additions to recipes such as unflavored protein powder and Greek yogurt.
4. Focus on non-food related activities that you can do with friends and family.
Enjoy the Holidays with activities that are not associated with FOOD! I know it may seem hard, but trust me there are some. How about touring holiday lights (possibly walking in the process for some exercise!) or seeing a holiday performance. Possibly go ice skating? Think outside the box when it comes to celebrating the holiday season. You and your waistline will come out of the holidays happy.
---
LapSF New Patient Seminars and Support Groups
Concord Seminar and Support Group
Monday, November 5th, 2012, 7:00-9:00pm
John Muir Concord Campus, 2540 East Street, Lesher Auditorium
*New patient seminar begins at 7:00pm
**Support group starts at 8:00pm

San Jose Seminar and Support Group
Wednesday, November 14th, 2012, 6:30-8:30pm
Good Samaritan Hospital,2425 Samaritan Drive, San Jose, CA
**Located in the teleconference trailers in the east parking lot.
*New patient seminar begins at 6:30pm
**Support group begins at 7:30pm
San Francisco Seminar and Support Group
Monday, November 19th, 2012, 6:30-8:30pm
CPMC, Stanford building board room
*New patient seminar begins at 6:30pm
**Support group begins at 7:30pm
---
Sincerely, The Team at LapSF and the Surgical Weight Loss Center of Hawaii
Laparoscopic Associates of San Francisco
1700 California Street, San Francisco, CA
(415) 820-5939
and

The Surgical Weight Loss Center of Hawaii
111 Hekili Street, Suite #285
Kailua, HI 96734
Change Your Life Today!
Call (866) 957-3627!
---