---
Dear Friends & Family of LapSF and the Surgical Weight Loss Center of Hawaii,
Labor Day is here! If a BBQ is part of your weekend plan, check out these chicken burgers stuffed with ricotta and spinach. We are also happy to share that LapSF now has our very own Blender Bottle availabe for you and your protein mixing pleasure! All eStore orders placed in the month of September over $125.00 will receive one free. But don't fret, you can also purchase a bottle seperately if you are already stocked up on protein. Lastly, for all of our East Bay patients we will start seeing patients in our new Concord office September 15th, please call the office to set up your appointment.
---
Bariatric Food Pyramid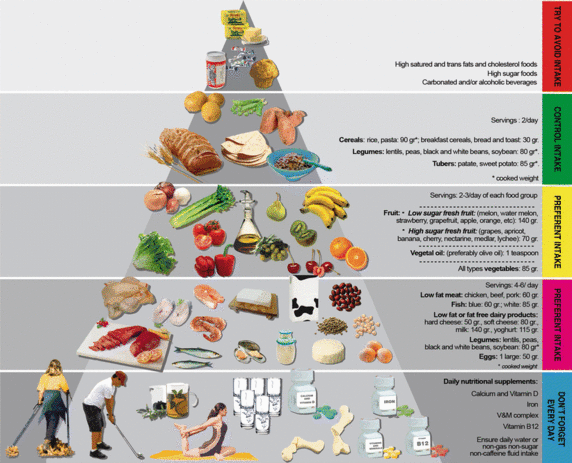 Life-long dietary modification is a key to long-term success with bariatric surgery. Diet guidelines given right after surgery focus on immediate needs but often patients are interested in the long-term, and better yet the guidelines for when they reach their weight loss goals and beyond when they are weight stable.
Unfortunately, recommendations for a "balanced" diet look very different [for bariatric patients] from that recommended for the general population. Every 5 years since 1980, the United States Department of Agriculture (USDA) and the Department of Health and Human Services have jointly published the Dietary Guidelines for Americans (with normal sized stomachs). Now, thanks to a paper by a Dr. Moize from the University of Barcelona, Spain, there is a like minded tool for people whom have had bariatric surgery [who are two years post-op and are weight stable.]
Moize, L., Pi-Sunyer, X., Mochari, H., & Vidal, J. Nutritional Pyramid for Post-gastric Bypass Patients. Obesity Surgery (2010). 20:1133-1141.
---
New Sonoma County Office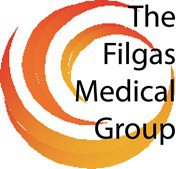 We are introducing our collaboration with a new location in Sonoma County and the physician who practices there. The location is in Windsor, California and the physician is F. Dee Filgas, M.D.
Her practice is Age Management Medicine. The main thrust of the practice revolves around a number of medical issues relevant to aging and are designed to preserve quality of life as one ages. The program includes replenishment of post menopausal and post andropausal bioidentical hormones which normally go into decline as aging progresses. Dr. Filgas' practice includes metabolic control of weight, utilizing metabolic interventions as well as appropriate and healthy dietary changes. Control of orthopedic nonsurgical pain is one of her specialties and is essential in order for people to exercise. She also educates patients on supplements based on the latest scientific research. These supplements are necessary in order to shift the metabolism of the body with the goal of optimizing weight loss and bringing vigor to one's life.
The issue of exercise is essential to the full equation and Dr. Filgas has several models which serve the needs of each individual. Her practice embellishes that
of our practice at LapSF
.All of that, in the Wine Country
!
Dr. Cirangle will be there about once a month, dates to follow.
911 Medical Center Plaza, Suite 23,
---
Tasty Bites by Alisha
Chicken Burgers Filled With Ricotta and Spinach

3.5 oz baby spinach leaves
3.5 oz low-fat ricotta
Salt and pepper
Pinch of nutmeg
1 lb ground chicken breast meat
1/2 c red onion, chopped
2 tbsp parsley, chopped
1 tsp ground cumin
1 tsp ground allspice
Olive oil spray
Wash spinach leaves, put them into saucepan, cover and cook over medium heat until leaves wilt. Allow to cool and squeeze out any excess moisture. Roughly chop spinach and combine with the ricotta, salt, pepper and nutmeg.
Combine ground chicken breast, onion, parsley, and spices in a bowl. Divide the mixture into eight round flat patties. Make a hole in the center of each patty (do not go all the way through to the other side), and fill the hole with some of the ricotta and spinach mixture. Shape a little of the chicken mixture over the hole to enclose the filling. Cover and refrigerate for 30 minutes (if time allows).
Cook patties in a lightly oiled non-stick frying pan over medium heat for 15-20 minutes or until cooked through.
Note: These burgers are great hot or cold and can be made into small meatballs!
Per 2 oz burger: 85 calories, 2 g fat, 3 g carbohydrate, 14 g protein
---
LapSF eSTORE September Special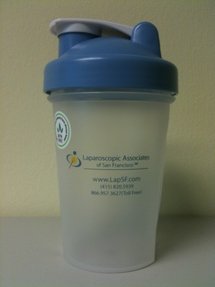 Orders over $125.00 will receive a free LapSF Blender Bottle with their eStore purchase for the month of September
(Value $8.00)
OFFER ONLY VALID ON PURCHASES MADE ONLINE
---
---
Upcoming Seminar & Support Groups
Oahu Seminar & Support Group
Saturday, September 10th from 10:30 am
1221 Kapiolani Blvd, Suite 1025, Honolulu, HI 96814
*New Patient Seminar at 10:30 am
**Support Group at 11:00 am
San Francisco Seminar & Support Group
Monday, September 19th from 6:00pm-8:00pm
California Pacific Medical Center's Stanford Building (Hospital Board Room)
*New Patient Seminar at 6:00pm
** Support Group at 7:00pm
San Jose Seminar & Support Group
Wednesday, September 21st from 6:30pm - 8:30pm
2425 Samaritan Drive,
located in the telaconference trailers in the East Parking Lot
*New Patient Seminar at 6:30pm
**Support Group at 7:30pm GUEST SPEAKER TBA
Sacramento Seminar & Support Group
Saturday, September 24th from 9:00am - 11:00 am
Radisson Sacramento, 500 Leisure Lane, Suite 300
Sacramento, CA 95815
* New Patient Seminar at 9:00 am
** Support Group at 10:00 am
Stockton Seminar & Support Group
Saturday, September 24th from 1:00pm - 3:00pm
Courtyard Mariott, 3252 West March Lane, Stockton, CA
* New Patient Seminar at 1:00 pm
** Support Group at 3:00 pm
---
Help LapSF Keep In Touch With You
Please e-mail your updated contact information to weightloss@lapsf.com, so we can keep in touch with you and provide you with the best service.