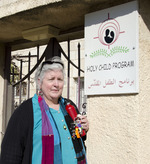 Holy Child School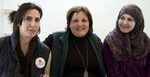 Three Primary Grade Teachers
Today was the day I had been really looking forward to on this trip because I had been invited to visit a school in West Bank that was using the Incredible Years Parents, Teachers and Child Programs. Diane, a truly amazing and dynamic social worker, has single handedly introduced the IY programs to the Holy Child School. I first met Diane three years ago when she came for two of my parent and teacher training workshops in Seattle. As soon as she told me of her plans for program delivery in West Bank I knew I wanted to visit her and see first hand how the Incredible Years programs could work within a different cultural and religious context.

While there has been successful delivery of the Incredible Years in countries such as Norway, UK, New Zealand and Denmark (where there is substantial government support), this case is different in that program delivery is entirely dependent on donations for annual operating costs. The Holy Child Program (certified by the Palestinian Ministry of Education) is a service of the Bethlehem Holy Child Program Corporation. The beliefs and teachings of the Roman Catholic Church provide the framework within which the services are offered even though the majority of the children are Muslim. The goal of the school is to provide an alternative education for children who suffer from untreated, complex mental health issues and exposure to intergenerational trauma. It provides individualized programs for each child and seeks to highlight a rich cultural heritage as well as partnerships with local providers.
After researching evidence-based treatment programs for children with social and emotional problems, Diane chose the Incredible Years Programs to deliver at this school. Employing the assistance of an Arabic interpreter, she began by training the preschool and primary grade teachers (of students ages 4-12 years) the IY Teacher Classroom Management Program. She met weekly with the teachers for 4—6 hour workshops for 9 months and also provided classroom coaching. At first the teachers found the child management strategies and principles to be foreign and difficult. However, as they continued to implement the strategies they began to see positive changes in their students' emotional regulation and academic learning.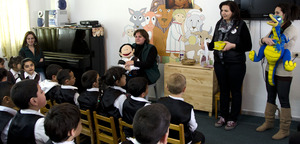 The teachers were next introduced to the IY Child Dinosaur School program, integrating aspects of the both the Child Treatment and Prevention models. The teachers worked together as a team to incorporate all aspects of IY emotional, social and persistence coaching, praise, and incentives during their academic teaching.