Amber Cleave - Retention Marketing Specialist
VR Employee: 11 months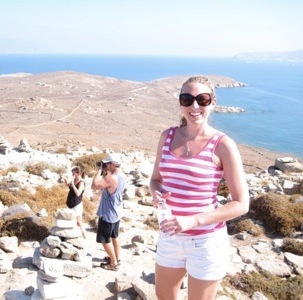 What's your favorite past time: My favorite past time is Bikram Yoga - a 90 minute yoga class in 90-degree(+) heat. I enjoy this type of yoga because it is a good marriage of the mind and body. I always think if I can make it through a Bikram Yoga class, I can accomplish anything! My favorite studio is Bikram Yoga in the Mission. Coincidentally, my fiance's brother's girlfriend is Bikram's niece (seriously!).

Favorite book: My favorite book is Still Life with Woodpecker by Tom Robbins. Here's one of my favorite quotes from the book: "My love for you has no strings attached. I love you for free." My fiance and I are getting married in May, and this quote is going to be the underlying theme of our wedding.

Favorite thing about working at VR: My favorite thing about working at VR is the great camaraderie of our team, and the synergy between conversion and retention marketing, social media, and customer education. I really enjoy getting to do so much copy writing in my position, too. Writing marketing guides is one of the best parts of my position as Retention Marketing Specialist. The team is also kicking butt on our holiday marketing strategy!

What is one of the most memorable places you've traveled to: This summer we traveled to Rome and Greece, and went on a cruise around the Greek Islands. The history, mythology, culture, ruins, food, beaches - everything we saw and did was so amazing. We snorkeled amongst ruins from Poseidon's Temple off of Athens, and went scuba diving at Perissa Rock in Santorini (a volcanic island). We also went to Delos, which was at one time the center of ancient Greek civilization (and is the heart of the Cyclades). Delos is considered the birth place of the Greek Gods Apollo and Artemis. It's also among the three brightest places in the world. It was sooo sunny! Sunglasses were a must (see picture attached).

Josh Vogel - Customer Relations Specialist
VR Employee: 11 months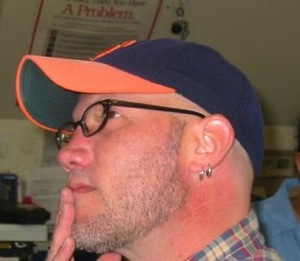 Tell us about a celebrity moment:
Back when I was a little kid in Ohio my dad worked for Baldwin piano company. At one point Liberace was doing a piano "recital" or whatever it was he did and my dad scored some sweet back stage passes for him and me. After sitting through (or for me sleeping through) his performance it was time for us to meet Liberace backstage. Knowing beforehand that this was going to be a memorable moment, my mom hand sewed me a brown and yellow leisure suit for this occasion. We got back stage and met him and while wondering if he was wearing a toupee or not he asked me if I wanted to try on one of his huge gaudy piano shaped diamond rings. I honestly didn't want to but did and there are photos of Liberace, my dad, and me in my leisure suit wearing one if his 600 pound rings. Word has it that when Liberace asked me what I thought about his rings I told him that they were ugly.
Biggest pet peeve: You've done it, I've done it but I'm just sayin'. Texting while walking on the sidewalk. Can't walk in a straight line if you aren't watching where you're going. Try to pass them? Watch out, they'll swerve. Leads me to the story of me on my way to work down 2nd street. I was walking toward VR World Headquarters and there was this guy approaching from the other direction who was texting and walking and I could see that he was veering slowly toward a parking meter on a fairly brisk pace. Normally I would have attempted to give him a heads up but this time I decided to sit back and watch the magic happen. Yes, he hit said parking meter straight on, phone flying in to the street and breaking in half and his coffee landing right on top of it. Priceless.
Do you collect anything: A huge baseball card collection that was handed down from my grandfather to my dad and then both my dad's and grandfather's collection to me. I still have mine as a kid too so there are a ton of them. Other collections: antique radios, antique furniture, weird art and other random curious artifacts. My house is like a museum.

What's your favorite past time: Foosball. I can't say that I'm great at it, but it is a great game. Also trying to find the best of 3 things in the city. Pizza, breakfast/brunch spot and dive bar. Any suggestions?
What's your favorite past time: Music - as both a listener and a performer. I started playing guitar in college, and after a year picked up the bass so I could join a band with all my guitar playing friends. These days I'm pretty good at both, but most of my performing is on the bass. I play regularly with two bands, one playing all original music, and another playing funk, R&B and hip-hop from the 70's to today. I love to go to shows and hear other bands – recently I've been to two weekend-long outdoor music festivals, plus the round of summer concerts, shows at the Independent, and even a semi-private backyard concert with a singer/songwriter from the east coast.
What was the best time you had this past year: This year was my sixth year attending Burning Man in the Black Rock desert in Nevada. For those not familiar with the event, roughly 50,000 people show up every year to build a city in an environment that basically resembles the surface of the moon. Then everyone parties, blows a lot of things up, and completely cleans up afterward leaving no trace. Taking an internet/smart phone junkie to go off the grid for a week into a world that doesn't use cash, have any sort of cell phone service, or easy internet access can be a great mental reset. I couldn't really set the phone down though – it's still great little camera, flashlight, clock and music player – those things all came in handy quite a few times. Last year I helped to build a 40 foot tall rocket for the event - it's now on display on the Embarcadero near the Ferry Plaza.
Why do you live in the bay area: I grew up in Michigan, a part of the country that resembles the frozen tundra of Siberia for half the year. I vowed that after college I would move somewhere warm, but for some reason I ended up in the Bay Area instead. But after I realized my mistake, I was too dialed in to the amazing music scene here, so I learned how to wear layers and stuck around.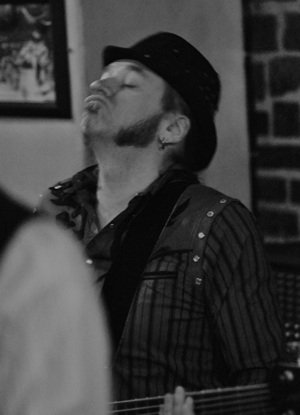 Do you collect anything: Wine. When I moved here I hadn't discovered it yet, but now that I have it's another great reason to put on my summer sweater and stay in the Bay Area. I've converted a room in my house into a cellar to house it all – currently I've got about 350 bottles, and they're all secured to the racks, which are in turn bolted to the wall, so they can't fly everywhere during an earthquake. As I like to tell people when I show them the setup, I figure I'll probably really want a drink after the next Big One, so best to keep them safe. I drink wines from all around the world, but my favorites are usually from California or Italy.