Greetings from the Map House,
I'd like to update you on two developments.
One: My USA map is on sale. In preparation for publication of the 2nd Edition, EG USA, I'm offering two copies of the 1st Edition for the price of one.
I hope you'll see this as an opportunity to spread the joy of geographic appreciation through donations to schools, or by giving copies to family, friends and co-workers.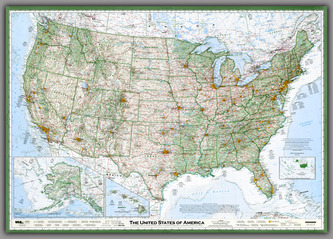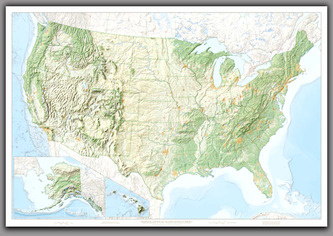 Readers of my last newsletter wrote to suggest I sell prints of the The "Naked" Map ( a.k.a. the landform
/
landcover illustration I created for the upcoming 2nd Edition, EG USA ). In response, I refashioned the illustration into a stand-alone piece, and called it Geographic Portrait of the USA.
The visual style is similar to the illustrative maps you might find in a European wine appellations atlas. Similar to a vertical landscape painting of the United States, this illustration resembles the land it represents. I believe it's a revolutionary advancement in my work.
In addition to enjoying the physical beauty of the United States, you will deepen your geographic understanding by learning to recognize US geography by sight, without the help - or visual distraction - of type labels.
Thank you for supporting my work,