I'm happy to announce the release of The Essential Geography of Oregon. My experimentation with art maps over the last few years gave me new insights that have allowed me to make this my best work to date.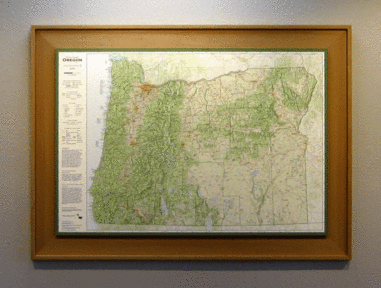 A show featuring this and other pieces opens August 4th at Vistra Framing and Gallery, 411 West 4th Av. in Eugene. For the show, I designed the 60"x 44" Douglas-fir frame pictured here.
If you're in the Eugene area, please come to the opening this Friday evening. William L. Sullivan, my geographic editor for this work, will join me for a talk about our long-term collaboration.
Learn more about The Essential Geography of Oregon.
Many thanks,