Science in Art @ University of Chicago
The University of Chicago launched Science in Art exhibition, October 10, 2008. In Search of Meaning was selected for inclusion by curators: Kate Lorenz, Associate Director at Hyde Park Art Center; Theaster Gates, Coordinator of Arts Programming at UChicago; Dr. Heinrich Jaeger, UChicago Professor of Physics and on the Science Chicago board; Dr. Sidney Nagel, UChicago Professor of Physics).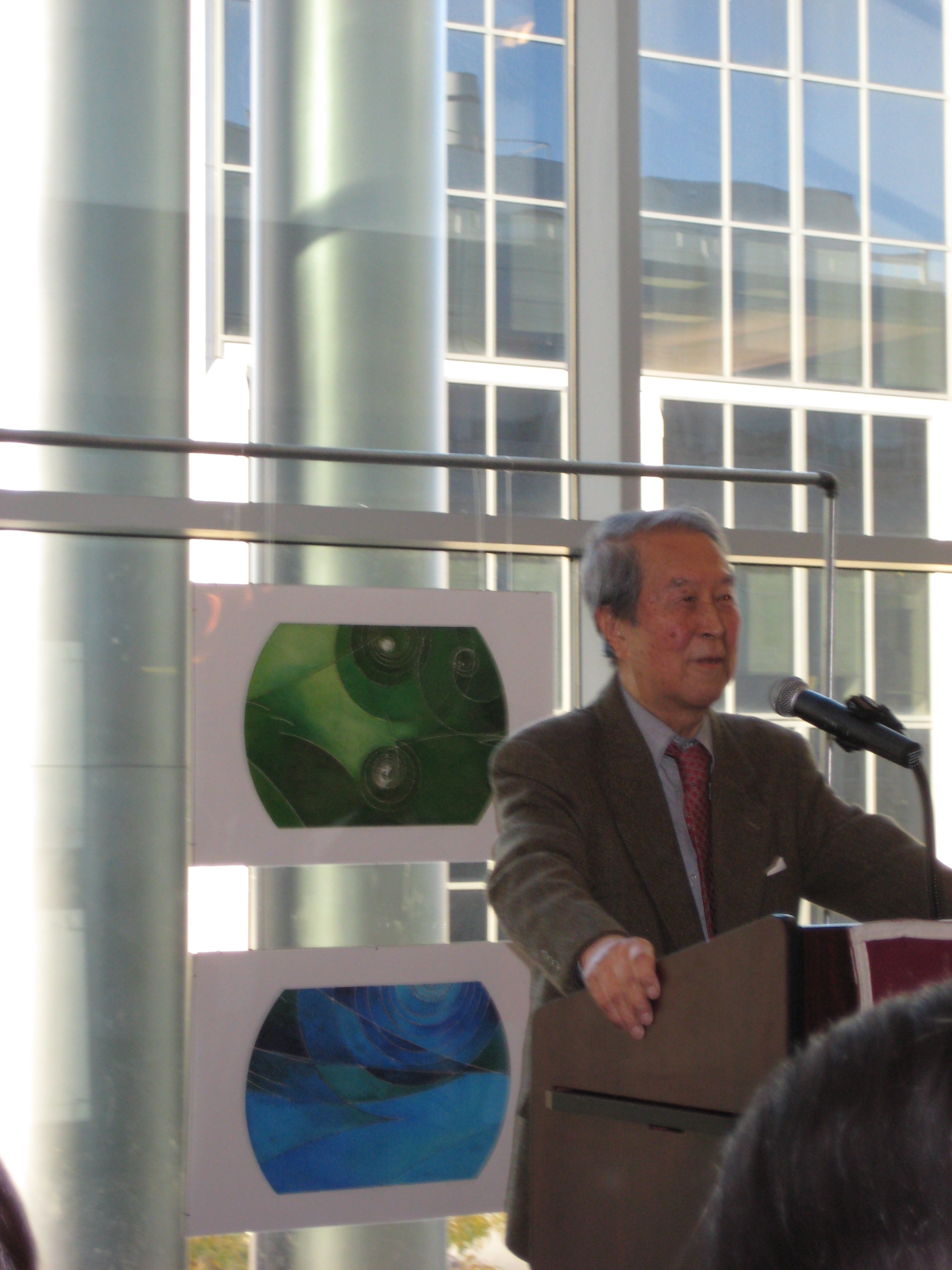 Dr Nambu, 2008 recipient of the Nobel Prize for Science honored at the Science in Art exhibition.
Science in Art uses art as a vehicle for creating connections between scientists and non-scientists. As science and technology advance the need for public awareness and understanding increases. The success of science depends largely on public support, therefore communication between scientists and the public is critical.
This exhibit will help to translate the language of science for the general public and to push forward the boundaries of human enlightenment. Moreover, it will highlight cross-disciplinary connections in the development, expression and exploration of novel ideas.
The Galileium Museum in Italy acquires In Search of Meaning series

In March 2008 The National Physics Laboratory of Gran Sasso (INGS) hosted a solo show of In Search of Meaning at the National Museum of Abruzzo in L'Aquila in conjunction with the Leonardo da Vinci's exhibition.
Over Summer 2008, the series was included in the inaugural exhibition at Galileium, the new International physics and astrophysics museum in Teramo, Italy.
The INGS has purchased the touring giclee series for the Galileium Museum's Permanent Art Collection.

Women's Experiential Workshop
REJUVENATE & REFLECT INNER WISDOM

This dynamic experiential workshop embraces women of all ages.

Come discover hidden treasures within your own unique personal gifts and talents. Cultivate the inner strength to face life's challenges and improve your ability to more fully receive its blessings. Coaching, body movement, time in silence, breath, deep listening, sacred ritual and exploring art through consciousness are some of the many tools we may use to guide you. By incorporating creativity and inner exploration the space is provided to realign with one's true potential in the present time.

Facilitated by:
Bree' Luther brendaluther.com and
Lylie Fisher lyliefisher.com

Location: Mahat Kuti - nestled in the trees and ocean breeze of Half Moon Bay
Date: Sunday November 2, 2008
Time: 9:30 am – 5:30pm
Workshop Fee: $165 ($150 friends or family attending together)

Delicious organic food and refreshments will be served.
Cost: A willingness to drop out of ordinary time and space. Your personal commitment to let go of what is no longer serving you in your life. Are you ready for an act of Transformation?


Mahat Kuti – Mahat from Sanskrit meaning divine consciousness of the masculine and feminine before form and Kuti meaning – little holy house.

News and Updates
Recently I celebrated my ten year anniversary living in the United States. During this period I have developed a series of innovative artistic and coaching programs.
Working with individuals and organizations I offer tailored services that dynamically reflect the expectations of clients. As a coach, art educator and community advocate my passion is to support my community to realize its greatest potential.