Current Exhibition in Italy at the : National Museum of Abruzzo
The In Search of Meaning series is currently on tour in Italy. On March 8 I travel to Italy for the reception and present a lecture.
The series is exhibited at the National Museum of Abruzzo, in L'Aquila, as part of a Leonard da Vinci art and technology exhibition (Feb 1 - March 31). Hosted by the Italian National Physics Laboratory in Gran Sasso, I will give a joint public lecture on art, culture and science with renowned Italian physicist Alessandro Bettini.
L'Aquila
sits upon a hillside in the middle of a narrow valley, surrounded by the tall snow-capped mountains of Gran Sasso (over 9,500 feet). It is a medieval town with a lively college population and has many cultural institutions.
2008 In Search of Meaning - Exhibitions and New Directions
The original In Search of Meaning paintings are currently exhibited at the Pew Charitable Trust office in San Francisco.
Negotiations are underway for these artworks to be shown at the Lawrence Berkeley National Laboratory Hall, UC California, Berkeley Campus and the Chabot Space and Science Center.
Sales and gallery opportunities are welcome.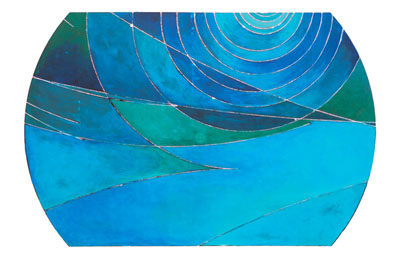 In Search of Meaning, #4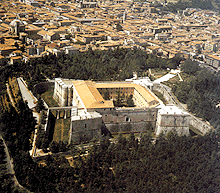 The National Museum of Abruzzo, L'Aquila Italy

This is an exciting opportunity to expand the art and science dialogue. Through these ongoing collaborations with particle physics the In Search of Meaning project continues informs my art practice.
Art - Creativity - Advocacy
The Alameda Point Collaborative has commissioned me to design and implement a community activism initiative with their Growing Youth Project.
The highlights of the project include: a Healthy Choices Advocacy Expo event and a series of art workshops.
---
I continue to offer
art and creativity workshops
from my studio in
The Hive
building Jack London Square in Oakland. Private and small group sessions support participants to develop tangible art skills and discover new forms of individual expression.
---
I now offer dynamic coaching for
individuals
and
organizations
. As an experienced change consultant and creative practitioner I work well with professional folk, artists and designs. I believe that with passion and healthy spirit we can maintain meaningful and productive lives. All we need is support, knowledge and inspiration.