MAKE ART NOT WAR Mondays October 29 - December 10
Art & Social Consciousness Workshops
Enroll Now! These dynamic hands-on workshops will explore powerful artistic expressions. Designed to enliven the creative spirit, focus socially progressive agendas and communicate in meaningful ways.
In each session participants will create new art works, including: Portraits of Power, Defiance Flags, 3D Sculptures and Visual Storytelling.
The series will culminate with a "Make Art Not War" Forum - artworks to be exhibited, community discussion and celebration.
The workshops will be held in Alameda, CA.
Conveniently located in the San Francisco bay area, near major freeways.
Each workshop session runs 2 hours 7.30pm - 9.30pm
All in-studio art materials are supplied

This art workshop series is designed for all skill levels, novice through experienced. The intention is to take the time to reflect upon personal activism and create meaningful artworks that are powerful and accessible.
Visit www.lyliefisher.com for enrollment.
LYLIE FISHER
Blog
As a tool to express my interests in art, community and cultural expression I have launched a Blog.
This Blog will feature reviews of public events, updates on my art projects, essays and articles.
Current stories include:
My visit and exhibition of "In Search of Meaning" at the Fermilab national physics laboratory in Illinois.
The San Jose Museum of Quilts and Textiles' exhibition exploring themes of war, patriotism and politics.
To view my Blog visit: www.lyliefisher.com
IN SEARCH OF MEANING
News and Happenings
In early August I presented to the Stanford Linear Accelerator four limited edition giclee prints. These prints will hang permanently at Stanford University.
"They're gorgeous; absolutely lovely," said SLAC Director Jonathan Dorfan of the paintings. "And we are very appreciative."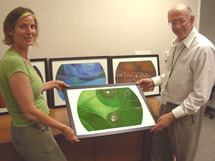 ---
In Search of Meaning # 1 is featured on the cover of Constituents of Matter (Wick Poetry First Book Series) by Anna Leahy.
This collection of poems by emerging poet Anna Leary brilliantly explores notions of physics and ideas of expansion.