Dear friends:
Can you believe it's almost July? It seems that every time I take a break from a book, another season has passed! But though we don't have any new books releasing until November, I do have a few bits of news to share.

**"Doesn't She Look Natural?" was nominated for a Christy award this year! I'm not holding my breath, but I feel honored to be nominated.

**A sequel to the Hallmark movie version of THE NOTE is now in the works! I don't know anything about the story, but I found this on the web:

According to Hallmark's executive vice president of programming David Kenin, one of those movies might be a sequel to last December's hugely successful drama The Note, which starred Genie Francis (of Luke and Laura fame on General Hospital). It helped to make Hallmark the No. 1 cable channel between Thanksgiving and Christmas. The sequel would focus on the deepening relationship between the characters played by Francis and Ted McGinley.

So stay tuned for further developments!

**The DVD version of THE NOTE will release in the fall. I was thrilled to be interviewed for the DVD, so I hear there's a ten-minute "interview with the author" as a "special feature" on the DVD. So if you rent the DVD, be sure to look for the special features!

**The Legacies of the Ancient River--the story of Joseph told in DREAMERS, BROTHERS, and JOURNEY--will be released in new editions beginning in December. Look for them from Steeple Hill.
She Always Wore Red garners great reviews!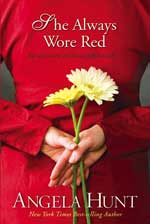 The second book in the Fairlawn series, SHE ALWAYS WORE RED, released in June and has been receiving very kind reviews. It is very affirming to know that readers have fallen in love with Jen, Bugs, Clay, Joella, and Gerald . . . and the Fairlawn Funeral Home, of course!

I found the following in one blog review:

"Hunt confronts controversial, contemporary social issues from a Christian viewpoint where the rubber hits the road - within the family. While dealing with the issues of peer pressure, abortion and racial prejudice the themes of God's love, grace and sovereignty shine through. Hunt was extraordinarily successful at engaging my emotions - I gasped in joy as I rejoiced with them, and I wept with them in their times of sorrow and doubt.

"I have now been opened up to the possibility that well written Christian fiction can indeed, draw a believer's heart closer to Christ, can lead them to examine themselves in the light of His love, can teach us how to relate to, and love each other. How could I ask for anything more? . . ."

The third and final book, SHE'S IN A BETTER PLACE, will release in the spring. And thanks so much for reading!
THE FACE readies to launch in November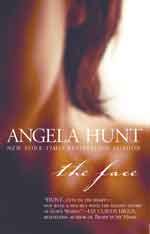 If you like high-concept books, THE FACE should be right up your alley! Here's a preview:

Born to parents who died shortly after her birth, twenty-year-old genius Sarah Sims has been hidden in a secure CIA facility where she works to help her handlers achieve their goals. Yet her days of anonymity are limited because her aunt has discovered her existence and is determined to lead Sarah out of exile. But before she can leave the only world she's ever known, Sarah needs what most people take for granted . . . a functioning face and the skills to use it. Will she remain in her secluded fortress or summon the courage to follow her heart?

"The Face is an amazing book. Impeccably researched, tenderly written, it is a fascinating character study wed to a compelling thriller. Angela Hunt always delivers something special, but this book is beyond special. It's simply wonderful." --Kathryn Mackel, author of VANISHED

Angie's Schedule

June 20-21, 2008: Southern Christian Writers Conference, First Baptist Church, Tuscaloosa, AL

July 13-16, 2008: International Christian Retail Show, Orlando, FL

July 25-26, 2008: Young Writers' Conference in Columbia, MO.

August 7-9, 2008: Greater Philly Christian Writers Conference , Philadelphia, PA

September 17-21, 2008: American Christian Fiction Writers, Minneapolis, MN

October 3-4, 2008: Church Library Conference, First Baptist Church, Madison, Mississippi

Do You Know a Young Writer?
Know a young someone who loves to write?

I am excited to announce that Bill Myers and I will be teaching at a Young Writer's Conference in Columbia, Missouri on July 25-26. You can find details about this event, including a registration page, at the link below.

This two-day conference is open to anyone interested in writing from grades four and up--including adults. So if you are within traveling distance of Columbia, Missouri, please check this out. (Fly-ins should fly into St. Louis and plan on a 90-minute drive).

Bill and I used to do young writer's conferences all across the country, so it's nice to see that someone else has stepped up to do the hard work of sponsoring this event. We'd love to see you and your young writer in Columbia!


For More Information about the Young Writer's Conference