Hi Angela Hunt,

I hope this December finds you well. I've just handed in the book tentatively known as PASSING STRANGERS, so am taking a couple of months to do little things and work on my theology class. But I wanted to wish you a blessed Christmas!

The picture below is our front door--while all the lights were working. :-) We sent this on our Christmas card this year, along with this verse:
Everywhere, everywhere, Christmas tonight!
Christmas in lands of the fir tree and pine,
Christmas in lands of the palm tree and vine,
Christmas where snow peaks stand solemn and white,
Christmas where cornfields stand sunny and bright.
For the Christ child who comes is the Master of all;
No palace too great, no cottage too small. --Phillips Brooks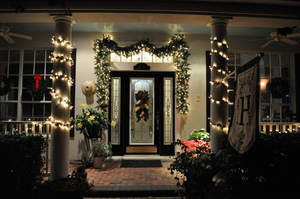 Visit my website

We've updated our website with the 2011 events, plus a link where you can download the free Angela Hunt app for the iPhone and iPad. (A friend of mine jokes, "Free Angela Hunt from what?")

Events in 2011 (Hope to see you at one!):
May 9-13, 2011: Blue Ridge Writer's Conference, Ridgecrest, North Carolina
June 12-15, 2011: Glen Eyrie Writer's Workshop, Colorado Springs, CO
June 20-24, 2011: Texas Writing Academy, Canyon, TX
June 24-25: Panhandle Professional Writers Conference, Amarillo, TX
October 16-20, 2011: Blue Ridge Novelists' Retreat,
October 27-29, 2011: C.S. Lewis Foundation, Navasota, TX
November 4-5: Indianapolis Christian Writers' Conference
Thank you for your friendship and your interest in Angela Hunt books. Don't forget THE FINE ART OF INSINCERITY is due out in May, and no matter what happens, be encouraged. The Christ Child is still the Master of all!
Much love,
Angie