Dear Friends:
Can you believe we're well into a new year? The more often I watch the years turn over, the faster they seem to go.

I hope you and your family had a blessed Christmas. Ours was bittersweet, as my father passed away on December ninth. So many of you sent condolences and cards--and they were much appreciated. Thank you.

We are enjoying many new arrivals this spring, as well as a spin-off movie . . . read on, and you'll see what I mean.
Legacies of the Ancient River in re-release
The story of Joseph and his brothers as you've never read it. These three books--DREAMERS, BROTHERS, and JOURNEY--were originally published by Bethany House. Now, newly freshened with new covers and a smaller size, they are being published again by Steeple Hill.

DREAMERS released in December; BROTHERS releases in February, and JOURNEY releases in April.

As book reviewer "Smiling Sally" wrote: The story of Joseph as told in the Bible is a familiar one; I've read it many times. So I first thought that this book wouldn't appeal to me. I should have realized that anything Angela Hunt writes is going to be GOOD. She take the biblical account and using her attention to detail, fictionalizes it so that I end up thinking, "Yes, it could have happened like this." It just makes sense!

Her ability to weave in information gathered from what must have been a massive research project, and create twists and turns so that this reader always expects the unexpected. You may ask, "How can there be surprises in a well-known story?" Ah, you'll have to read it to see for yourself.

(Thanks, Sally!)
click here to read more about the Legacies series
SHE'S IN A BETTER PLACE, the final Fairlawn installment, releases in March
Many of you have enjoyed following Jennifer Graham into hew new life as the (somewhat) proud owner of the Fairlawn Funeral Home. In the first book, DOESN'T SHE LOOK NATURAL?, she inherited the home and grappled with her new position. The second book, SHE ALWAYS WORE RED, involves Jen's struggle through mortuary school, and the third book, SHE'S IN A BETTER PLACE, finds Jennifer actually running her funeral home. But, as usual, troubles arise in the form of family, and Jen and Gerald face their toughest challenge yet.
click here to read more about Fairlawn
"Taking a Chance on Love" to Air on Hallmark Jan. 31st.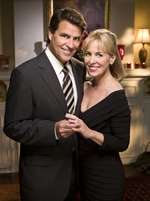 Once upon a time, Angela Hunt wrote a novel called "The Note." It was optioned by a movie company, and many months later, it was produced as a movie for Hallmark--"The Note," which aired in December 2007.

"The Note" was such a smashing success for Hallmark that they commissioned a sequel, so Doug Barr wrote a screenplay featuring the primary characters: Peyton MacGruder, King Danville, and Christine and David.

Then a company hired Angela Hunt to turn that screenplay into a novel . . . and what goes around, comes around.

"Taking a Chance on Love" will air (immediately after a repeat showing of "The Note") on the Hallmark Channel on January 31. The movie will be available on DVD in late spring, and the novelization should be available at the same time . . . from Tyndale House publishers.
Travel in 2009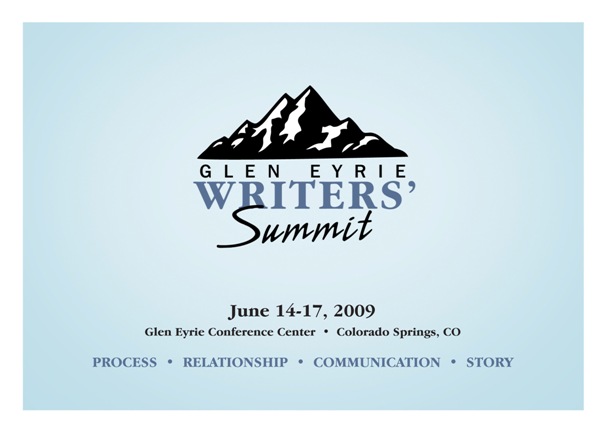 I've made a conscious effort to trim my travel schedule in 2009, and am not doing nearly as many conferences--in fact, the only two on my schedule at present are the Blue Ridge Writers' Conference (North Carolina, Mary 17-21), and the Glen Eyrie Writer's Workshop (June 14-17).

Both of these are excellent conferences, and I'd be happy to meet you at either of them. Nearly every week I get letters from people who want to learn how to write, and I always tell them that a conference is the best place to start. See you there, I hope!
The FACE is a Publishers' Weekly "Best Book of 2008"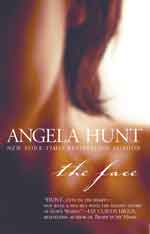 I was thrilled beyond words to learn that THE FACE had been chosen as a Publisher's Weekly "best book of 2008" in the mass market category. I knew I liked the book, but I love all of them, like children.

THE FACE is a parable, of course, as many of my books are, and the spiritual meaning is not immediately obvious to some people. On my website, I have included two sets of discussion questions, one specifically designed for those who want to search for the faith meanings.

And have you seen the trailer? Kelli Standish and her team at Pulse Point Design created a wonderful trailer for this book--you can see it at the link below. Enjoy!
In the pipeline . . . Let Darkness Come

In production at the moment is LET DARKNESS COME, a book I'm calling a supernatural legal thriller. Sort of a mystical whodunit.

The book should release in November/December, from Mira. The cover pictured here is a rough idea only, so please don't reproduce it, as it's not final. I love the idea, though--it really fits the story. The book is about a young attorney defending a young woman on a murder charge--well, here's the official blurb:

Briley Lester is worried about her first capital trial—the prosecution has an airtight case and her client has no alibi. She plans on a mitigating defense—one that might get her client's sentence reduced from first-degree murder to manslaughter—until she stumbles onto evidence that could prove her client's innocence. In her struggle to achieve true justice, Briley must venture outside her self-protective boundaries to defeat an experienced prosecutor and the forces that are determined to destroy her client at any cost.

I'll let you know more once it is ready to release.

Congrats to Cows for Christmas contest winners!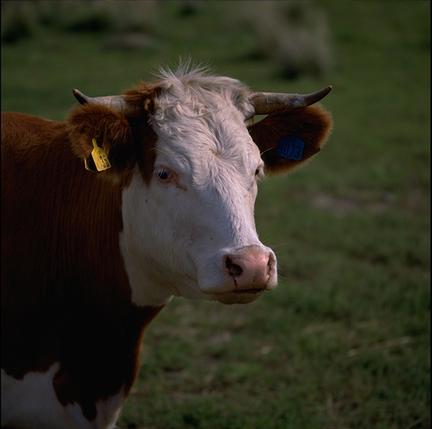 In December, I held a contest on my blog for a huge bag of books--and I encouraged folks to send livestock to needy families through Heifer.org.

I'm happy to say that I received reports of ducks, sheep, goats, bees, and lots of other wonderful gifts going to others. And congratulations to Lora, Deborah, and Trish, who won books! Lora won the big bookbag, and is sharing the books with her church library.