Meet Our New Executive Director!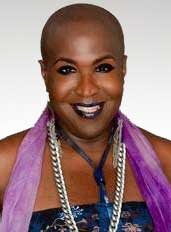 Toni Newman
Hello everyone, my name is Toni Newman, and I am so excited to be the new Executive Director of St. James Infirmary. My experience includes three years as the Development Director for Maitri Compassionate Care, Interim Director of Development for To Help Everyone Health & Wellness Center and a fundraiser for Equality California. I am a graduate of Wake Forest University and a Juris of Doctorate candidate (JD). My memoir, I Rise—The Transformation of Toni Newman, was published in 2011, and details my journey as a African-American transwoman fighting to be her authentic self.
As I begin my service at St. James Infirmary, I am grateful to inherit a team of dedicated staff, well trained volunteers, a board that knows what it means to give time, talent and treasure, and a history of compassionate care that inspires all who enter our doors. St. James Infirmary is a special place—it infuses the spirit and reminds us all that we have a duty to care for each other as human beings.

Thank you for your continued support and dedication to St. James Infirmary. Together, we will keep the promise to provide free, compassionate, and non-judgmental healthcare and social services for Sex Workers (current or former) of all genders and sexual orientations while preventing occupational illnesses and injuries through a comprehensive continuum of services.. We count on gifts from folks like you and we look forward to your gifts and showing you we are good stewards of each dollar given. Please donate and support St. James Infirmary.

My very best,
Toni Newman,
Executive Director
:: Message from Deputy Director Pike Long, MPH ::
Hi all, my name is Pike Long, and I'm thrilled to be the new Deputy Director of St. James Infirmary! I've been a friend and volunteer at the clinic for nearly ten years now, and have a deep commitment to the safety, dignity, and well-being of sex workers everywhere. I've worked professionally in mental health, youth services, anti-incarceration work and sexual violence prevention. I also have years of experience as a grassroots organizer for justice for queer and trans people, people of color, immigrants and communities resisting gentrification. After completing my Masters of Public Health at UC Berkeley last year, I knew that St. James would be the perfect place for me: at SJI, we walk our talk, and I'm committed to ensuring that we offer the most relevant, necessary, and impactful services possible to our communities.

In addition to overseeing day-to-day clinical operations, I am currently working with policymakers and activists to advocate for an elimination of the laws that are destroying sex workers' lives and livelihoods. To this end, we hope you will come out in force to join us on June 2nd, 2018 for a

rally for sex worker justice

at Oscar Grant Plaza in downtown Oakland. We have an incredible lineup of speakers who will elucidate the many intersections between sex work and racial, gender, disability and economic justice.

After the rally and march, please join us at the Center for Sex and Culture as we celebrate

St. James Infirmary's 19th

year of service. This will be an incredible evening of music, dancing and fun to celebrate the ongoing legacy of sex workers' resistance and resilience. Come out and invite your friends, colleagues and dates!

We can't wait to see you there.

Onward,

Pike
:: Spanish Self Care Workshop ::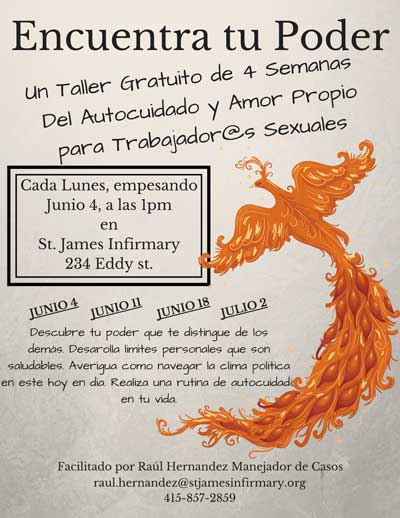 Encuentra tu Poder is a self care workshop for our Spanish speaking participants to learn and develop skills on self care and self love.

Find Your Power
Free four week workshop on self care and self love in spanish for current and former sex workers.

The workshop will be on Mondays, starting June 4. at 1 pm in St. James Infirmary


234 Eddy St

.



Dates: June-4 , June-11, June-18, July-2

Discover your power that distinguishes you from others. Develop healthy personal boundaries. Figure out how to navigate the current political climate. Create a self care routine that you can implement in your life.

Workshop will be facilitated by Raul Hernandez, Case Manager
:: St. James Infirmary 19th Anniversary Party ::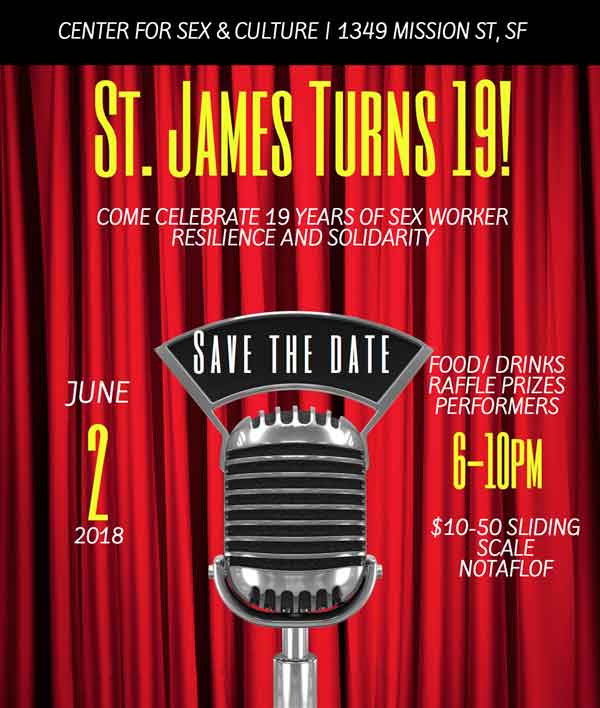 :: Justice for Now Rally ::
Sex Workers & Community Protest to Oppose FOSTA/SESTA
Harmful legislation does nothing to support sex workers or survivors of trafficking

OAKLAND, CA: On June 2, International Sex Worker's Day, communities from all over the country will gather to advocate for the health, safety, and protection of sex workers in the wake of FOSTA / SESTA (Fight Online Sex Trafficking Act and Stop Enabling Sex Traffickers Act) legislation.

Bay Area Pros Support (BAPS)

and


St. James Infirmary

along with other community organizations and supporters will gather at Oscar Grant Plaza in Downtown Oakland to support Bay Area residents who deserve respect and safety during this heightened political time.

Cary Escovedo, HIV Services Manager at St James Infirmary, a clinic run for and by sex workers, says "When sex work and sex trafficking are conflated, there is harm done to both populations. FOSTA does nothing to help survivors of sex trafficking, rather pushing it deeper underground. And it puts consenting adult sex workers in danger. Without safe ways to advertise and screen clients, many providers are going to the streets into unsafe situations."

Organizers of the protest Arabelle Raphael and Maxine Holloway, who are sex workers and sex worker advocates say that sex worker justice is inherently tied to the justice of Black and Indigenous People of Color (BIPOC), LGBTQ, disabled, undocumented, poor or low-income, and drug using communities. "We live in a time where civil liberties are threatened by legislation and doctrine. From net neutrality, Black Lives Matter, the Bay's housing crisis, to immigration laws, marginalized groups are experiencing heightened levels of persecution and violence. It is crucial that we recognize sex workers within these struggles."

A press conference at 1pm features Celeste Guap, The Electronic Frontier Foundation, St. James Infirmary, and more.

Sex Worker Rights Rally & March, Saturday, June 2, 2018, Noon-4pm, Oscar Grant Plaza,

1 Frank H Ogawa Plz, Downtown Oakland, CA 94612

, b/t San Pablo Ave & 15th St

https://www.facebook.com/events/619421805075885/



Bay Area Pros Support (BAPS) A group of Bay Area advocates that fight for the health, safety and livelihoods of sex workers post-FOSTA/SESTA legislation. We are organizing our community resources, skill-sets, knowledge, and power to provide: Support & resources for Bay Area workers; Immediate relief/connections for emergency needs; Strategic actions around sex worker safety, media advocacy, and policy.

www.twitter.com/BayProsSupport
:: New San Francisco Policies Prioritizing Sex Workers Safety ::

Sex workers,

did you know that if you are a victim or witness to violent crime,

you will not be arrested or prosecuted

for sex work or minor drug offenses


if you report the violent crime to police

?
Come to our event and learn more about the
Prioritizing Safety for Sex Workers policies.

Speakers include: Aria Sa'id, Human Rights Commission; Celestina Pearl, St. James Infirmary; Nedra Ruiz, Attorney at Law; Rachel West, US PROStitutes Collective; and Minouche Kandel, Department on the Status of Women

Refreshments available. We will have copies of the policies at the event. For more information, contact: Minouche Kandel, Department on the Status of Women, minouche.kandel@sfgov.org or (415) 252-3203.

Wednesday June 13, 2018
San Francisco Main Public Library
100 Larkin St, San Francisco, CA
Latino/Hispanic Room (basement level)
4:30 pm–5:30 pm

:: Trans March 2018 ::
St. James Infirmary is a proud sponsor of
Trans March 2018.

Friday, June 22 from 11AM—8 PM at
Mission Dolores Park (19th & Dolores St, San Francisco, California 94110)

:: San Francisco Pride ::
| | |
| --- | --- |
| | St. James infirmary will have a booth on Saturday, June 23 & Sunday, June 24, from 10AM—5PM at SF Pride. Please stop by our booth and say hello. |
:: San Francisco AIDS Walk ::