Hello Clarke Friends!

4th Annual Up in Smoke BBQ Fundraiser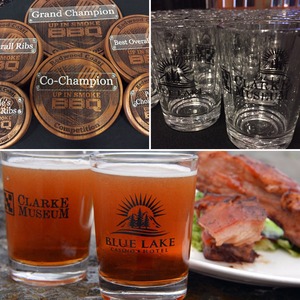 The Clarke Museum's 4th annual Redwood Coast Up in Smoke BBQ Competition on 6/10 was a great event thanks to our sponsors, BBQ competitors, volunteers and all those who attended! Special recognition to Blue Lake Casino and Hotel for partnering with us on this incredible event, their kind and hardworking staff made the event run smoothly and were a pleasure to work with. Thank you to our sponsors Morgan Stanley, Matsen Insurance, and The Humboldt California Association and special thanks to our many volunteers, we couldn't do it without you!
From the Director: Hard Times at the Museum
While the BBQ Competition fundraiser was a lot of fun and was really well run, the weather was terrible, resulting in low attendance. The Blue Lake Casino is committed to growing this event going forward and very generously donated $2,500 to the museum even though they lost money on the event, an incredible gesture on their part.
This is now the third major fundraiser in a row that essentially got rained out. While we scramble to put together additional fundraisers this year, it is unlikely that we will reach our goal for the year, requiring us to make drastic cuts to our already tight budget. It is with sincere regret that Jerab Pino and Art Barab have been laid off. Art will continue to volunteer here, though he will no longer have a set schedule. We wish Jerab the very best.
These are difficult days in the museum world as we are not alone in facing a challenging economic climate. We'll get through this by pulling together and by renewing our focus on growing memberships and business sponsorships, and get creative in organizing smaller, easily managed indoor fundraisers. Please encourage your friends and neighbors to become members and consider volunteering to work as the front desk greeter. Thank you for your continued support.
CLICK HERE
to support the Clarke Museum!
Your donations are 100% tax-deductible, as we are a 501(c)(3) non-profit
.

Upcoming Events
Saturdays July-August - Walking Tours
Eureka Parks & Recreation will be offering free Old Town historic walking tours, meeting at the Clarke Museum at 2 p.m. They will be held weekly for the rest of the summer. For info, call 707-441-4248
July 29, 2017 - Get Out and Play Day
Eureka Parks & Recreation is holding their annual Get Out & Play Day, which is intended to get everyone outside and involved in the local community. The Clarke Museum will be participating with fun, free, educational activities.
August 16-19 - Free Admission Week
Humboldt Area Foundation, through a generous grant, is sponsoring a free admission week at the Clarke Museum. Come visit!
September 2 - Opera Alley Block Party
From 6-9 during Eureka Main Street's Arts Alive, we will be holding a fundraiser to help fund the Opera Alley art project. Our block of E Street will be closed and lined with food and drink vendors. Live bands will play in Clark Plaza and the streets will be lit up with string lights. Tickets for food and drink will be available for purchase at either end of the street. So come out and support the revitalization of Opera Alley while having a delightful evening in Old Town!
Native American Curator & Community Display Project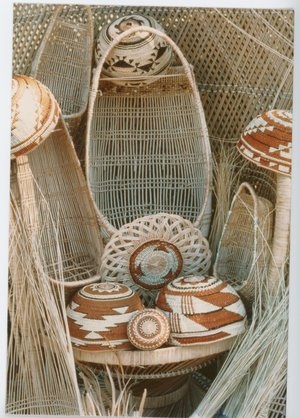 The Clarke Historical Museum is seeking funding to pay Julian Lang, a local Native American of Wiyot and Karuk ancestry, to lead a community-led exhibit at the museum. We have one very large case dedicated to this project, our hope is to conduct a community-led exhibit, whereby Julian will develop a theme and utilize the Clarke's collection to create a new exhibit on Native American history, art, and culture. The curator of the Clarke Museum, Ben Brown, will work directly with Julian on this project.

The Clarke Museum is a community hub for history, art, and culture for this region, the proposed exhibit will help reinforce this connection. The last community-led exhibit on Native American art, history, and culture occurred in 2010 when the museum worked with the Karuk Tribe, including Julian who took a leading role in this project, to develop the outstanding exhibit titled
P'ieep Karu Payeem: Long Ago and Today
, which utilized loaned artwork from artists of Karuk ancestry, alongside the museum's collection of Native American items to showcase Karuk art and culture over time.
The theme of the proposed exhibit has not yet been developed, but it will include local Native American basketry, regalia, stoneware, historic photographs, and possibly contemporary artwork. This exhibit will be on display for at least a year and most likely many more. The museum strongly feels that exhibits which discuss Native American culture should be developed and organized by those who are part of the culture, which adds a tremendous amount of depth and insight into the subject. In addition, we will host a series of discussions open to the public to teach about local Native American culture.
B
ECOME A MEMBER TODAY!
The Clarke Museum depends on its members for support in so many ways. Without your support, we can not serve the public.