YEAR IN REVIEW
Thanks to MMCTV's viewers, friends and supporters for making 2017 great!

MMCTV is a non-profit, one of 25 public access centers in Vermont, whose mission is to provide
a platform for free speech and the tools for video expression.

This year, we celebrated our 20th anniversary with an October Harvest Dinner and a special Stone Corral benefit brew. We thank the public and local underwriters for their support as we prepare to invest in a new, nearly $40,000 broadcast server upgrade and to launch a second channel Comcast Cable 17 in early 2018.

Here are some highlights of our work in 2017:
Over 65% of our 350-some hours of original programming consisted of gavel-to-gavel coverage of town and school meetings, thanks to the dedicated work of Ruth Miller, Marie Thomas and Erin Wagg!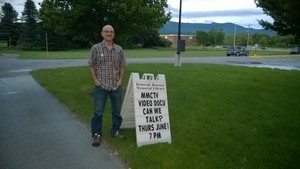 We also helped community producers of all ages to produce content, whether it was first-time documentarian Matt Stern bringing together different perspectives on the 2016 elections in "Can We Talk?" or youngsters at Our Community Cares Camp making their horror sequel "Rosie Redemption".
The Cuban Bridge with Toni Basanta celebrated episode #71 with a show featuring performers Rebecca Padula and Aaron Flinn. Jan de Vries' Two Towns Garden Tour series, now in its fourth season, will very soon debut episode 12, featuring jazz star Audrey Bernstein's Underhill garden. Look for Audrey at

Flynn Space, Burlington VT for First Night, Dec. 31st, 5-5:40 pm

.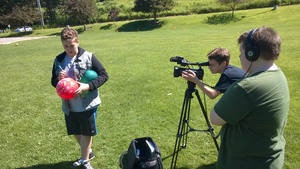 In 2017, 25 people edited at MMCTV for over 400 hours total.

We worked closely with local libraries, schools, and many non-profit organizations, recording concerts, presentations and making public service announcements, such as The Friends of the Winooski's Onion River Race and Ramble, Richmond Senior Center talks, The Underhill Old Schoolhouse No. 5 Reunion, and the annual poetry reading at the Deborah Rawson Memorial Library.
We held youth workshops, helped MMU cablecast football and CHMS record basketball games and assisted young people in making films such as zany library PSA "The Crazy Quiz Show," which won a prize in the VAN Video Challenge competition. Our Memory Map road history series continues with videos on Cemetery Road and Barber Farm Road coming soon.

We look forward in months ahead to Richmond Police Chief Alan Buck's return for another episode of the Richmond Police Beat, wishing him a speedy recovery.
MMCTV had over 13,500 plays of its videos online at www.vimeo.com/mmctv. Jericho Pet Parade, by Erin Wagg, was the most-viewed this year, followed by a Let's Talk About Lyme presentation featuring Rachel Levitt and Safe Cleanup of Needles produced with Richmond Rescue. We also continue to stream more and more programs live.

We share content with other public access centers in Vermont and US. The Lyme video above was picked up by 15 channels, followed closely by "Green Mountain Girls: Women on the Long Trail," a talk by State Archivist Reidun Nuquist, and

"Advanced Techniques for Greenhouse and Hoophouse Vegetable Production," a NOFA-VT presentation by Gregg Stevens featuring Author/Farmer Andrew Mefferd.


GET INVOLVED!

Channel Manager Jim Hering welcomes your input as we double our scheduling with the addition of MMCTV's new Channel 17.
MMCTV is a

501(c)3 nonprofit organization that greatly appreciates donations of any size. Checks can be sent to MMCTV, PO Box 688, Richmond, VT 05477

THANK YOU & HAPPY HOLIDAYS!