After a successful first run, the Vermont Access Network Video Challenge is coming back to the state's 25 public access centers, from
December 1st (registration) through January 20th (deadline).

Submissions are welcome of films of all genres up to 5 minutes long.
The only rule is that one scene must be filmed at your local
public access center.

If you'd like more info about taking part individually or being part of an MMCTV volunteers-only team, let us know! There is a $25 submission fee per team, with cash prizes for winners in three age categories.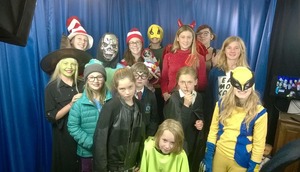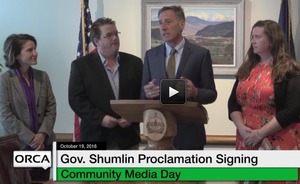 Visits to Richmond, Montpelier & Havana
MMCTV is looking forward to collaborating with the Mansfield Cooperative School this year, which relocated recently to Richmond. The students stopped by MMCTV for a fun Halloween studio session (L).

A couple of weeks earlier, MMCTV Executive Director Angelike Contis was among VAN representatives in Montpelier to record the signing of a Community Media Day proclamation by Gov. Peter Shumlin. We celebrated with an MMCTV Open House and Mary Hill art exhibit on October 20th.
Meanwhile, just after finishing Episode 61 of The Cuban Bridge, which focuses on Fourteen Years of Colibri Records, producer Toni Basanta headed to Cuba with musician Hilario Durán and Alma Records for a filmed tour; we look forward to sharing musical glimpses of that journey with you.