The Care and Feeding of Your Workshop Trainer (Part 1)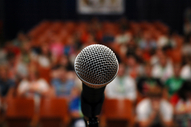 Standing in front of total strangers (and colleagues, clients, and friends) for over 20 years now has given me some insight into what makes a training program work and what can help it fail. Being a lousy trainer doesn't help, but the following can cause a great trainer to have a rough day in front of the crowd:
Bad Introduction – People who say things like, "I hope you all don't fall asleep, 'cuz it's right after lunch" or "I know this is a topic you don't want to have to sit through, but we here we are . . ." can start things off on the wrong foot. Just welcome the group, read whatever short bio the trainer has given you, and turn it over to him or her.
Bad Training Room – Lots of little things can make the room a tough place: pillars blocking the screen, too-bright lighting, too hot or cold, or too many outside noises (I think the gardeners with the leaf blowers must follow me around the state). Look at the room from the participants and the trainer's perspectives, before they arrive. Try to have the seats (and tables, please) set so people can sit comfortably for the minutes, hours, or days they are there.
Bad Equipment – Most trainers bring their own AV, but if they use yours, make sure it all works. Dim projector bulbs, no microphone or house sound, slow laptops with even slower (or nonexistent) Internet connections, or no easel pads or white boards, can make for a long day in front of people who are used to TV and movie-quality AV on the screen.
Bad Handouts – Some trainers bring their own handouts (I check every page of every set before I give them out) and some send you the masters. Make sure you get good clean copies, following the print format the trainer has requested (two slides per page, stapled, etc.).
Bad Group Energy / Individual Participants – Many of my clients will pull me aside and clue me in as to the potential problem participants percolating in the population. And for this I'm grateful. For various reasons, these employees don't want to be there and it helps me to know in advance who they might be so I can try to win them over or at least be ready for their hostility or confronting questions.
Bad Organizational Climate – If some bad stuff has gone on before the trainer gets there, and the training subject relates to the bad stuff, please tell us. Whether it's a recent layoff, downsizing, an incident, a pending lawsuit, or a conflict between people or departments, we appreciate the heads up. We can avoid certain issues or handle related questions with care.
Bad Closing Comments by Management – I've seen a senior HR person tell a dirty joke after one of my harassment prevention sessions. After I did a (very successful) tabletop exercise with an IT group, I heard the department director tell them, "If this had been a real scenario, you'd have all failed." Most presenters try to finish on a strong, positive, hopeful, humorous, and energizing note. Help them by doing likewise or just saying thanks and sending the group on their way.
Next month, I'll talk more about how to take good care of your trainer, facilitator, or keynote speaker, especially during conferences, strategy retreats, and other important gatherings.